Saika and Shaima recently learned to ride a bike as part of our project to support Muslim women to cycle in Redbridge. Now they feel more confident than ever, they have their own bikes and there's no stopping them. Here's their story.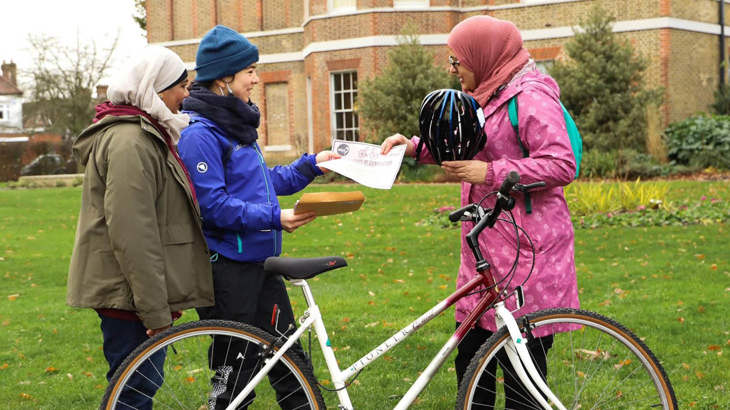 Saika (pictured on the right) and the other participants received a certificate and a bike at the end of the course.
We've been working with the Muslimah Sports Association in Redbridge.
It's part of our Healthy Streets programme across London. 
A group of nine women recently completed a six-week cycling course. And they each received a bike at the end.
Saika and Shaima both took part in the course.
So we asked them to tell us what the course means to them now they have a new bike and feel confident cycling around the city.
Tell us a little bit about yourselves.
Shaima: I'm a web designer from London.
I didn't know how to cycle at all before the course and had wanted to try it for a while.
I saw a post about the programme on Instagram and signed up.
  
Saika: I live in the London borough of Redbridge.
I'm a full-time mother of three children. And I'm also a scouts leader, a radiographer specialising in CT scanning, and I help my husband run his business. So I kind of have my hands full!
I originally booked the course for my mum who was unable to ride at all.
Unfortunately my mum had a fall and was still recovering when the course started, So I decided to attend myself to improve my riding skills.
I actually hadn't been cycling for ages and had never ridden on the road, so I thought it would be, if nothing else, an opportunity to get out and brush up my skills.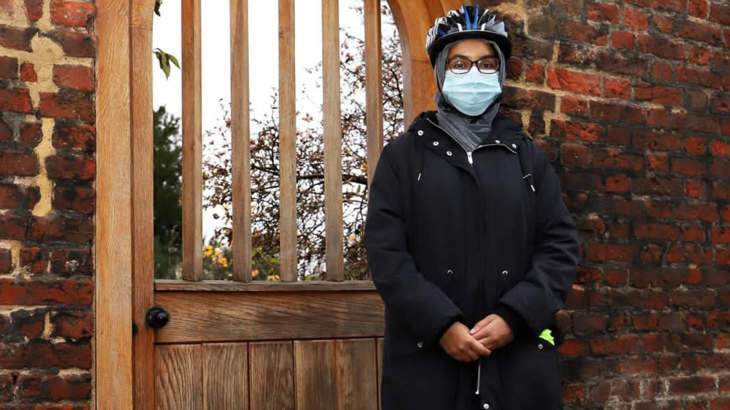 Shaima (pictured): "Before the course started, I'd never cycled before. I wanted to learn but was embarrassed at having to do that so late in life."
How did you feel about cycling before you took part in the course?
Shaima: Before the course started, I'd never cycled before.
I wanted to learn eventually but was also embarrassed at having to do that so late in life.
I also thought that if I ever learned to cycle I would probably stick to occasionally riding in parks and stay away from roads, as cycling in London seemed risky.
  
Saika: Prior to taking part in the programme I had very little confidence bike-riding.
I had ridden as a child and in a cycling centre but at a very basic skill level.
This was the first I had heard of such a project and it has completely changed the way I feel about cycling.
It allowed me to fall in love with cycling again, all while incorporating a sense of confidence and nostalgia.
What was your favourite thing about the project and how do you feel about cycling now?
Shaima: Cycling now seems much more accessible, I definitely feel more confident.
I was missing out on this hobby for a long time but I get to really enjoy it now and see that it can be safe as well.
Being part of this project was a great chance to still get active during lockdown.
And I'm very grateful that the instructors found a way to continue holding the sessions.
  
Saika: I was in a group with ladies who were from varying age ranges and cycling experiences.
But I felt immediately relaxed and comfortable because of our instructors, and how nice the ladies were.
The course was structured and we were split in to ability-based groups.
As lockdown restrictions changed I was extremely impressed by the way the organisers adapted.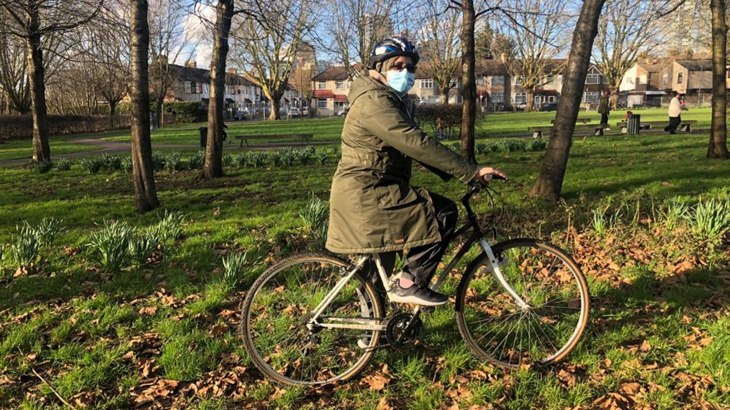 Saika (pictured): "The project allowed me to fall in love with cycling again."
You've been on a six-week cycling journey with this group of women. How has it been?
Shaima: The group was so positive and this was reflected in the support we gave each other even beyond the course.
One of the best things about the course was being able to learn alongside other beginners at different ages and levels.
It was so motivating to watch others as they progressed and also to get encouragement from them every week. 
  
Saika: We shared motivational and inspirational WhatsApp messages with our own progress and encourage others to stick with it.
In the depths of winter, this motivation was a key factor.
What does it mean to you now that you own your own bike?
Shaima: It's great to be able to take my bike out and practice whenever I want.
It's not just a new type of activity I can do, but also a fun way to get to places.
I've taken it out quite a few times now and am learning how to clean and look after it.
  
Saika: Owning my own bike means no excuses!
On one of my rides after the course I had a puncture and walked the bike home.
But under the watchful eye of my brother and with the guidance of YouTube I was able to fix it. It was an extremely proud moment.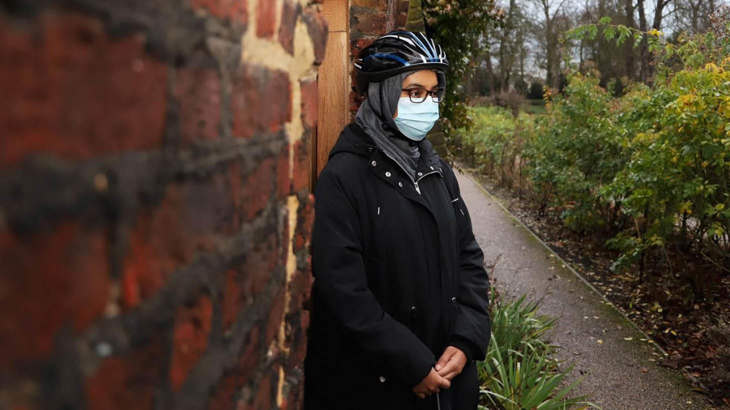 Shaima, pictured here, is most looking forward to going on more bike rides with her family.
What are you most looking forward to now that you own a bicycle?
Shaima: Going on bike rides with my family.
When the weather gets better I want to ride around our local parks a lot more often. 
  
Saika: One of my goals was to go riding with my kids and I have been able to achieve that.
We cycled confidently on the road to Valentines park and back home. For us that was a 6K ride in less than half an hour.
The next milestone I wish to achieve is being able to ride to work. I might wait for sunnier times before I attempt that one though.
This has been an absolutely fabulous initiative that gave me a lot more than I expected.
I can't wait for more things like this and to see a safer more cycle-friendly Redbridge.
Feeling inspired by Saika and Shaima and want to start cycling too?