80-year-old John Laverick has lived near the Castleford Greenway all his life. In the 1950s he took the train regularly to see Leeds United play. Now the route has been transformed into a traffic-free greenway, and he rides his bike on it every day for exercise and to catch a glimpse of a heron or a kingfisher. Here's his story.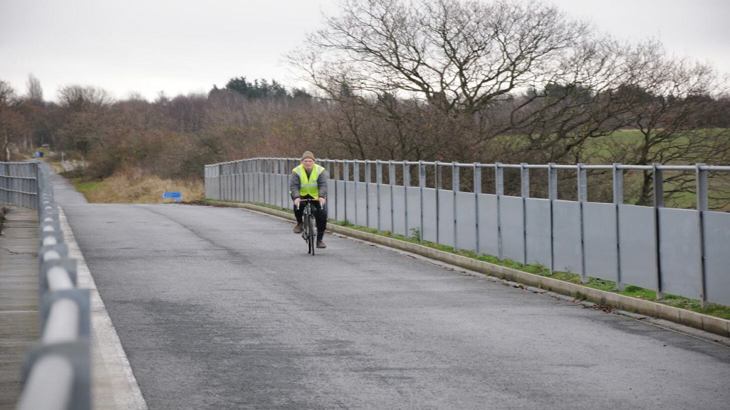 John cycling the Castleford Greenway line: "I use the new route every day on my bike".
Memories of Castleford
I've lived in Castleford all my life and I've always been interested in the railway.
In the 1950s I was an apprentice bricklayer and I went to the technical college which was near the rail line.
I can remember the steam trains flogging up to the summit of the hill where I live now.
Castleford Central was a busy station with many trains to York.
I often travelled on it, to Leeds mostly, often to watch Leeds United, and sometimes on holiday to York or Scarborough.
  
The railway in 1974
I moved to this house in August 1974. The railway is at the side and at the back of the house.
There weren't as many trees as now, they were cut down. And the line was quieter by then and it closed a few years later.
After they took the lines up people would walk down, but it was waterlogged as it was in a cutting.
There was a lot of vandalism. It was very overgrown. The trees had gone wild.
The railway remained derelict for over 30 years.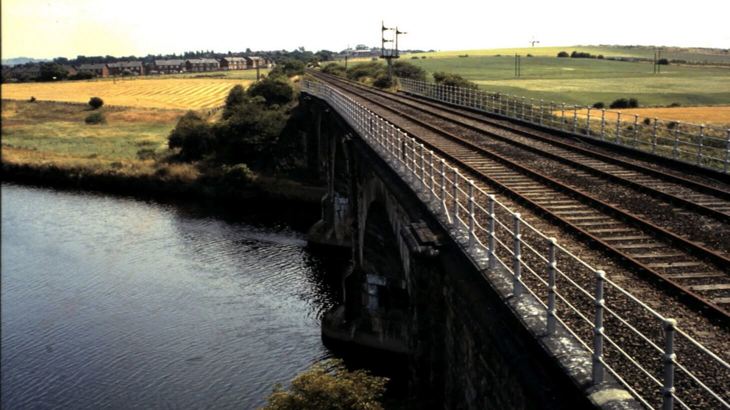 The Castleford Greenway line as photographed by John in 1982.
Cycling the route now
Since the route has been made into a cycleway I use it everyday on my bike.
I had a new knee joint put in but it came loose so I can't walk far at all as it hurts to put my full weight on it.
But it doesn't affect me as much when I cycle.
I got my bike in 1956 when I was 16. It's a Claud Butler racing cycle. It cost me £32, which was a lot back then.
When I was younger I'd cycle quite far, over to Bridlington or the Yorkshire Dales.
These days I stick closer to home as I don't want to get stranded.
  
The new greenway
The new greenway is great. There's a good surface and lots more people use it, particularly dog walkers.
I cycle around five miles to the river, through the boatyard to Methley bridge.
I like to go up to where the Aire and Calder canal joins into the Aire River.
I stop a couple of times and sit down and eat some fruit.
I often see a kingfisher, and most days I see a heron.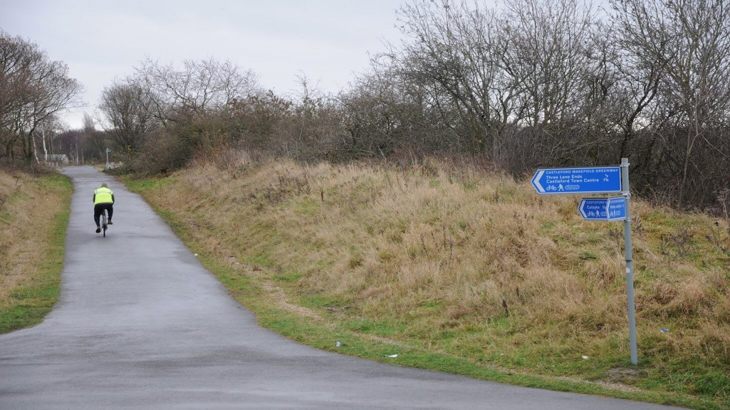 Cycling during lockdown
I use the route for exercise and I often talk to the fishermen on the river as they recognise me.
Living on my own I need to get out and talk to people.
I find cycling on the roads dangerous. People haven't got the patience. They give you a few inches of space.
I enjoy the National Cycle Network and I try and do as much as I can off-road.
During Covid, it's been great to get out on the bike. The greenway has been really busy.
On Sunday I'm ringing my bell every two minutes!
When the Greenway complete I'd like to do the whole thing.
We have been working with Wakefield Council, Leeds City Council and West Yorkshire Combined Authority to extend the Castleford Greenway, creating a 16km route from Castleford to Wakefield.
Take a look at our guide for the best places to spot summer wildlife on the National Cycle Network.