In 2021, Tony and Linda Dobbs cycled 1,132 miles from John o'Groats to Land's End on their e-bikes. A keen environmentalist, 73-year old Tony decided to support Sustrans by raising money on this long distance ride. Here, he shares his story along with some great tips for fellow adventurers.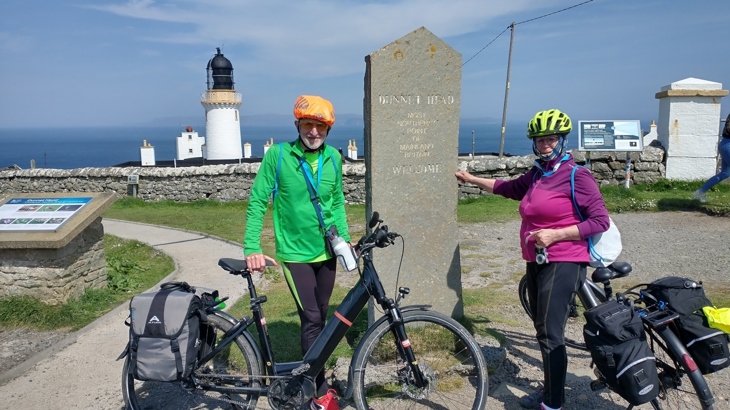 Tony and Linda Dobbs began their e-bike JOGLE journey at Dunnet Head in Scotland.
How the journey began: falling in love with e-bikes
Until 2019 I did not think of myself as a 'cyclist'.
I'd used a push bike all my life and I rode around town and sometimes beyond, but only for a few miles.
Then, my wife tried an e-bike while we were on holiday in Belgium.
She loved it, and I bought her one for her birthday.
After we talked about cycling the length of mainland UK, she bought me one for my own birthday.
It was then that we started cycling much further in a day and began to plan for the big trip.
Planning and packing
Around May 2021, it seemed COVID regulations might allow us to set out, and our planning became more frenetic.
We're seasoned walking backpackers, so deciding what to pack was pretty straightforward.
To make the most of cycle paths and avoid main roads, we chose to follow the route in the Sustrans LEJOG guidebook.
Setting off
Our journey began on Monday 31 May, a Bank Holiday.
We decided to start at John o'Groats because Land's End is closer to our home in Weymouth.
We took a train to Waterloo then rode our bikes through London to Euston in light traffic.
From there, we boarded the Caledonian Sleeper to Inverness.
On the Sleeper I had quite a struggle getting our e-bikes onto the 'hangers'.
The bikes were also too big to allow the doors of the cycle compartment to shut, but otherwise all went well.
At Inverness, we took a pre-booked bike taxi to Dunnet Head.
From there we rode to John o'Groats and started our JOGLE journey the next day.
Making progress
We rode every day, following the stages in the Sustrans guide.
It took us 27 days to complete the trip.
Our longest ride in one day was 57 miles and our shortest was 31.
We planned some stops for sight-seeing, but we finished most days by mid-afternoon and took time to explore.
A particular highlight early on was the superb view of Loch Tay and the surrounding mountains on National Route 7.
Journeying from Blair Atholl to Killin, we were lucky enough to spot deer, jays and even red squirrels.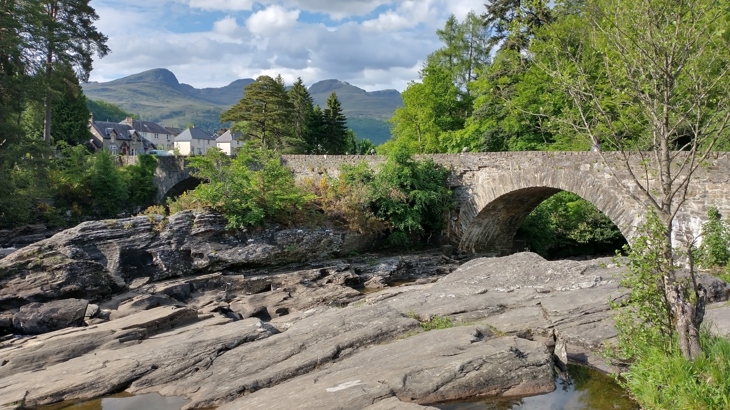 Sustrans' LEJOG route will take you past the Falls of Dochart in Killin, Stirling.
Punctures and battery power
Only on two occasions were we worried about running out of battery on our e-bikes.
This was easy to overcome though as we turned the stops into coffee breaks to give the batteries a charge in the cafe.
We were very lucky with the weather; we wore our waterproofs about four times and only arrived really soaked once.
I did suffer three tyre punctures, and we had one issue with my wife's bike, but overall we probably did well over the 1,100+ miles!
Tony and Linda's journey took them through many picturesque scenes, including the River Kent in Kendal, Cumbria.
Places to stay
We spent our nights at B&Bs, hotels and a large number of Premier Inns.
The latter are well known for welcoming people with bikes, so we requested ground floor rooms and took our bikes in with us.
In other accommodation, we ensured they had secure overnight storage for the bikes; finding this was thankfully not a problem.
Being retired, we had no time pressures so we did not book very far ahead.
This was apart from in the north of Scotland, where accommodation is more scarce.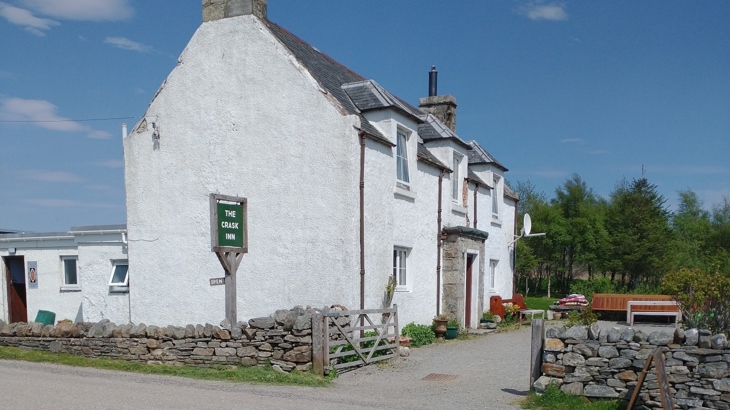 The remote Crask Inn sits next to Sustrans' recommended route and was an early stopover for Tony and Linda.
Nearing Land's End
We didn't book Land's End until we were near Bristol, which turned out to be a bit of an error.
Everywhere was fully booked, and we had to add an extra day to the trip and stay two nights in Hayle.
As it turned out, this was not such a bad thing because Truro to Land's End would have been a long day.
Instead, we had time to stroll around Hayle, a pleasant town that neither of us had visited before.
Overall, we were happy to have kept our bookings more flexible.
It meant that we could enjoy the trip without the pressure of having to complete sections by specific times.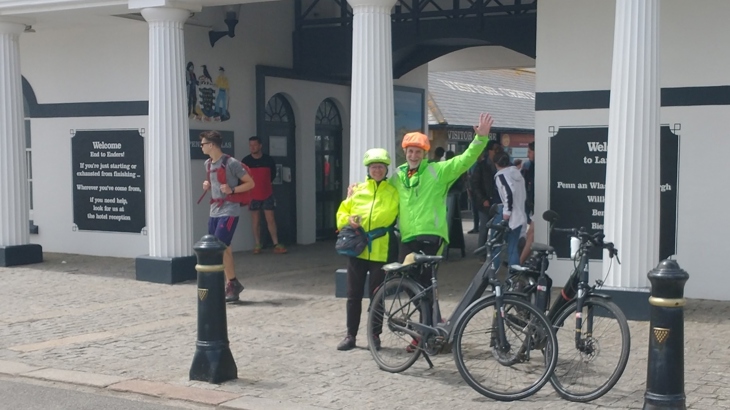 Linda and Tony complete their JOGLE journey at Land's End.
A once-in-a-lifetime experience
Our John o'Groats to Land's End ride was a fantastic and exceptionally gratifying journey.
We chose to use the trip to raise money for charities. My wife supported Alzheimers Society, and I chose Sustrans. 
You can read more about our JOGLE trip in my blog, where you'll find lots of images.
Tony's tips for riding LEJOG on an e-bike
Consider taking a double-ended spare tube, at least for your rear wheel. This avoids having to take the wheel off to replace the tube if you have a puncture.
Have a rear-view mirror on your handlebar offside.
Have the Sustrans guide book with you if you intend to follow that route, but have other route-finding aids with you. We used Google Maps on our phones as well as torn out pages from an old road atlas with the Sustrans route highlighted.
Age is just a number! E-bikes make great experiences available to everyone. Riding one will help you get fit and keep fit. We should all be thinking about the planet and reducing our carbon footprints.
Tony's tips for fundraising
Write a blog and advertise it. You can use small, business type cards that can be given out to anybody before, during and after your trip.
Share the word about your challenge on social media, and try and write regular updates so everyone can follow the journey.
Tell your local media about your fundraising drive. You could also the newspapers and radio stations in the areas you plan to visit on your travels.
Don't forget to ask for support from colleagues, friends and any companies associated with the trip you are doing.