Dr Matthew Jackson was always known for cycling or running to work. But when the Covid-19 pandemic hit the UK, cycling became a vital way for him and his team to stay healthy physically and mentally. Here's his story.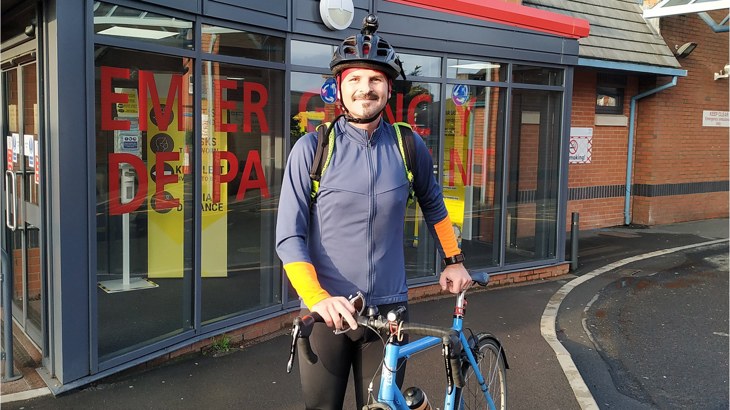 "Cycling helps to wake me up in the morning. I arrive at work feeling energetic and positive."
A love of cycling to work
I have always been known at work for cycling. Showing up to work in lycra often prompts conversations, which inevitably leads to me talking about the benefits of commuting by bike.
I cycle (or run) to work every day. My journey is around 5-20 km, depending on the route I take. I generally take the longer one on the way in.
Cycling helps to wake me up in the morning. I arrive at work feeling energetic and positive.
It gives me time to destress and it's time to process the day before I go back to family life. The rhythmic pounding of the pedals can be quite meditative.
  
Keeping the team safe and healthy during lockdown
At the start of the pandemic, I became heavily involved in preparing for a surge of patients.
At one senior team meetings, we discussed how we would help our team through this challenging time.
We knew it was going to be very stressful and that we needed to look after our mental health.
I suggested everyone should seriously consider active travel – specifically for the physical and mental health benefits.
  
Inspiring others to give cycling a go
Over the course of the pandemic, quite a few people in our team started to cycle.
The gyms were closed and roads were quieter - it was exercise they could do easily on their way to work.
Many of them joined Strava so we could see each others' activity. It became a bit of a community and a way we could encourage each other.
Since we started, four or five people in the team have come to me asking what they should do to prepare for winter so they can carry on cycling.
I'm a victim of my own evangelism as now I have to queue for the shower in the morning!
  
Giving back by volunteering with Sustrans
I'm very fortunate to live near lots of National Cycle Network routes.
I don't go to the gym, so this is my exercise, fresh air, and head time.
I use the National Cycle Network all the time for riding with the kids or running, so I've recently decided to become a Sustrans volunteer.
I'm the eyes and ears on the route to check for any maintenance issues and report back to the local volunteer group.
I'd really like to see more cycle lanes on roads, linking to where people live and work.
There's some temporary infrastructure been installed on two parallel roads to the main road near where I live. It's a bit underwhelming and I would have liked to have seen more.