Jane is a stay-at-home mum living in Belfast with her children. In 2014, she was hit by a car whilst cycling, resulting in life-changing injuries and a loss of confidence in cycling. Now, six years on, Jane talks to us about the importance of road safety, and what needs to be done to make it safer for people to cycle.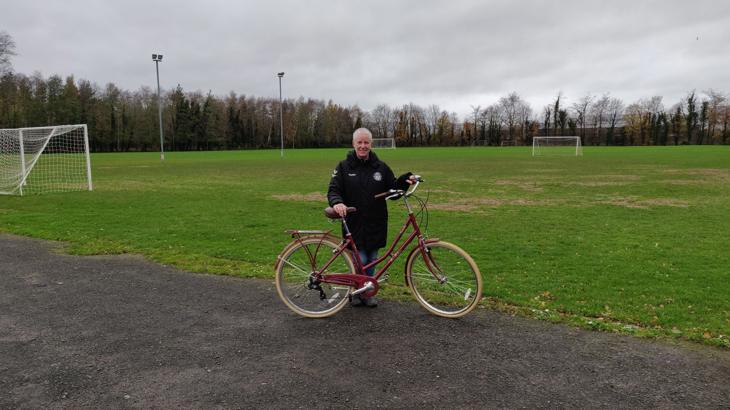 Jane Bradley with her new bicycle
Cycling before the accident
"I used to be a nurse and so would cycle from my house in East Belfast into the city all the time.
"I never thought much of it, and as I cycled regularly, Belfast felt like a safe place to travel around by bike.
"When my children were born, and I stopped working in the hospital, I wasn't cycling so much but decided to pick it back up again when they started school.
The day of the accident
"The accident happened in 2014. It was about half-past nine in the morning and I was heading into the city centre after dropping the kids off at school.
"There wasn't much in the way of designated cycling infrastructure on the road at the time, and so I was cycling in the bus lane.
"It was quite a busy road, with three lanes of traffic.
"I remember taking a safety check and turning my head to see if there was a bus behind me, and all of a sudden, a car, which had been crossing over the three lanes, came crashing straight into me.
Life after the accident
"I was in hospital for over a week, and had to have my spleen removed after the accident had caused it to rupture.
"My bike was completely destroyed, but I had survived. It was a really traumatic experience.
"After that, my confidence in cycling was broken.
"I had gone from cycling regularly to being too scared to get on a bike.
Regaining confidence in cycling
"It was only at the beginning of this year, six years since my accident, that I decided it was time try cycling again.
"Just before the Covid-19 lockdown, I saw Sustrans was running a six-week course to help women get into cycling, so I decided to give it a go.
"It was a really good course and a great way to get used to being on a bike again.
"Once I had completed the six weeks, I got myself a step-through Dutch-style bike, and, when the roads were quieter during lockdown, took the opportunity to get out into the local parks and practice cycling again.
Cycling in Belfast
"Cycling infrastructure has started to improve in Belfast.
"There seems to be a lot more cycle lanes around than there was when I had my accident, and we have the Greenway which is completely traffic-free.
Improving cycling safety
"However, more needs to be done to improve road safety in the city.
"A group of us are currently in talks with the Department for Infrastructure about expanding the Greenway through Sydenham to Holywood.
"As well as building more cycle lanes, they need to better connect the existing ones to each other, so there is a complete network for people to travel through.
"There also needs to be clearer signage on the roads too.
"But it's not just infrastructure that needs improving. There needs to be better awareness amongst drivers about other road users.
"It's been a while since I completed my driving test so things may have changed now, but I don't remember there being anything about cyclists and how to share the roads with people using other modes of transport in the assessment.
"Having some kind of awareness course for drivers could really help get the message out there. The more people who understand the importance of road safety the better.
Looking to the future
"I'm not quite ready to cycle on the roads again just yet, but I'm slowly getting used to being on a bike again."