Nicki Wedgwood is a charity worker living in London. Following a new Low Traffic Neighbourhood implemented in her local area, Nicki shares her thoughts on the scheme and explains how it has affected her neighbourhood.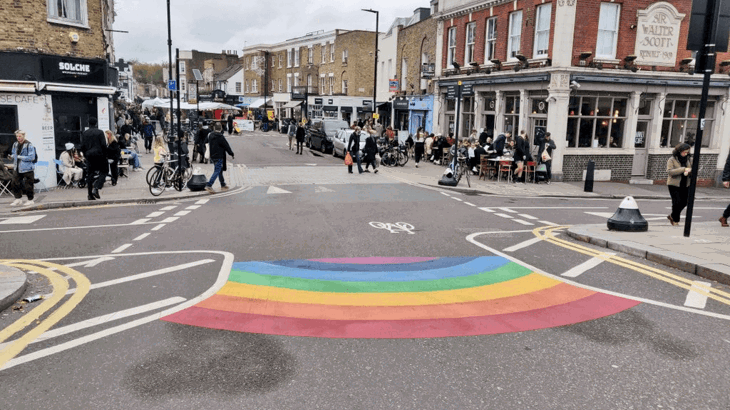 The addition of a rainbow painted on the Cat and Mutton Bridge as part of the Low Traffic Neighbourhood.
Opening up streets to people walking, wheeling and cycling and restricting motor traffic helps create safer and more appealing environment to local residents.
This can be done by putting in place planters and bollards at certain entry points.
These measures can also help reduce "rat-running", which has increased on residential streets dramatically in the past decade, according to statistics from the Department for Transport.
Whilst there has been some vocal opposition to the implementation of such schemes amongst some groups, this is not the full picture.
Here, Nicki from London shares her thoughts on the Low Traffic Neighbourhood created in her area.
What the Low Traffic Neighbourhood looks like
The new low traffic neighbourhood was introduced to London Fields in September 2020.
It's an area-wide scheme, similar to those in other parts of east London, such as Stoke Newington, Walthamstow and De Beauvoir, which are all nearby.
The area is marked out mostly by planters that restrict motor traffic access on certain streets, and trees have been planted within the LTN.
There's also been an addition of a rainbow painted on the Cat and Mutton Bridge, which looks really nice.
In addition, there have been a number of other schemes that have been introduced in the local area, such as School Streets and a couple of new cycle lanes.
But the thing I'm most pleased about is that the Cycle Confident training, run by the local council, is back.
I did this a couple of years ago and it was revolutionary, so I'm overjoyed that these sessions are back up and running again and are still free of charge.
It made me feel so much happier using the roads in my area.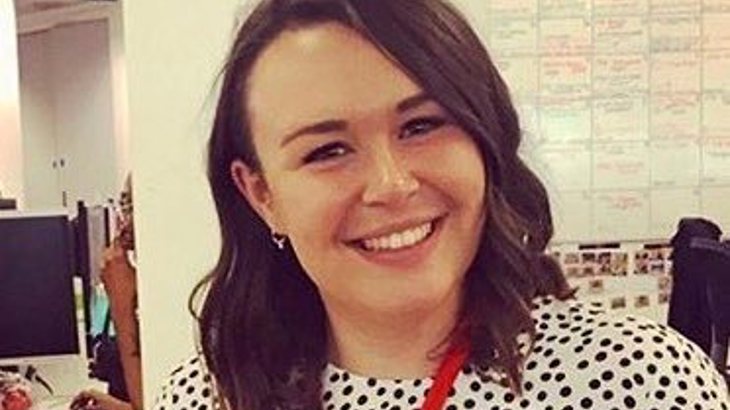 Nicki: "Overall the change has been very positive."
Life before the Low Traffic Neighbourhood
Before the introduction of the LTN, the road I live on was a very popular rat run - the traffic at rush hour every day was unlike anything I had ever seen before living here.
It was particularly intense during the first few months of lockdown and prior to the LTN being introduced.
Now, the traffic has seemed to have evaporated.
There has been some bad congestion on main roads (Mare Street and Graham Road) which people have wrongly attributed to traffic displacement, but it's actually down to some roadworks that have been ongoing.
Overall the change has been very positive.
  
Benefits to the local area
Since the scheme has been implemented, more people have been walking and cycling in the area.
And I've noticed a big difference in the number of kids on bikes too which is amazing to see!
There also seems to be other benefits to the local area that have come out of the scheme.
I've seen a huge amount of people shopping in local independent stores.
There's also been a big uptick in deliveries by bicycle both by local businesses and mutual aid groups and I'm sure they massively appreciate the quieter roads.
  
How my life has changed  
Cycling in London has changed my life in a big way.
I'm so excited that kids in Hackney are being given safer streets so that they might also be able to benefit from the freedom that cycling brings from a young age.
I've also spent a lot more time in my local area now that it's more relaxing to walk everywhere and I want the same for others and future generations.
For me personally, being able to walk and cycle everywhere has had a huge impact.
I've saved money, improved my fitness, found a sense of freedom in a big city, and gotten to know my local community.
Walking and cycling have also enabled me to avoid using the London Underground network after being assaulted on the tube a couple of years ago.
I've spent a lot more time in my local area now that it's more relaxing to walk everywhere and I want the same for others and future generations.
Backlash to the scheme
Unfortunately, there has been some backlash to the scheme.
People think the traffic is being overly displaced and that disabled people and emergency services are at a disadvantage. But I've yet to see any evidence that this is true.
There's also a lot of vitriol surrounding people who cycle in general, but this isn't exclusive to my local area.
  
Hope for the future
I really want Hackney council to keep up the good work, but would love to see them introduce more bike parking and storage.
70% of people living in Hackney don't own a car. But pretty much every residential road is lined on both sides with car parking spaces and yet there's hardly anywhere to lock up a bike safely.
This needs to change, and it's important that bike parking is inclusive and accessible to all forms of cycles such as those for disabled people, kids' bikes and cargo bikes.