After growing up in the suburbs of Sydney, Australia, Sarah Berry's move to London in 2016 was a bit of a cycling culture shock. But it wasn't until lockdown that she finally bought a bike and discovered newfound confidence of cycling in the capital. Here's her story.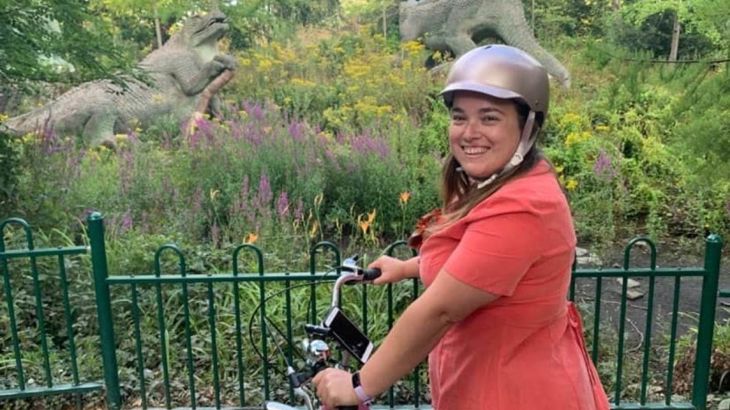 Sarah bought a bike during lockdown and discovered a newfound confidence: "Learning to cycle in London no longer felt like an option, it felt like my responsibility."
I never thought I would be the kind of person who could cycle in London.
I grew up in a car-dependent suburb on the outskirts of Sydney, Australia.
Throughout my childhood, I can't remember ever meeting a single person who made their journey on a bike.
The closest anyone came was doing loops around the end of our little cul-de-sac - and then screaming and running off the road when a car sped around the corner.
  
Cycle envy
So when I moved to London in 2016 I'm not going to lie - I experienced a bit of culture shock.
Suddenly, thousands of people around me were ducking and weaving between the traffic, expertly navigating busy streets in their business wear.
I, meanwhile, watched enviously from the pavement as I trudged my way to the busy tube each morning, envying their freedom.
I wanted what they had. I wanted to be able to get up each morning, get dressed, jump on a bike and peddle to where I needed to go, unimpeded by bags stuck in tube doors or the traffic jams that so often doubled the length of my bus journey.
But I didn't even know how to ride a bike, let alone how to do so confidently on a busy London street.
Cycling, it seemed, just wasn't for me.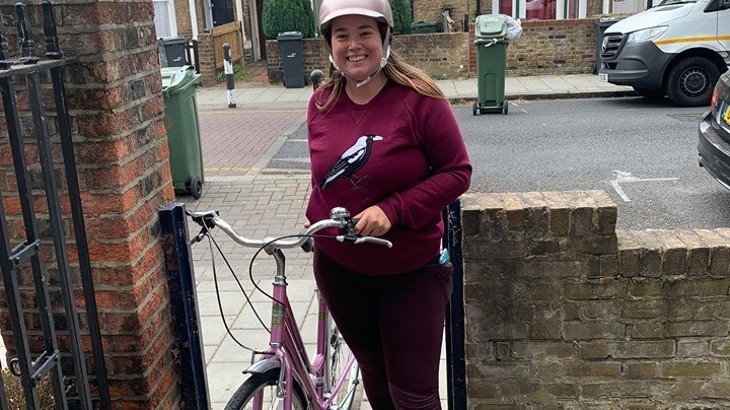 "Something about owning my own bike changed my relationship with cycling in London."
Starting my journey during lockdown
But then lockdown hit. The streets became quiet.
Everyone started talking about the responsibility we had to one another - how important it was to leave public transport and the roads clear for necessary journeys - for the teachers, nurses and delivery drivers who were putting their health at risk to keep our society moving.
Learning to cycle in London no longer felt like an option, it felt like my responsibility.
  
Our Low Traffic Neighbourhood made it easier
When I received word that my area was going to be turned into a low traffic neighbourhood (LTN), I did the thing I'd been putting off for years - I went and bought a bike.
I rode it home with my experienced boyfriend by my side, wobbling alongside roads and then getting off at busy intersections and wheeling my bike along the pavement.
A few months into my cycling journey, I still regularly hop off my bike and tackle tricky intersections (or brutal hills) on foot.
  
The roads belong to me too
Something about owning my own bike changed my relationship with cycling in London.
Suddenly, I felt a surge of confidence and authenticity I'd never felt using bike hire schemes in cycling-friendly cities.
I wasn't actually any better at cycling. I still made frequent and embarrassing mistakes - sometimes I'd miss my pedals when trying to set off, I'd lose my balance going around corners, I couldn't signal.
But the combination of a new LTN and the repeated messages from the government, TFL and other charities that people needed to cycle made me feel like the roads belonged to me too.
They were as much for me as they were for the drivers that had dominated the roads for so long.
  
Feeling free
Three months later and it feels like I've always been cycling in London.
I still can't signal, and I still make some silly mistakes - but I never feel ashamed.
Instead, I feel free.
My five top tips for new cyclists:
1. Try before you buy
All going well, you'll be spending countless hours with your bike so it's important to find one that feels like a friend.
It should be comfortable, affordable and light (no one warned me how often I'd end up carrying the thing!).
2. Take the lane
As a new cyclist, it's easy to feel self-conscious on the roads. It's important to remember that you have just as much of a right to be there as any other road user.
Don't hug the kerb to give cars space to overtake you, just carry on cycling as you feel comfortable. They won't have to long for a safe spot to overtake to come up.
3. It's okay to get off your bike
Since I've started cycling in London, I've heard lots of stories of experienced cyclists who get off their bike to walk them through tricky intersections, up difficult hills, or just when they're tired and need to take a break.
There's no shame in it -- it's your journey, and you should take it whatever way makes you happiest.
4. Buy a quad-lock
A quad lock is a device that hooks onto your bike and then clips into your phone case, enabling you to attach your phone to your handlebars and navigate without needing to pull over or ride one-handed.
I don't know how I'd get around without it.
5. Have fun
Cycling is empowering, it's freeing, but it's also fun.
Take a moment to enjoy the sun on your face, to have a chat with the person stopped at the traffic light next to you, to pull over and try out that cafe you've always thought looked delicious. You're in control.