Isobel, who lives in Brighton with her family cycles to school every day. Here she tells us of her experience of cycling in Brighton and why more needs to be done to help more pupils feel confident to commute by cycle.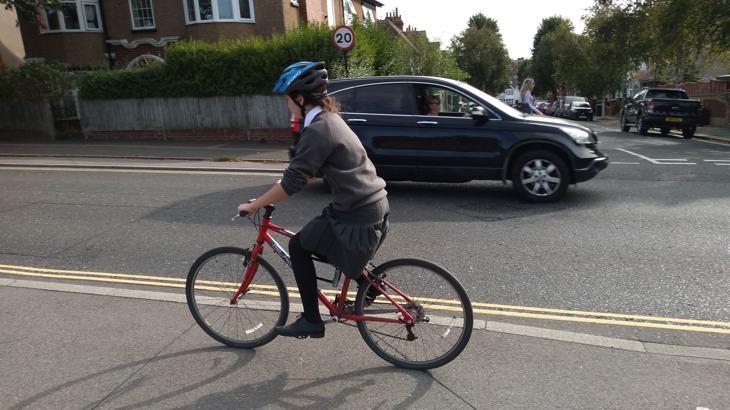 I first started cycling when I was in Year Seven. At the start of the school year, I was travelling by bus, but it just took too long.
I had never really cycled much before and I had never been on the roads.
  
The whole family feels more confident
I completed a Bikeability course and we had Bike It Ben in Year Five, but that was it really.
When I first started cycling to school, my parents were worried, as it was a whole new experience, and so they cycled with me for the first few days.
Now, two years on and with the right equipment, they aren't nervous anymore.
  
Cycling is quick and easy
Cycling to school has a lot of benefits. It's the quickest way for me to get there and it's a good way to fit in some exercise.
Cycling gets me outside and I can cycle through the park. The bus can be late sometimes so cycling gives me more control of what time I get to school.
  
Facing the challenges
However, there are some drawbacks. There are sometimes cars parked in the cycle lanes and so you're forced to go around them.
Having more cycle lanes along main roads and more cycle storage around town would make things easier, as there is nowhere really to lock my bike up. There are lots of bike racks at school though.
They tend to encourage pupils to cycle, but don't actively promote it to the point that they could.
Some people are a bit nervous about cycling. If cycling appeared safer, I think more people would be encouraged to try it.
If people are behaving unsafely on their bikes, and not wearing helmets or the right equipment, it tends to put people off from trying. 
  
Cycling is cool
There tend to be fewer girls than boys who cycle at my school.
Maybe some girls just don't think of cycling as something that is cool. I think it's cool to cycle though.
For those looking to start cycling, I think it's a good idea to wear a high-viz.
I used to have a high-viz backpack cover – when it's darker in the morning it makes you more visible to others on the road.
Feeling inspired by Isobel and want to get your family cycling to school too?