During lockdown, many families have been making the most of their opportunities for daily exercise. Here, Sustrans Cymru Active Journeys Officer, Gwen Thomas, shares her family's experience. Quieter roads with less traffic has led to Gwen's family feeling more confident in cycling and exploring parts of their local area that they had never done before.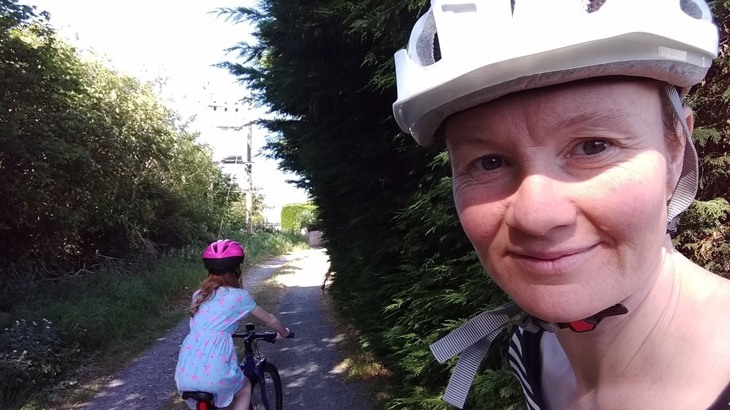 Gwen and her daughter are enjoying their local National Cycle Network routes to exercise during lockdown.
Prior to lockdown, I had been thinking about how to improve my children's cycling skills.
I wanted to stretch the distances the youngest was able to pedal so that family rides could be more varied.
For the eldest, who is currently in Year 5, we needed to improve her understanding of road rules so that we could be happier to let her navigate more of the village's streets alone or with friends.
As with many people, the spring and summer allow for a bit more time outside on our bikes both at the weekend and after school or work.
This spring has allowed us more opportunities than ever of course.
We are in the 57% of households who live within a mile of the National Cycle Network.
And we're fortunate to have a local link which provides access to quiet and safe local cycle route from the end of our road.


Exercising during lockdown
Since lockdown, like many other families, we have been making the most of the opportunities for our daily dose of exercise, alternating between walking and cycling.
I decided early on that I would put what I know into practice, and insist on exercise and fresh air before we sit down to school and office work.
This works for two scenarios.
One is that it's a good way to rouse any of us who haven't quite woken up yet.
And two, to burn off excess energy before we need to concentrate on focusing the mind.
The reduction in motorised traffic has been reported as being 60% of normal in Wales.
This has allowed me to be more confident in taking the children along the village's main road and in using the country lanes near us on our bikes.


Making the most of cycling
Taking to two wheels we have been looping around the village and connecting the roads with the cycle paths.
We occasionally stopping at the local shop so I can pop in for some essentials, and passing the houses of various friends who they will be able to visit again in future.
We have also been venturing on back roads we might never have thought of using previously.
We've enjoyed the lower traffic levels, the coming of spring and being able to stop to chat with neighbours and strangers at a safe distance along the way.
I'm gladdened that I'm not the only one taking to the pedals with young children. And by the fact that in our experience, those driving the few vehicles on the roads are generous with space and time.


The benefits we've felt
More regular use of our bikes during this time has brought us many benefits.
Hills - both up and down - that would have been by-passed or walked previously, have been tackled as both children have discovered the beauty of gears and developed confidence in their braking skills.
Both children have discovered that taking a hand off the handlebars is not as scary as it looks at first, with left-hand turns now signalled (although only when prompted!).
And, that which I am most pleased about as the culmination of all these improved skills, is seeing the eldest taking to cycling as she never has before.
She occasionally zips away ahead of us to enjoy a bit of independence, setting her own pace.
It seems that in the end, all we needed in order to up our cycling game was time to enjoy the view and a safe space to ride.