Dr Vandy Dhawan is a Clinical Neurophysiologist who moved from Newcastle upon Tyne to Exeter just before the Covid-19 lockdown. As someone who has been a regular cyclist for the past five years, Vandy tells us of her experience cycling to work in a new city during the pandemic.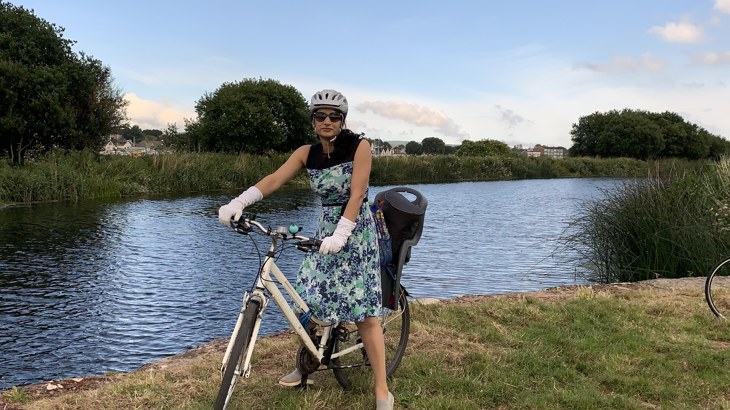 We left our home in Newcastle to start our new life in Exeter the night the lockdown was announced, so it's been a bit of a whirlwind.
My husband has been working in the hospital since we moved, so the first few weeks before I started my job, I didn't step foot outside of the house.
I was so worried about him working in the hospital and the idea of him bringing the virus back into our home.

Cycling helps soothe my nerves
So that first cycle I did when I joined work and left the house for the first time felt wonderful.
It was a great chance to get some fresh air and soothe my nerves about the situation.
"It was also lovely to see so many families out cycling together for their daily exercise.

Cycling with my children built our confidence together
I've been cycling regularly since 2015.
We were living in Newcastle at the time, and I started working with Newcastle University for a period of neuroscience research.
There I would see plenty of students commuting by bike, so I thought I would give it a go.
My commute to work in Newcastle was only a 15-minute cycle, and my children's school was on the way.
Cycling was a great way for me to do the school run, and I really enjoyed the fact that it was an activity I did with the kids every day.
It felt like we were learning to cycle and building our confidence together.

Good cycle infrastructure is limited to the city
Whilst lockdown means I still haven't had a proper chance to explore my new surroundings, I do know that lots of people commute through the city every day, and so it becomes a bottleneck for traffic.
There is some good cycling infrastructure in place, and quite a lot of shared paths, however, it's limited to the city as far as I know.
All those people who commute in from the smaller towns and villages outside, I imagine would find it difficult to do so by bike with the existing infrastructure.

Cycling helps us all to hold on to some normality during this pandemic
For key workers and others making essential trips, who would have relied on cycling before lockdown, it is so important that they are still able to do so.
Cycling becomes so integrated into your everyday life, and it's vital for people's mental health to be able to hold on to some sort of normality right now.
And for those who may not have cycled before, it's essential that they see cycling as a genuine option for transport for physical distancing during the pandemic.

We need to use this time to plan better cycling and walking infrastructure
However, people often don't consider cycling, due to safety concerns or lack of infrastructure.
I therefore hope we can follow the lead of other countries in Europe who are using this time to plan for better walking and cycling routes in their cities.
I don't think anyone will be coming out of this lockdown the same as they were before, and so any changes we can make now for a better and healthier future, we should.