David and Chris Thompson live in Bolton Percy near Tadcaster and cycle regularly with their daughter Ellie on a cycle attached to a wheelchair. During the lockdown, cycling on the National Cycle Network and local roads helped them keep healthy and stay positive as a family and connect with their local community.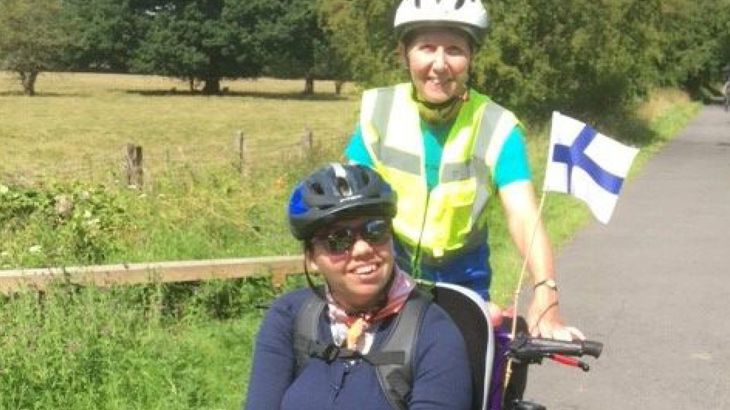 We first got a bike for Ellie many years ago in 1994. Our younger daughter started riding her bike and we thought it would be good to do as a family.


Ellie can't stop smiling when cycling
Ellie loves freewheel cycling. The faster you can go the more she loves it. She never stops smiling when she's on a bike.
Ellie has epilepsy, learning difficulties and mobility problems. If she's happy she has fewer seizures and she's generally healthier.
During Lockdown the bike was a Godsend and helped to keep us sane. Normally Ellie has a full week of activities including swimming, horse riding, and various craft groups.
But all those things stopped. Her carers stopped coming and we looked after her full time.


Exploring the Network during lockdown
We decided to explore more of the National Cycle Network as they are mostly good surfaces and flat. Since Lockdown started we've cycled just short of 600 miles!
We did a mix of traffic-free routes and roads. Locally we take the bike on the Leeds to Liverpool canal and we're near enough to York that we can just pop into the city on the National Cycle Network.
Recently we had a go on the track between Knaresborough and Ripley and we're familiar with the route from Thorp Arch to Wetherby, which now has a nice new bridge on it.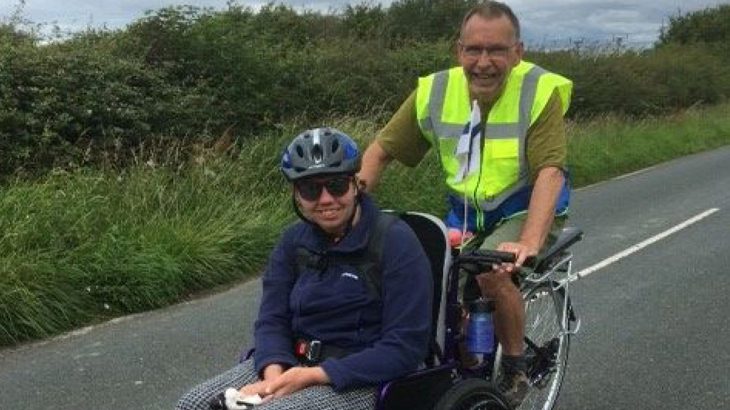 Ellie never stops smiling when she's on a bike. She has epilepsy, learning difficulties and mobility problems. But if she's happy she has fewer seizures and she's generally healthier.
It was amazing how many more people were walking and cycling during Lockdown. We came through Knaresborough and it was like Blackpool beach there were so many people out!
The roads were fairly free of traffic and you'd see lots of people tootling along. We'd always say a cheerful 'hello' in the morning.

Riding on roads
We saw more wildlife when we were out during Lockdown, especially birds. Now there are more things for people to do again and it's not as safe on the roads for people on bikes.
When we're on the roads we tend to ride in the middle of the road and have disabled tabards so that people give us a wide berth.
Drivers tend to be courteous if they realise you have a disabled person on what is effectively a wheelchair. But we do get people who cut in in front of us and pass us in places we would never pass.
The road between us and Tadcaster has about 100 bends on it, which can feel dangerous on the bike we ride with Ellie.

We need more traffic-free paths
Accessibility is an issue for us. There are parts of the Network where Ellie's bike can't get through.
If there are gates that open there should be information about how to do that and about alternative routes. Some of the paths have a lot of tree roots underneath which can make it difficult.
If you're on a bike like Ellie's it does bounce the person up and down a bit.
We do need more traffic-free paths and to integrate them with canal towpaths.