Leoni Munslow is a firefighter living in London. Here she tells us of her experience of cycling to work during the coronavirus crisis and what she thinks is needed to normalise cycling.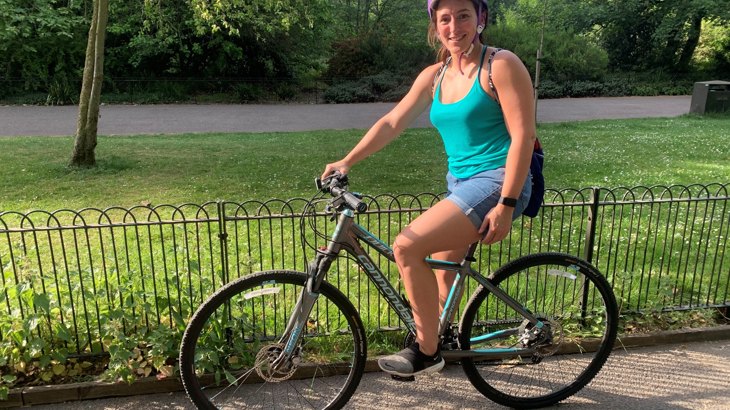 Before the Covid-19 lockdown, I would only cycle occasionally if the weather was nice, and would mainly rely on public transport.
However, now I have been cycling to work every day, as it is the best way to travel and maintain social distancing.
I've been really enjoying my commute since I started cycling, and would definitely recommend it to others.

Cycling is the best way to socially distance
Cycling helps me wake up in the morning, is a great form of exercise, and has helped me save a bit of money.
But, the biggest benefit of cycling at the moment is that it helps you avoid coming into contact with others.

We need more allocated road space for cycling
The cycling infrastructure in London is quite good in places – we have the cycle superhighways which are really helpful, but I've never been confident enough to cycle long distances so tend to stick to the routes I know.
I have definitely become more confident since the lockdown though, as it's now become part of my day-to-day.
I have noticed more people cycling since the pandemic and it's nice to see more casual cyclists about.
However, I do think there are some things that would help cycling become more normalised in London, such as more allocated road space.

Secure bike storage is a must
In cities such as Barcelona, where the infrastructure is better and there is a great network of bike-sharing schemes, it feels much safer to rent a bike and start cycling.
I also think having more secure places for people to lock up their bikes would help.
I am lucky that there is a bike shed at work, but not everyone has this.

Sustrans Cycles for Key Workers
The Cycles for Key Workers map seems like a great initiative, and it's really reassuring to have cycling as a genuine option for travel during this time.
I feel very lucky to have my bike and I'm certain I'll keep cycling once this is all over.