Jill Nicklin started cycling again to help with recovery for a knee replacement. Now she and her husband enjoy going out on their bikes as much to boost their mental wellbeing as for physical exercise.
I badly damaged my knee during a skiing accident in my mid-forties.
I carried on until I turned 60, getting less and less able to do the things I had always loved because of the pain that it caused.
By now I was using a walking stick and had become an old lady unable to walk more than half a mile without being in pain all night.
Somebody in the family took a photo of us all out walking with our grandchildren. When I saw it I thought: enough!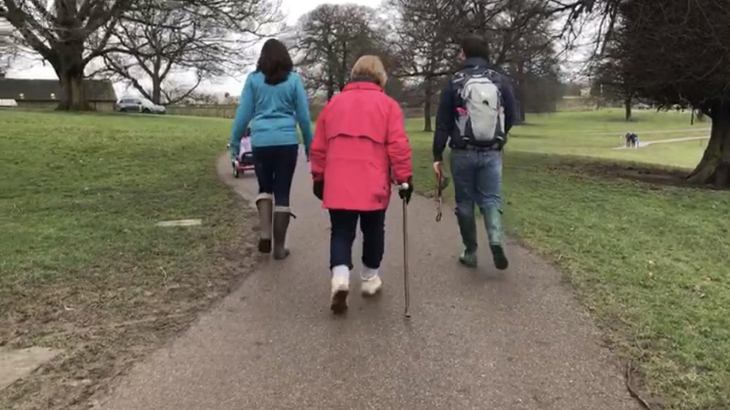 Jill's knee had become so painful she had to use a walking stick.
On the road to recovery
I took the bull by the horns. First I decided I needed a knee replacement [major ouch].
To get fit enough to help myself recover properly afterwards I began to do some very gentle biking.
This had the benefit of improving muscles around the joint so that after the operation it put me in a better place to get back on my feet.
Six weeks after the operation I asked my surgeon when he thought I would be able to get back on my bike, "now" he said to my amazement. "There is no better way to rehabilitate it".
I took him at his word and got back on my bike.
At first, I couldn't even turn the pedals so I bought a cheap gym bike and persevered until I could turn the pedals full circle.
Then my husband Richard and I started going out cycling properly.
Building strength and distance
We started going to places like Clumber Park to hire bikes for a couple of hours. But we liked it so much that we wanted some new bikes of our own.
The fresh air and freedom it gave us always brought us back home feeling we had been given a boost.
Since then we have bought two new electric bikes, Richard has a crossover mountain bike and I have an electric step-through crossover bike.
What started as a means of rehabilitating me quickly became almost an obsession.
Now we get out nearly every other day, at first, we slowly built up our distance to about 20 kilometres. Now we consider that just a short ride and regularly do between 40 and 50 kilometres.
We are lucky to be able to get on the Trans Pennine Trail by cycling straight from our door and we also have access to Clumber Park and Derbyshire as well as the Dales if we put the bikes on the back of the car.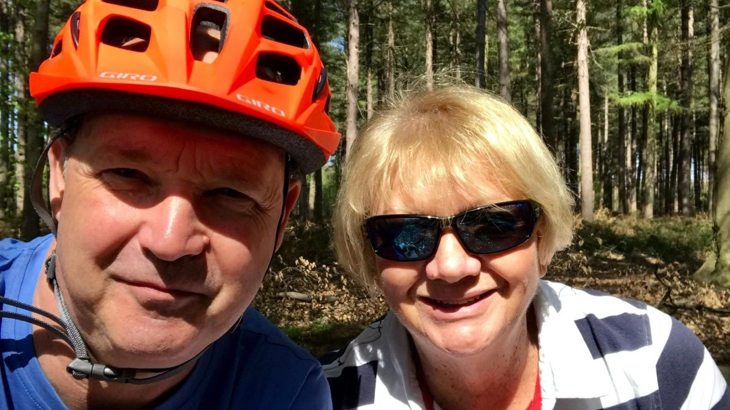 Jill and her husband, Richard enjoy cycling on the National Cycle Network for their mental wellbeing as well as for exercise.
A new sense of wellbeing
I have, quite simply, got my life back.
I am no longer an old woman and the difference cycling has made to both me and my husband is unbelievable.
Yes we could both do with getting a bit of weight off still, but you actually have to eat less as well if you want to do that!
It's not the cure-all for everything but it lifts your spirits, destresses you and gives you a sense of wellbeing as well as making you much fitter.
In these times of Coronavirus, it has been the main thing that has kept both our spirits up.