Anne Kenyon is a 90-year-old pensioner living in Hampshire. Having cycled her whole life, she tells us how riding a bike gives her independence. She also shares her top tips that make it easier for over 65s to start cycling.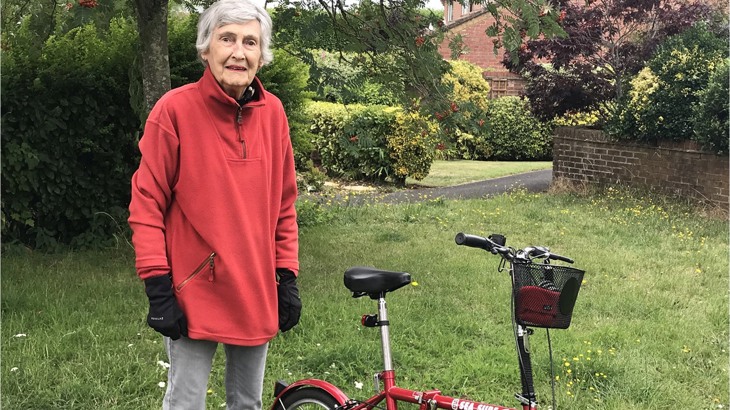 Where it all began
I started cycling when I was about four or five. My sister's bike was given to me by my mother as my sister had grown out of it.
In those days, there was no such thing as stabilisers, so I just went round and round the lawn until I learnt how to stay on.    
I used to cycle to school and when I got older, my mother gave me her bike. 
I didn't get my own brand new bike new until I was in my early forties when my husband gave me an orange folding bike for Christmas. I used to take my youngest child to school on the back of it.
I was inspired to get into cycling because I wanted to get out and about.
My father had a bike and my parents encouraged me to cycle. We didn't really cycle as a family but I went out exploring on my own.
There was a park near where we lived, and I was allowed to cycle there by myself.
  
Cycling gives me independence
Now, cycling offers me the freedom and independence to get out and about in my local area. 
It's quicker than walking, which means I can go further. It also means I don't have to rely on public transport or worry about parking.
I love being in the fresh air and being able to see the scenery and wildlife. I like bird watching so while I am out on my bike I often stop to look at the birds.  
Cycling also enables me to be sociable as I can easily visit friends locally, and people talk to me when I am out on my bike; they wave at me and say good morning.
I wouldn't get this in a car.
  
Riding a bike when you're 65 or over
Cycling is a great way to keep fit and it keeps my legs in good condition as I have some arthritic pains.  
For a lot of people as they get older, their balance goes and their eyesight is not so good.
Therefore, providing safe places to cycle is really important, to encourage more people over 65 to cycle, such as more bike lanes.

We need more safe places to cycle
I like Holland where there are many cycle lanes and they try to keep the traffic and people cycling separate. One of my daughters lived in Holland for a while and she and her family didn't have a car.
They cycled everywhere, because the infrastructure was in place to allow them to do so, and I would cycle with them when I visited.
Things are different here. I live in a small town and there's not really much for people currently, other than a few feeble cycle lanes.
However, I'm hopeful more will be done to help cyclists like me.
Most of the time I have to cycle on the roads with the cars and I was knocked off my bike a few years ago when I was stationary. The driver just didn't see me.
Luckily I was just bruised and he was very apologetic, but it was scary.
  
Advice for others
I would definitely miss cycling if I could no longer do it.
On my 90th birthday, I changed from my 30-year-old black mountain bike to my 15-year-old red folding bike, as I feel smaller wheels give more stability to someone of my age.
Getting the right bike for your age group is important to ensure you continue to enjoy cycling safely.  
For anyone else over the age of 65 looking to start cycling, I'd say go for it.
Cycling is fun and keeps you fit, and you could also join a club if you wanted to meet other people.
If you are starting out, get some help to choose a suitable bike and make sure you know your Highway Code.
Build your confidence up, if you need to, by going out in your local area and practising. The more you do it, the easier it gets.
Are you inspired by Anne and want to start cycling more too?