Gareth is a retired teacher and now works as Joe's carer. Joe has Down's syndrome and autism, and going out cycling is one of his favourite things to do.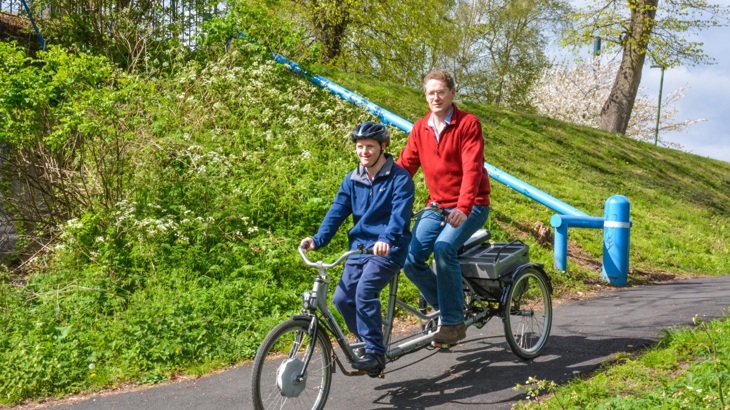 Joe and Gareth enjoying a trip on their tandem
For the past three years the pair have ridden a tandem tricycle through York's Foss Islands Path (National Cycle Network Route 658) and found their journey greatly improved since a Sustrans-funded initiative saw the barriers taken down to make the route more accessible for those with disabilities.
Gareth told us "I started cycling about 15 years ago after some slipped discs meant that I could no longer keep marathon running. I used to cycle just for pleasure and exercise but now I cycle to commute too.
"I start on the north side of the centre of York and I work three miles away on the other side of York. It's a good hour's journey by car in rush hour, whereas cycling on the Foss Islands Path takes me only 15 minutes which is fantastic.
"I had been retired from teaching for two years and I'd recovered enough that I started to feel quite bored sitting in the house reading all the time, so I applied for the job of caring for Joe.
"Joe's parents have a cycling business so they had a tandem tricycle all ready when I arrived and I was quite happy to clamber onto the trike with him. He absolutely loves it, we both do."
There's a real sense of community there
A place to meet people
"Everyone knows that daily exercise is good for mental and physical wellbeing. Joe is incredibly happy on the bike and it sets him up far better than just plonking him in a car where he just falls asleep.
"When we're out cycling, Joe is very interested in the people he sees, he is very sociable and he loves to say hello to everyone who passes by. We see all sorts of people, including those on mobility scooters and in wheelchairs. There's a real sense of community there.
"Once or twice I've taken him on the other cycle route, National Route 65, from the centre of York through Rawcliffe Meadows. It's a natural habitat for the tansy beetle so I was trying to get him interested in that, but he was more interested in the herd of cows."
We grabbed a few minutes from Joe away from his painting group (he also swims, dances, plays music and is in a drama group) to ask him what he thinks about cycling the Foss Path, and his face lit up.
Joe said of their trips together:
"I like bike riding and I even went out last night to see my friend Helen. We went to the swimming pool and it was good fun. I also see my friend Andy and go to music class on my bike."
Improved access
Gareth continued, "It would be great to just see more cycle routes around the city. My aunt and uncle have been Sustrans supporters for decades and they used to travel all over the country to try out new routes, so I've been aware of the great work they do for a while.
"The barrier removal has made a big difference to our lives. The barriers used to be right beside where the library used to be. Access to that cycle path is crucial for getting in and out without any issues, especially if you've got mobility problems.
"Before the barriers were taken down we were having to leave the cycle route a half mile away and then cycle on the roads with buses and cars, so the barriers coming down has been a huge benefit to everyone."