The National Cycle Network's traffic-free paths are a great resource for runners. But members of GoodGym – a community of runners which combines getting fit with volunteering – have taken things a step further by using Network routes to get to a range of community projects, as well as carrying out litter-picking, cutting back vegetation and doing other general maintenance tasks on the routes themselves.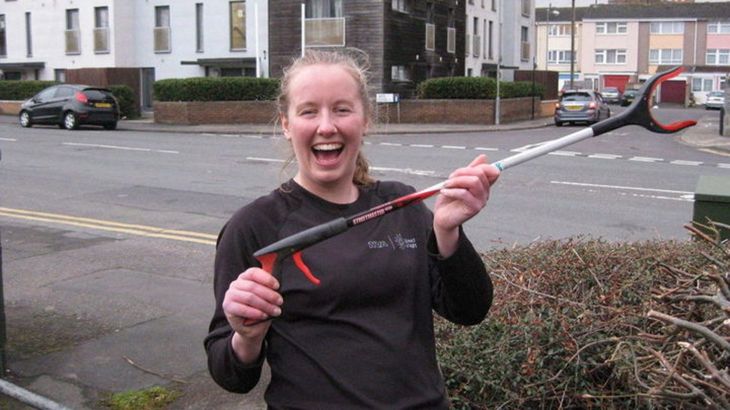 Sustrans and GoodGym have now officially partnered to provide more of this much-needed maintenance work to the Network across the country.
We spoke to Shona, 25, who leads training sessions with GoodGym in Bristol, about running and volunteering on the National Cycle Network.
"I have always been very into running and fitness, and I always liked to help out in my local community in whatever way I could, so this was the perfect way to combine the two. I had recently moved to Bristol before I started with GoodGym, so I went pretty much straight into being the Trainer.
"I was attracted by the chance to contribute to my local community, although obviously being able to combine this with being active was a massive bonus. It was the perfect way to be able to give back my energy to lots of different amazing local groups.
Running on the National Cycle Network
"I first became aware of the National Cycle Network pretty soon after moving to Bristol at the end of 2017, as it was so popular locally. It didn't take me long before I had to go and explore it myself, firstly by bike, then on foot as part of longer training runs.
"A lot of the projects we help with at GoodGym are based in the east of the city, so we often run up the Bristol and Bath Path on our way to and from tasks. 
"Many of our runners use the Bristol and Bath Path in particular for long runs and run commutes, and we use it on some of our Group Runs to get out to help projects in Easton and the east of Bristol.
"It is such a lovely way to stay away from traffic and meet a community of runners, walkers and cyclists, all enjoying the path. 
"I think there is a mutual respect for the route and for the people who are out and about using it on foot and by bike. It definitely has a community feel.
"There is nothing like it. I love the chance to be on a route where you can switch off from the traffic and logistics of the city's roads, especially when I am leading a big group of chatting runners.
It is such a lovely way to stay away from traffic and meet a community of runners, walkers and cyclists, all enjoying the path.
Using the path for community projects
"We've run along the start of the Bristol and Bath Path to get to Felix Road Adventure Playground in St Paul's, where we were gardening, litter-picking, and cleaning and tidying the indoor areas. We've also previously used it to help East Bristol Foodbank, sorting food donations ahead of them being given out as food parcels, and at Baggator Young People's Project where we did gardening, painting and other tasks.
"We use the Festival Way when we head south to help with the Malago Greenway and at the Northern Slopes. We have also used the Pill Path for community missions. 
"We have previously done 'plogging' (jogging and litter-picking) along the Pill Path with the South Bristol Ploggers, as it is a very popular route for runners. 
"'We are looking forward to helping with path maintenance in the future."