In August Sarah Bartlett trekked across the whole of the Trans Pennine Trail by horse. The trek was to mark the 30th anniversary for the coast to coast route, and another personal journey.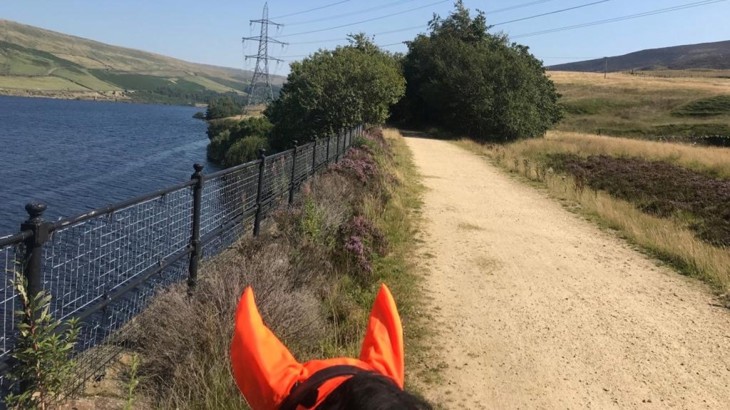 In January of 2019, I came up with this crazy idea of riding my fell pony Billy across the length of the Trans Pennine Trail. I would go from coast to coast, from Southport to Hornsea.
I did the ride in aid of Macmillan and took the decision shortly after my dad's terminal diagnosis.
I grew up on the mid part of the trail, using the stretch from Dunford Bridge to the tunnel at Thurgoland. I would explore the trail on foot, on horseback and on my bicycle up until the age of 16.
I had lots of great memories and hours spent on that part of the trail, unaware of its entirety. It wasn't until I was looking for a long-distance ride that I realised it ran from coast to coast.
I began planning the route and getting myself and Billy (my horse) fit. In August, we began our trek from the TPT start point at Southport.
I was nervous for what lay ahead. But once we were stepping out towards the Cheshire lines path, we were both relaxed and happy to be on our way.
The areas around Aintree, Bootle and Liverpool were especially quiet. The people we did pass were few and far between. They were mainly people using the trail to get from A to B with their children or walking their dogs.
There were a lot of comments, saying: "We have never seen a horse on this stretch," or "we have lived here and used the trail for 15 years and this is the first time I have seen a horse on here".
I have to acknowledge the awareness and politeness of other users along the stretch of the trail. People on bikes would call ahead, and pass us slow and as wide as they could.
A lot of people asked for us to stop so they could get a picture of their children at Billy's feet.
I chatted to most people as Billy seemed to be such a novelty to them. I told them more about our mission and everyone was encouraging.
I have to acknowledge the awareness and politeness of other users along the stretch of the trail. People on bikes would call ahead, and pass us slow and as wide as they could.
We'd say our goodbyes and continue on our way.
There was only one day where other users became a problem for us.
On Sunday August 25, we rode from Dunham Massey to Mottram. The route took us through Northenden and Didsbury on the trail.
We hadn't factored for Northenden boat festival on that day!
There were large crowds gathered along the riverside and on a narrow part of the trail. It was a hot day and the families were all in good spirits. This meant that they were not aware of other users and it felt like I was trying to crowd surf on horseback.
After a lot of "horse behind" , "excuse me" and "coming through please" we got through safely. Although, plenty of people would jump in shock when they looked to see who was behind them!  
On bank holiday Monday, we tackled the Woodhead stretch of the TPT, which runs through the Pennines. This part of the route is all off-road.
I was looking forward to this day the most. I had been fortunate enough to ride it as a teenager as part of another charity ride.
For a change, we had the blazing hot weather that everyone wishes for on a bank holiday. Not only was this the hottest day of the whole trek, but also the busiest and the most beautiful stretch of the trail.
This part is very popular for day-trippers, and that day was particularly busy. Every carpark along the way was overflowing with people exploring on bikes and on foot.
We had a lot of comments about our high visibility wear this day. People particular enjoyed Billy's fly veil… or as I call them his orange ears.
At least ten people stopped us to tell us that they loved his 'sun hat'. This made me smile and helped keep our spirits up.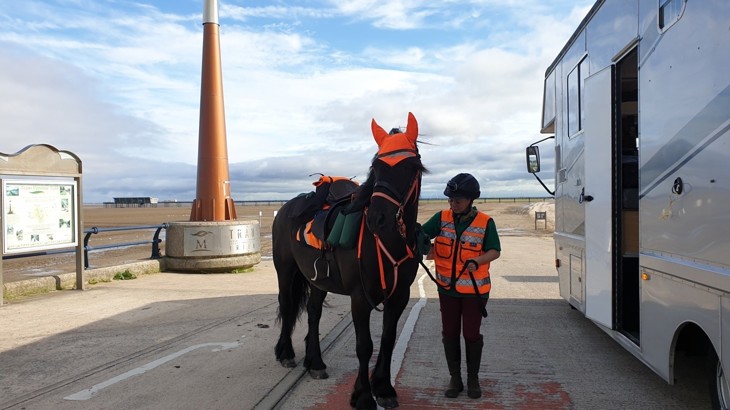 Something I noticed this day more than others was the amount of other TPT users who were in wheelchairs. The surface of this part is very well maintained, wide and flat. It also has easy access to wheelchair users and mobility scooters.
It was lovely to see such a diverse range of people able to appreciate the trail and its surrounding beauty. There were smiles aplenty that day.
It was amazing to explore the whole TPT, to discover where each part led to and see the many beautiful sights. But we did also come across many challenges too!
Cyclists and walkers have access to all parts of the trail whereas horses and riders do not. This was difficult at times as we had to use very busy roads to link up parts of the trail.
The TPT office is always looking for ways to make more of the trail more accessible to riders but it is not all there yet. We had to tackle many things that can be scary to equines, such as dual carriageways, a variety of iron bridges and a four-lane roundabout!
We covered between 20 and 46 miles each day over eight days, with an average of 27 miles per day. We had some issues with signage, which took our overall distance to 227 miles. 
It was an epic journey. I'm not even sure if I have come back down to earth from it yet!