The Stockton Hub is the UK's first active travel and cycle parking centre. It offers free information and advice on all aspects of cycling and walking, including guided rides and walks, and training courses on cycle maintenance. We caught up with Steve and Debra, who regularly use the Stockton Hub, to see how the Hub (and cycling) had transformed their lives. Here are their stories: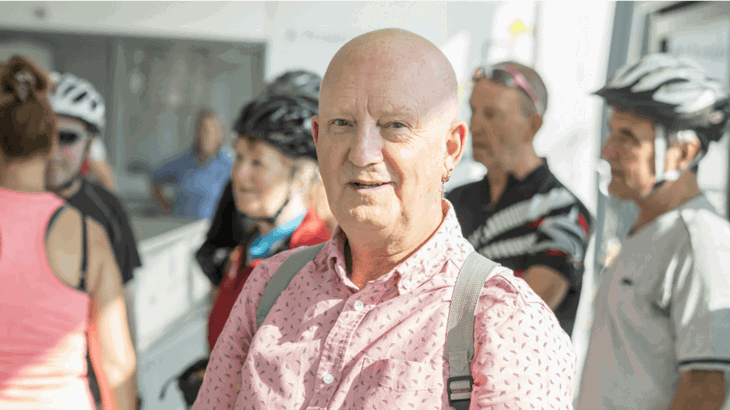 Steve says the hub has helped to make him healthier, happier and more resilient.
Steve Gunn, 66:
"When I was a kid, we never went anywhere without our bikes and I cycled a lot in East Grinstead, but the wind and the hills put me off when we moved off up North. I bought a mountain bike but I didn't actually spend much time exercising and it stayed hung up in the garage for years.
"The doctor put me on tablets for high cholesterol. I was taking them for years but they didn't do much. I also have a ruptured disc which can trap the sciatic nerve and give me backache.
"About a year ago, I walked into the Hub and heard about their regular bike rides. I started going out cycling on the Tuesday and Thursday rides and I'm now going out much more on the bike.
"I didn't realise how many cycle tracks there are in my area. I've got all the maps now. There's a nice route which is part of the National Cycle Network near where I live. I can cycle to Thornaby and I don't have to go on the roads. I'm much happier on a cycle track as I feel safe.
"I enjoy cycling in a group as you feel protected. I think people have put off cycling as it feels dangerous.
"I won't cycle down the High Street in Stockton as I've seen too many accidents, people just don't see you when you're on your own. People can be impatient in a car and not give you the space you need.
I am a lot happier and fitter than I was, and the better I feel, the more positive my outlook.
"We lived in Germany, France and Holland, where there are more bikes than cars. In Spain, cyclists have a priority. It's a different attitude.
"Here cyclists are seen as an annoyance. It would help if everyone had the chance to go out on the bike for a while so they could understand it.
"The Hub is such a good project. It's somewhere to leave your bike and it's great to be getting out and interacting regularly with people.
"I feel so fit that I don't feel my age at all. Last week, I walked five miles and my wife, who is much younger than me, was exhausted!
"Recently I went to have my blood tested and the cholesterol is fine. I haven't had any problems with my legs for a while.
"I am a lot happier and fitter than I was, and the better I feel, the more positive my outlook.
"I lost my mum a couple of years ago as well as other things that would have got me down in the past.
"Now I am more resilient."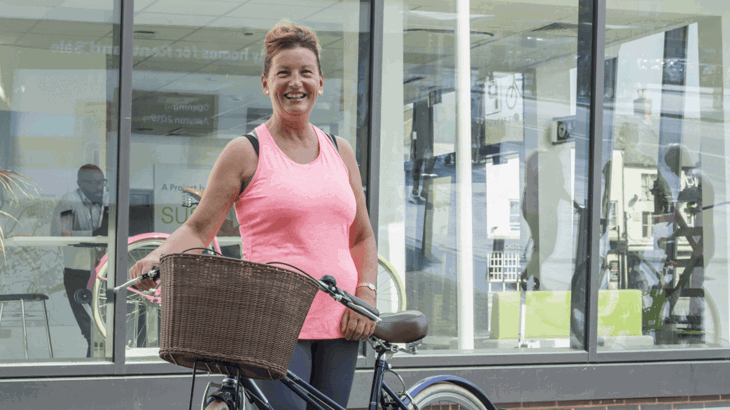 Debra says that cycling has given her a 'new lease of life.'
Debra Corkain, 55
"My life had come to a standstill. I lost my dad then 39 days later I lost my mum. Mum and dad were my life as I looked after them both.
"My brother said: 'there's a bike in the garage, why don't you get out on it?'
"I started cycling again and loved it.
"Cycling has given me a new lease of life. It's the first thing I think of when I get up in the morning – shower, get ready, get on the bike.
I love getting out in the fresh air, going to nice places and meeting people. It's good for clearing my head. It helps with my mental and physical health.
"I have a head tremor and adjustment disorder, but when I'm on the bike my head doesn't wobble as I'm concentrating and I feel free as a bird.
"Before I started cycling again I had high cholesterol and the doctor put me on statins. I took them for two weeks but then I started riding.
"Last time I came to the doctor's all my blood tests came back fine – despite the fact I'm a chocoholic!
"I joined the hub about six months ago and started going out with two cycling groups. The biggest cycle I did was 44 miles, with 1,520 feet of climbing!
"The Hub means everything to me, I couldn't be without it. I come twice a week for rides on Tuesdays and Thursdays and now I am training to be a ride leader. I have also done bike maintenance 1, 2 and 3.
"My brother and sister come to the Hub now too and do bike rides with me. I go everywhere on the bike.
"I use the National Cycle Network a lot. When I go out with the Pedalheads, my local cycling group, they showed me all the routes.
"Cycling is like one big adventure. I'd really like to venture further afield. One day I'd love to do the Sea to Sea."