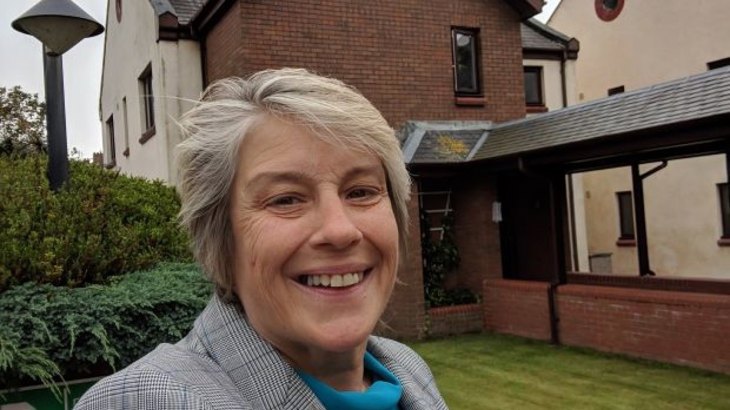 We hear from Karen Ross, an e-bike convert, about how she uses cycling to control her blood sugar levels after being diagnosed with Type 2 diabetes, a common condition that causes the level of sugar in the blood to become too high. This can increase the risk of developing more serious problems with your eyes, heart and nerves if left untreated.
After the initial shock news, Karen was invited to take part in an e-bike trial scheme to look at how exercise impacts the condition. Since then she has decided to take up cycling as a way of controlling her blood sugar levels and the results speak for themselves.
Karen's story
"I was scared and really shocked when I was diagnosed with Type 2 diabetes. At the time I didn't understand how this had happened.
"I took a long hard look at what I was eating and how much I was exercising and realised I hadn't been taking good care of myself. I wasn't getting out much and would spend quite a few hours sat in front of the television each day.
"I went to a seminar about type 2 diabetes to learn more about the condition and how to keep it under control. About six months later, I got a call asking if I would like to take part in a study with e-bikes.
"I had no clue what they were but wanted to give it a go to help get my health back on track. Since then I haven't looked back.
"Getting out and exercising is an absolute necessity and riding on an e-bike gives me the encouragement I need to get up and go.
"I love riding a bike and the freedom it gives you to stop off wherever you like while avoiding the hassle of parking and the cost that comes with it."
Improving health 
"My health has improved significantly as a result of cycling and now my diabetes is practically non-existent.
"The doctors were really impressed with my progress; within a year I had my blood sugar completely under control without using medication and I had lost four and a half stone.
"When I first heard the news I only changed my diet, so my blood sugar remained more or less the same, but once I started incorporating exercise into my daily routine it rapidly went down, which goes to show how important keeping fit is.
"The doctors were really impressed with my progress; within a year I had my blood sugar completely under control without using medication and I had lost four and a half stone.
"My husband has been really encouraging which has been a huge motivator for me. Quite often I cycle half way to Filton to meet him on his way back from work and then I ride the rest of the way home. I also live two seconds from the Bristol and Bath path so I have no excuse to not get out and go for a quick ride!"
Make cycling safer and more accessible
"The UK Government needs to take action to make riding a bike safer and more accessible. They say that we are facing an obesity crisis but don't give people the provisions to lead more active lifestyles.
"It's difficult for those who cycle as the roads are so busy and motorists aren't always aware of the space you need to give people on bikes. As a driver, I know I have overtaken too close in the past.
"I was in an accident when my husband and I were cycling nearby Cabot Circus in Bristol. A bus clipped him, so he went straight over the handlebars and then I crashed into him. We both ended up as a big heap on the floor.
"Incidents like this really put people off. And for this reason, I believe better cycling infrastructure would encourage more people to get out on their bikes.
"I'd definitely recommend an e-bike to anyone diagnosed with type 2 diabetes who is looking to reduce their sugar levels without medication. It's changed my life for the better, made me a more confident cyclist and is something I genuinely enjoy doing."
Karen was interviewed as part of Bike Life Transforming cities, a report modelling the impact of doubling cycling every eight years. An estimated 34,000 incidences of eight life-threatening conditions, including Type 2 diabetes, stroke, breast cancer and depression, would be prevented in seven major cities between 2017 and 2040.
Want to find out more?