Lorreine started cycling the 12-mile round trip between Watford and Hemel Hempstead two years ago. Regular cycling has helped her to totally change her lifestyle. She feels fitter and healthier than ever before. She now rides her bike to work at least three times a week come rain or shine and wouldn't want to commute any other way.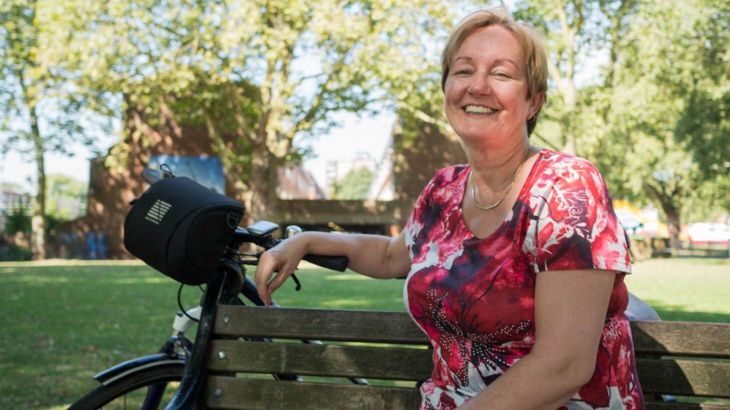 Lorreine with her bike - after being diagnosed pre-hypertensive, regular cycling has transformed her health and lowered her blood pressure.
My wake-up call
"Around two years ago I found out I was pre-hypertensive and at risk of developing dangerously high blood pressure. My doctor warned that I would probably need to take medication to keep my blood pressure in check but I wasn't having any of it. I decided there and then to buy a bike instead."
Having not ridden since she was 12 years old, Lorreine spent the first few months riding around local roads and cycle paths, gradually building up her fitness and confidence. 
"It felt awesome being back in the saddle so I kept doing more and more until I found I could cycle about five miles a day.
"I was amazed how quickly my fitness levels went up and my blood pressure went down. My doctor was impressed too."
My first commute by bike
At this point Lorreine asked herself what was stopping her cycling the six miles to work rather than driving. She had got to know the quieter roads and canal towpath that could take her to the office and the idea of being in touch with her surroundings and getting exercise on her daily commute seemed like a good one.
"I got up very early one Sunday morning – around 6.30 - and cycled all the way to the office. And back again. A total of 12 miles.
"It was that Sunday that changed my life.
"Now when I ride to work I speak to around thirty people on the way and arrive smiling, de-stressed and feeling happy."
If I can cycle to work, anyone can
Lorreine wholeheartedly recommends cycling as a way to get fit and stay healthy.
"There's very little I don't like about cycling although helmet hair is a pain in the backside.
"I've made a network of new friends through cycling, my legs and arms are toned and stronger, and I feel happier and healthier than I have for years."
Last July she completed a 60-mile cycle ride to raise money for charity, something she never thought in her wildest dreams she would be able to do.
It's no surprise to hear that Lorreine would encourage anyone who lives within a reasonable distance from work to give it go. She offers this advice: 
"Ultimately, if you live under five miles from work, start by planning your route, figure out a few practical logistics and try it out at the weekend, or outside of term time, when the roads tend to be much quieter."