We know that cycling to work can be quicker, healthier and cheaper than commuting by car, but sometimes we need an extra bit of encouragement to give it a go.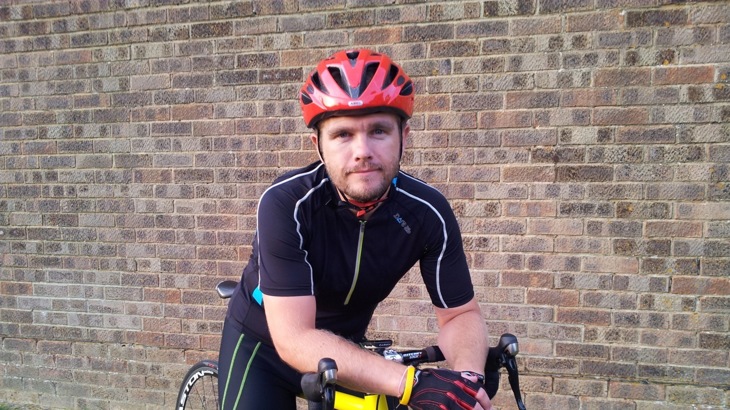 Cycling helped Toby to lose weight, get fit and gain the confidence to try new things.
Toby Field spoke to us in 2015 about how cycling changed his life.
Seeking a healthier lifestyle
I had a desk job in IT and had driven everywhere since getting a car as a teenager. But when my weight crept up to 21 stone at the age of 31, I decided to do something about it, by buying a bike through the cycle to work scheme.
At first, the idea of taking on just part of my 10-mile commute was daunting. That's 10 miles each way. Even my colleagues who already cycled thought I was taking on too much and would soon quit. However, after talking to them, I soon got advice that would be invaluable to progressively increase my commute to the full distance.
I learnt to break the bigger ride into manageable chunks and use either the car or the train for some of the journey. Also to reduce muscle soreness, the key was to increase the amount of cycling I did, as I wasn't getting my legs warmed up properly.
I've experienced dramatic lifestyle changes since changing my daily commute.
I fell in love with cycling. That makes a big difference in wanting to cycle regularly
Cycling has many benefits
The benefits I've gained from cycling to work have been immense.
I've saved money in fuel costs - this was a helpful indicator early on as I wanted to cycle enough miles each month to pay for the bike.
I've got fitter - much fitter. And I've lost weight - over eight stone.
Cycling has opened my mind to a whole new realm of possibilities from the new lease of life it's given me. For example, I took part in the Three Peaks Challenge, climbing the highest mountains in England, Scotland and Wales in 24 hours. I could never have done that when I was bigger.
Cycle to Work Day
Being the unofficial cycle to work champion, I'm often approached by my colleagues for advice on all aspects of cycling. I arrange regular after-work rides and occasional visits from our local mobile bike mechanic. I also encourage at least one new member of staff to take part in the annual London to Brighton bike ride in aid of the British Heart Foundation.
I wasn't aware of Cycle to Work Day when I started cycling, but now I use it to encourage other members of staff to try cycling to work. Many that do, continue to cycle regularly.
If you want to take part in Cycle to Work Day, a great way to start is to have a word with one of your colleagues that already cycles or email them if you don't know how to break the ice. They can offer you tips and suggestions to get the most out of the local cycle routes or what facilities might be on offer to you at work.
You'll be in good company. 44,892 people registered to take part in Cycle to Work Day in 2016.
I commute every day on the National Cycle Network. It offers a low or no traffic route with good signage and often great views. Just riding to work you'll see new things every day. Being outdoors is much nicer than being stuck in the car or public transport.
About the author: Toby Field bought a bike through the cycle to work scheme to lose weight and hasn't looked back.