Dennis has been cycling since the age of 15, for over half a century. In addition to giving him freedom, friendships and adventure, cycling was also how he met his wife.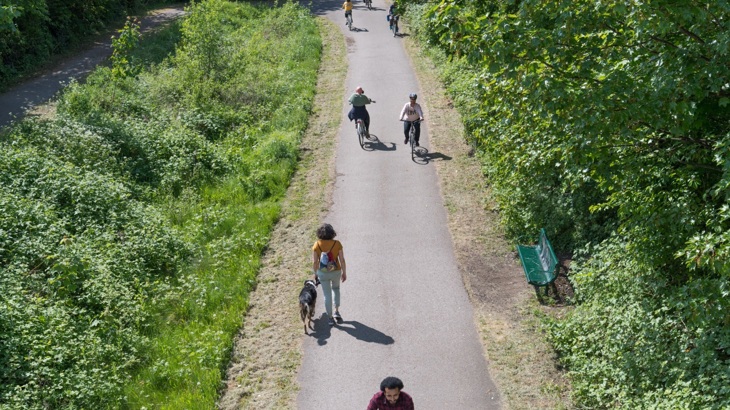 The delights of National Routes 61 are on Dennis' doorstep
When you first start speaking to Dennis his love of cycling is immediately apparent not to mention infectious. At 80-years-old, cycling every day and riding up to 5,000 miles a year, he's got plenty of experiences to share.
A Sustrans supporter since the late eighties, Dennis first heard about the charity when he started visiting his sons at university in Bath and Bristol and riding the excellent Bristol and Bath Railway Path.
"I'm a road cyclist, not a mountain biker but it is nice to get off the road," said Dennis.
"When I started cycling the world was totally different. If we wanted to go to Worcester we'd just hop on the A38 from Birmingham. 
"Well you would never do that now and there's an alternative with Sustrans routes." 
But it's not just the National Cycle Network that's kept Dennis supporting our work all these years.
"The most important thing Sustrans does is not looking after the likes of me but its work around creating safer routes to school," he said.  "I think that's really excellent." 
A lifelong passion
Dennis's love affair with cycling began at the age of 15 when, after much badgering, his father bought him his first bike – a Raleigh Lenton.
It was a bike that would clock up thousands of miles and although it's been replaced many times over since it clearly retains a special place in Dennis's heart.
By today's standards, it was heavy and clunky but he's a firm believer that to get out cycling any two wheels will do.
"I just say if I'm on two wheels, I'm happy," he said.  "I have one or two tasty bikes but if I'm on an old one I'm happy too.
"I read articles in cycling magazines about how to work your way up to 50 miles. I just got on my bike and rode it and within months I was cycling 120 miles to the Welsh coast. I wasn't an athlete - any ordinary 15-year-old can do that and the world is theirs to see." 
Not long after breaking in his new Raleigh, Dennis very quickly joined the Sutton Road Cycling Club in Birmingham and a new world opened up.
His first long ride to Ashby de la Zouch marked the beginning of great friendships that still endure today. Dennis and his friends spent many happy hours cycling in mid-Wales and the Midlands, and distances of 80-100 miles on a Sunday were common-place.
His first real tour was through Devon and Cornwall followed by memorable rides through Kent to the Isle of Wight and back to Birmingham. As if those distances weren't enough, trips through much of Europe and beyond followed.
All of the best things in my life have happened because of cycling.
Life changing moments
Dennis has been cycling for well over half a century. Aside from the fresh air, the places he's been and the people he's met along the way, he has plenty more to thank cycling for. 
"I have an American friend who talks about "happenstance", a chance circumstance I suppose," said Dennis.
"In the early days, I lent a telephone engineer my bike which was the start of my own career as a telephone engineer.
"Some years later I moved to London. One evening I went over to a friend's house to borrow his bike and that was where I met my wife.
"So all of the best things in my life have happened because of cycling."
Helping others discover cycling
Today, home is in Hertfordshire and Dennis is a long-standing member of Spokes SW Herts Cycling Group.
Cycling almost every day and with the delights of National Routes 6, 12 and 61 on his doorstep, he is fully immersed in the cycling fabric of the county. This includes being a ride leader for guided rides in Watford for the last five years, a local cycle route planner, actively involved in Ride Social and the founder of a local University of the Third Age (U3A) group.
The U3A group for retired and semi-retired people has now been running for 12 years and up to 10 riders go out once or twice a month.
Dennis's contribution is well summed up by Kate Jenkins, General Manager at Watford Cycle Hub: "Dennis opens so many doors. Not just for me but all those participants that have either ridden with him or followed routes and trails he's set. He has great local knowledge, great stories and his diligent maintenance is an example of how to keep your favourite bike going for years."
Dennis Fitton is a Sustrans supporter, ride leader and founder of U3A in Watford.