Cary Thompson recently took part in Sustrans cycle training so he could be more confident commuting to work by bike. This was provided at the Active Travel Hub in East Belfast as part of the CHIPS programme. He was so pleased with the training that he wanted to write a blog to encourage other potential cycling commuters.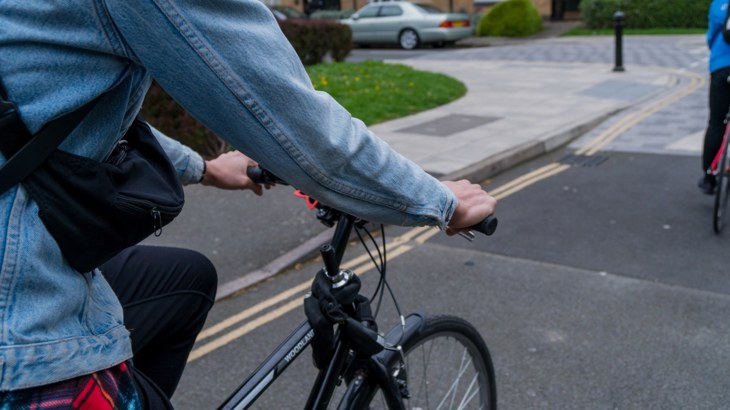 Sustrans training for commuting by bike to work was practical, easy to digest and fun.
For someone who hadn't undertaken formal cycle training since Cycling Proficiency at primary school, it was a revelation.
This wasn't learning to cycle in a playground, National Standard training takes you out on the road.
Staying safe is the main aim​
No more wobbling shakily in and out of cones while trying to indicate right.
 Instead, we started with the A (Air), B (Brakes) and C (Chain) of your bike before moving on to how to do an emergency stop.
Don't worry about back brake before front brake, just be prepared to brake and keep your weight over the saddle to minimise the chances of a skid.
Once we were out on the road, gone was that theoretical 18 inches out from the pavement that could still have you bumping across gratings and continually indicating to pull out around parked cars.
Instead, the focus was on keeping cyclists as safe as possible at all times. We were introduced to "shared" space and "controlled" space cycling. 
The former is when you are on the road, comfortably out from pavements, parked cars and other road obstructions and drivers can both see you and pass you with care.
The latter is when you, to be safe, need to control the lane or side of the road you are in. For instance, to turn right. Be clear in your movements, be decisive and be where drivers are going to see you.
The training has given me a level of confidence to cycle on the road which I haven't had since my twenties but this time for good reason. Certainly, enough to make me want to commute to work in the centre of town.
I weighed up the various pros and cons to commuting on different modes of transport:
Driving - slow and expensive.
Bus: better thanks to the

 

Glider

 

but still relatively slow, can feel like being on the tube in London and still about £65-£70 a month.
Walking: just way too far from my home to work.
Cycling: I have always enjoyed cycling but how long would it take and what about all those really busy roads and being seen at night.
The training has given me a level of confidence to cycle on the road which I haven't had since my twenties
Route-planning guidance
As part of the Sustrans training, we looked at potential routes into town using a combination of shared-use paths, cycle routes and lesser-used roads.
Whichever part of town you are commuting from you are faced with three issues: (i) avoiding busy major arterial routes into town; (ii) cycling in the town centre; and (iii) the uphill cycle on the way home.
Coming from East Belfast, you are also faced with the need to get across the River Lagan. Fortunately, in the east, we have two excellent shared-use paths the Comber Greenway (National Cycle Network Route 99) and the Connswater Community Greenway which bring you into the Titanic Quarter.
So the first part of route planning was pretty easy, looking at which one was closest and easiest to get onto from my home (in my case the Comber Greenway).
This route via Titanic Quarter opened up the prospect of using the Lagan Weir Bridge and joining the Lagan towpath cycleway (National Cycle Network Route 9) on the other bank of the river avoiding arterial routes completely and solving the bridge problem.
But what about cycling in town? As I wanted to get to Great Victoria Street I discovered I could continue along the Lagan towpath to the Gasworks and then onto the road at Ormeau Avenue, and then a series of less busy streets until my final destination. So that solved the cycling in the town centre problem.
My last challenge was the uphill cycle on the way home, but I found that my bike gears solved this issue.
I've found my commute home helps me to release the day's frustrations either through putting my head down and pedalling hard or enjoying the environment as I meander home.
Thanks to the Sustrans trainer's up-to-date knowledge, I now have a much more direct route using a new cycle path from Titanic Halt to Queens Bridge using Middle path Street.
In conclusion, cycling really is fun, much quicker than walking, driving or taking the bus. I've found some new cycling kit which means you can be warm, dry and visible, and if there is a torrential downpour all day there is still the Glider option.
Just on the lights, they are great, throw away your Ever Ready batteries (responsibly of course) and stock up with good quality chargeable lights.
Finally, if you want to get some exercise but can't find the time, commuting to work by bike is a great option. Hope to see you on the Greenway sometime!