Doncaster North MP Ed Miliband visited his local National Cycle Network route to see the benefits it provides to the community and to discuss the importance of future funding.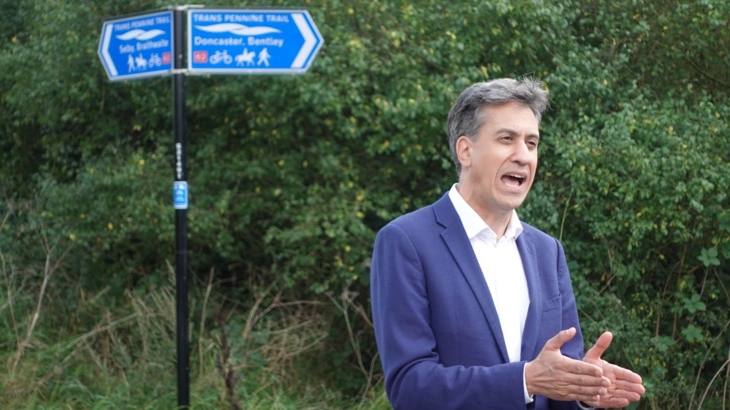 MP Ed Miliband met Sustrans Chief Operating Officer Matt Winfield on a local section of the National Cycle Network. Credit: Rachel Sutherland
The benefits of investment in the National Cycle Network were demonstrated in Doncaster on 21 September when local MP Ed Miliband, Shadow Secretary of State of Climate Change and Net Zero, visited a section of the route running through his constituency.
He was hosted by Matt Winfield, Sustrans' Chief Operating Officer.
The pair took to the Trans Pennine Trail at Bentley for a short ride to highlight the importance of future funding for the Network.
The National Cycle Network is a fantastic idea and resource... I am really grateful to Sustrans for their work.
Mr Miliband met with volunteers before continuing along Route 62.
There, he was able to see upgraded sections of the path, and the impact of our work to ensure the Network is accessible to everyone, all year round.
Speaking of his visit, Mr Miliband said:
"It was great to see the difference that Sustrans are making in my constituency, maintaining and improving cycle paths.
"The National Cycle Network is a fantastic idea and resource, enabling walking, wheeling and cycling. I am really grateful to Sustrans for their work."
The need for dedicated investment
Following the meeting, Matt Winfield, Sustrans Chief Operating Officer, said:
"Walking, wheeling and cycling are of immense value to the nation and to each community within it, such as in Doncaster.
"That's why meeting with dedicated community representatives is so important, such as today's with their MP Ed Miliband.
"Our ride was a perfect opportunity to highlight the role the National Cycle Network plays for his Doncaster constituents, especially in connecting communities.
"We've seen so many different people enjoying the path today, from dog walkers and cyclists to people using mobility scooters.
"We know there is huge demand for walking, wheeling and cycling and we need greater, dedicated investment to make active travel easier for people across the country. We are extremely grateful to Ed for giving us his time and insights."
Find out why fair funding for active travel and the National Cycle Network is so important.