The 2023 UCI Cycling World Championships, held across Scotland, were not just a celebration of world-class athleticism. They aimed to inspire even more people to hop on their bikes and experience the benefits and excitement of making healthier, happier journeys.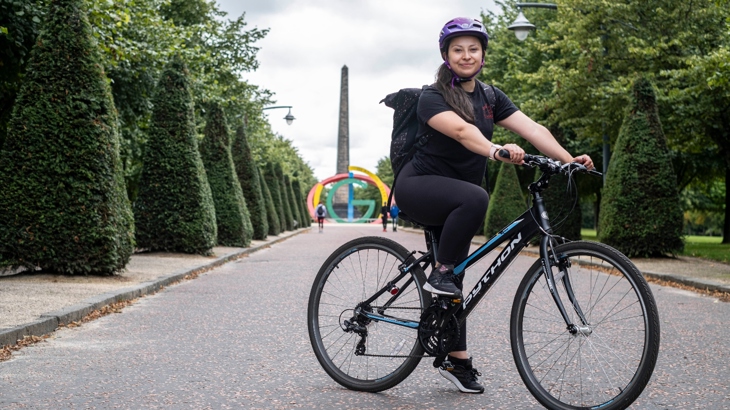 Glasgow Art Trail - Cycling World Championships, legacy route.
The excitement of the Championships is still fresh for the millions who attended or tuned in, and you too can get on your bike and follow in the wheel prints of 2023's heroes.
The Championships set out to inspire more people to experience the #PowerOfTheBike across the country.
Its mission has been to encourage active travel and reduce carbon emissions.
Getting on our bikes not only has huge benefits for our physical and mental wellbeing, but it also helps create a better environment for everyone.
By leaving our cars at home more often, we can reduce traffic congestion, improve air quality in our neighbourhoods, and promote healthier spaces where we can all thrive.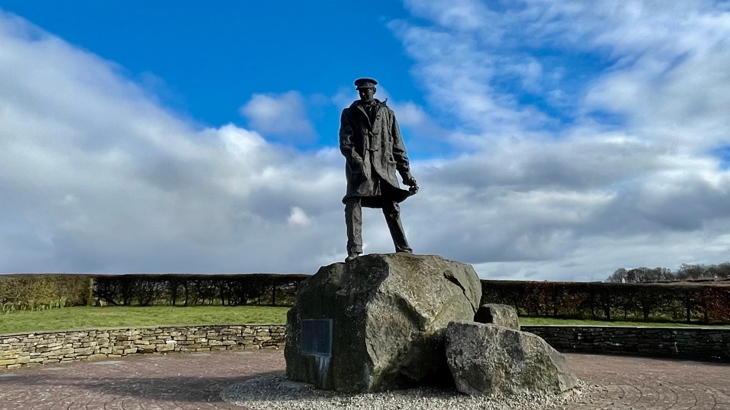 The memorial of David Stirling, founder of the SAS, stands on the Stirling Heritage Loop, near to National Cycle Network Route 765.
With over 1,600 miles of routes stretching across Scotland, the National Cycle Network allowed thousands to sustainably reach 2023 UCI Cycling World Championships events in Glasgow and beyond.
With the 220th and final rainbow jersey awarded for 2023, we've put together five exciting day trips which give you the chance to follow in their wheel prints and experience the #PowerOfTheBike on great days out across Scotland.
Whether you're an art enthusiast, a nature lover, or a history buff, there is something for everyone! 
Dumfries - Glenkiln Loop from the Crichton 
Embark on a picturesque journey through the rolling countryside of Dumfries and Galloway.  
This scenic loop takes you past iconic landmarks like the Crichton Memorial Church and the serene Glenkiln Reservoir, offering a serene escape into nature.
Level: Challenging  
Glasgow – Art Trail 
For urban adventurers, the Glasgow Art Trail is a must-try experience.
This city-wide treasure hunt takes you on a tour of some of Glasgow's most notable works of art.  
From Queen Street Station through the city centre to Glasgow's East End, you'll encounter impressive pieces like La Pasionaria, The Hope Sculpture, and The 'Wonder Wall.' 
Level: Intermediate
Glentress - Nature Loop and Manor Valley 
Experience breathtaking panoramic views of the Tweed Valley and Manor Valley on this figure-of-eight loop from Peebles. 
This route combines the beauty of Glentress Forest's giant trees and wildlife with the rolling, open countryside. 
Level: Intermediate 
Tweed Valley Railway Path and Walkerburn 
This picturesque loop along the banks of the River Tweed takes you through a combination of quiet lanes and the Tweed Valley Railway Path.
This serene, traffic-free route links the vibrant towns of Innerleithen and Peebles. 
Level: Intermediate 
Stirling Heritage Loop 
Meander through the grounds of Stirling University before taking on the challenging climb up to Sherrifmuir.
You'll be rewarded with iconic views of The Wallace Monument, Stirling Castle, and panoramic vistas of Ben Lawers. 
As you descend to the valley floor, you'll pass through the historic spa towns of Dunblane and Bridge of Allan, completing this unforgettable journey. 
Level: Challenging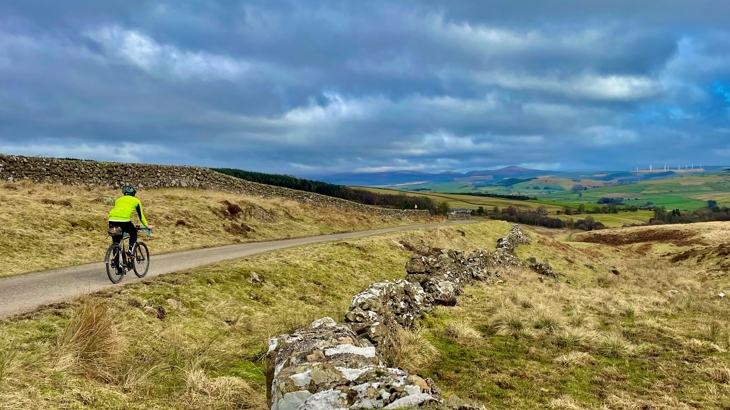 This loop of Glenkiln Reservoir takes you across peaceful lanes with stunning views.
The legacy of the 2023 UCI Cycling World Championships in Scotland extends beyond the winners and podiums.  
It's a call to action for all of us to embrace the #PowerOfTheBike, explore our beautiful landscapes, and contribute to a cleaner, healthier, and more sustainable future for our beloved Scotland. 


Plan more great days out on two wheels with our interactive journey planner, created in partnership with VisitScotland. 


Find out more about National Cycle Network routes across Scotland.