Students from Ysgol Pendalar, an additional learning needs school in Caernarfon, recently took part in a sponsored walk and wheel to fundraise for a fleet of adaptive bikes for the school. Working in partnership with Sustrans' Active Journeys programme, the school has shown its commitment to inclusion.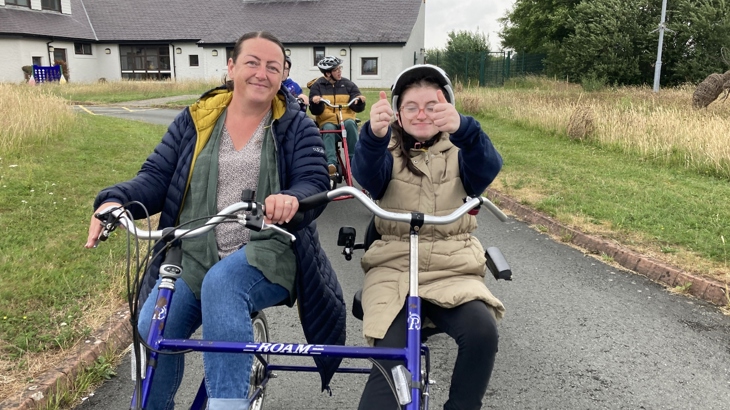 The Ysgol Pendalar school community has come together to raise money for a fleet of adaptive bicycles. Credit: Debbie Humphreys/Sustrans.
Pupils of Ysgol Pendalar in Caernarfon recently took part in a sponsored walk and wheel, covering the distance of the school to Yr Wyddfa.
Working in partnership with Gwynedd Council's Road Safety team and Sustrans' Active Journeys programme, the school has underlined its commitment to inclusion.
The school, which has been a part of the Welsh Government-funded Active Journeys programme since September 2022, has championed inclusivity in active travel for its students.
Every pupil has some level of additional learning needs, with pupils attending the school from the ages of 3 to 19.
The pupils were asked, if they had one wish, what would they want?
Their answer was to have a suitable track on school grounds to practice cycling and scootering skills safely, and to have a shared use path from the school to allow them to use their skills in the local area.
Embracing the challenge to improve inclusion
One of the pupils' grandfathers had the idea to raise money to buy a fleet of adaptive bicycles for the school, by climbing Yr Wyddfa.
The school subsequently arranged a walking and wheeling trip from Llanberis along the Lôn Las Peris path.
Pupils, parents and guardians, and former students were invited to come along and take part.
Following that, the Active Journeys Officer suggested organising a sponsored walk and wheel during the school's wellbeing week.
Parents, guardians, and students could then cycle, walk, and scoot the distance from Yr Wyddfa to the school – their current total stands at £1,860.
"Every visit to this school is inspirational, and the smiling faces of the pupils says it all as they experience a range of opportunities," said Debbie Humphreys, Active Journeys Officer for North West Wales.
Gwyn Owen also went on to organise a fundraising walk which expanded from just climbing Yr Wyddfa – the final effort ended up raising £955 after he and a team of 12 others completed the Welsh 15 Peaks challenge.
The fundraising hasn't ended there, either, as one pupil's father wants to celebrate his 50th birthday by cycling 50 miles on a spin bike.
To raise money to purchase adaptive bicycles for the school, he's asking people to guess how long this will take by paying £1 to enter – he's currently raised £880 through his efforts.
Showing a real commitment to active travel
The school of 120 students has been a committed member of Sustrans Cymru's Active Journeys programme, and this is an ongoing effort to ensure that everyone at the school cam take part in travelling actively.
Since joining the programme, the school has held regular meetings with Active Journeys Champions to discuss how the programme and Sustrans' Active Travel Schools Award could be adapted to include everyone.
Sustrans Cymru's local Active Journeys Officer has organised taster sessions for the school's youngest students to try using balance bikes, thanks to support from Byw'n Iach.
Ysgol Pendalar has also taken part in Sustrans' Big Walk and Wheel challenge, previously finishing second in the comprehensive school category and having won scooters for the school for their efforts.
School staff have also had scooter skills training from the local Active Journeys Officer and will be receiving balance bike training in the new term.
Thanks to Gwynedd Council's Road Safety team, the pupils have also had road safety skill sessions from the local authority, helping them to prepare for travelling outside of school.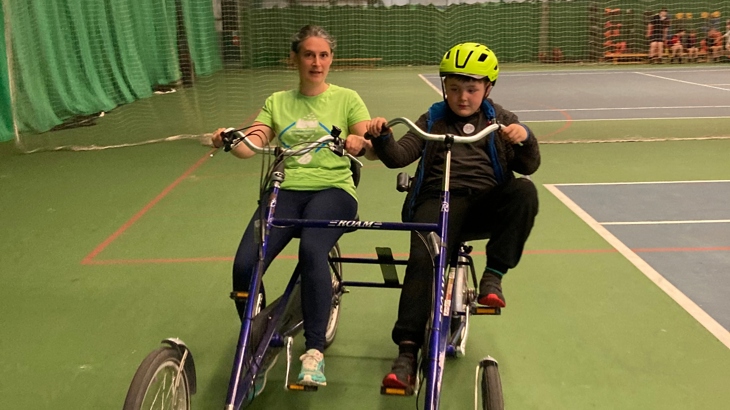 Parents, guardians, pupils, and former pupils have all been taking part in the fundraising activities. Credit: Debbie Humphreys/Sustrans.
"The Active Journeys programme has encouraged us to be more aware of moving and traveling actively," said Iola Jones, Active Travel Champion for Ysgol Pendalar.
"The pupils have had a lot of exciting experiences and have taken part and enjoyed every opportunity."
"We held an assembly for our comprehensive-aged students, prepared by our Active Journeys Officer, and the reaction was great, in terms of recognising lots of things that we could do to travel home actively and at school."
"The effect of taking part in active activities in school is clear to see in the children, seeing them enjoying themselves in being active and learning new skills."
Developing community ties playing a crucial role
The school has also been working to develop and strengthen a partnership with Beics Antur, a branch of the Antur Waunfawr social enterprise based in Gwynedd.
The collaboration between Ysgol Pendalar and Beics Antur over the last year has led to students enjoying weekly learning to cycle sessions on school grounds and on a local cycling path in Caernarfon.
Thanks to the wide variety of bikes available from Beics Antur, pupils have a golden opportunity to develop cycling skills.
The pupils have also been able to get access to bicycles through Cycle Power, a local inclusive adaptive cycling club, with children and their families being encouraged to join in on weekend rides along Lôn Las Menai.
Ysgol Pendalar have also been able to arrange maintenance sessions that run weekly with Beics Antur that help students develop skills and their independence.