So much has happened since we opened our hubs at North West Multi-Modal Transport Hub in Derry-Londonderry and Cathedral Gardens in Belfast in autumn 2022. One year on, we see how each has become a focal point for encouraging people to walk, wheel and cycle in the local area.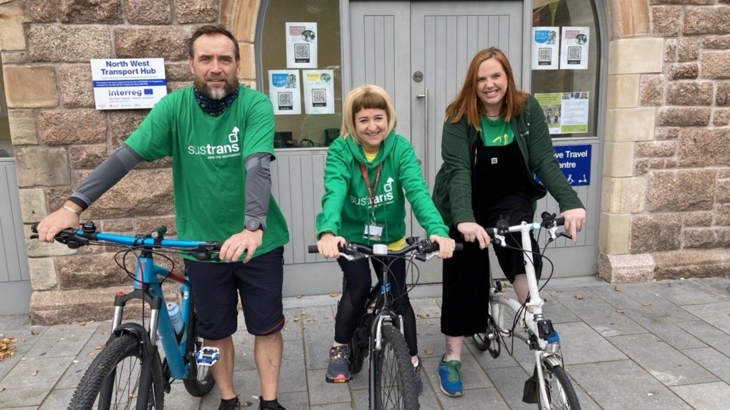 Active Travel Officers based at the Active Travel Centre in Derry-Londonderry (from left) Kieran Coyle (Workplaces), Michelle Nash (North West Greenway Network), and Donna McFeely (Schools). Photo: Sustrans
The hubs attract residents, workers and visitors thanks to the enthusiasm and dedication of our officers on the ground.
The popularity of our activities shows there is a real desire from the general public to travel differently.
The Active Travel Centre (ATC) at the train station in Derry is ideally located on the Waterside Greenway, part of National Cycle Network Route 93.
This now leads directly onto the Strathfoyle Greenway.
They are linked to National Route 92 and other greenways on the cityside by the traffic-free Peace Bridge as well as Craigavon Bridge and Foyle Bridge. 
Enjoyment of going out with a group
Nina Mukherji has attended many of the activities at the Active Travel Centre.
A doctor at Altnagelvin Hospital, she is originally from Dublin so enjoys the social aspect of the cycles. 
Nina said:
"I enjoy going out in the group most, both for the social side and for safety.
"We go off-road and we're all beginners so we're learning from each other.
"It's reassuring to have someone guiding you, telling you what to do and when.
"I also liked the fact that the sessions were regular. 
"Going out on the bike with a group and a leader is an informal kind of exercise, the group gels and you look forward to the sessions so it's good for mental health as well as physical." 
Trio of Active Travel Officers in North West team
Altnagelvin Hospital is one of the workplaces participating in the Leading the Way programme.
This programme is delivered in the North West by Kieran Coyle, who is based at the ATC. 
Leading the Way is funded by the Public Health Agency, which also co-funds the Active School Travel programme with the Department for Infrastructure.
The North West Active School Travel Officer Donna McFeely works at the railway station hub too. 
Cross-border project for Derry City and Donegal
Another member of the team in the ATC is Michelle Nash, the North West Greenway Network Active Travel Officer.
The North West Greenway Network is a cross-border project involving Derry City and Strabane District Council, Donegal County Council, the Department for Transport, the Department for Infrastructure, INTERREG VA and the Special EU Programmes Body (SEUPB).
In her role, Michelle brings together community groups on each side of the Irish border.
She encourages and enables these people to walk and cycle more as the greenway network in the area expands. 
'Grateful to have greenway network on our doorstep'
Michelle said:
"It is a joy to work on the North West Greenway Network on either side of the border, and having a base right on the Waterside Greenway is such a bonus.
"Many of our participants are either inexperienced or out of practice of riding a bicycle, so it's so reassuring for them to have traffic-free paths on which they can build up their confidence knowing they are safe. 
"We know from feedback that there is an appetite for greater opportunities to choose active travel journeys if there is safe infrastructure in place and we are grateful to be able to give them the skills to start those journeys on the fantastic network of greenways." 
The Active Travel Officers also facilitate electric bike trials and loans, along with regular led rides, led walks, and bike repair sessions.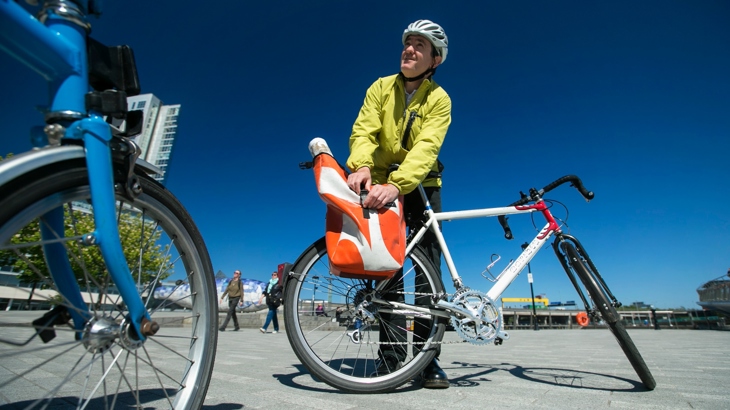 Tom O'Dowd is the Active Travel Officer at Cathedral Gardens hub in Belfast. Photo: Sustrans
Similar activities are on offer at the Cathedral Gardens Active Travel Hub in Belfast, where Active Travel Officer Tom O'Dowd works.
Cathedral Gardens is set in a very different environment, close to the city centre in the shadow of the new Ulster University campus which opened in September 2022.
Our base here reaches out to students and staff from the university, which funds it along with Belfast City Council and the Public Health Agency.
Workers in nearby offices are also engaged in activities to encourage more of them to travel by foot or bike instead of by car.
Our active travel hubs are key to combatting the negative environmental and health issues that car dependency brings.
Plans for traffic changes in nearby street
Plans to remove most traffic except buses, blue-badge holders and cycles from adjoining York Street are at consultation stage.
The opportunities for people in the vicinity to improve cycling skills or become more familiar with walking routes thanks to our presence in the Cathedral Gardens hub therefore couldn't have come at a better time. 
Our Northern Ireland Director, Caroline Bloomfield, said:
"More and more people are becoming aware of the need to choose active travel as the climate crisis deepens.
"It's also a cheap and easy way to keep active and look after physical and mental health as well as cut air pollution which is such a problem in our cities. 
"Our active travel hubs are key to combatting the negative environmental and health issues that car dependency brings, by having experienced staff help people gain the skills and confidence to adopt walking, wheeling or cycling into their daily lives, creating healthier places and happier lives for everyone."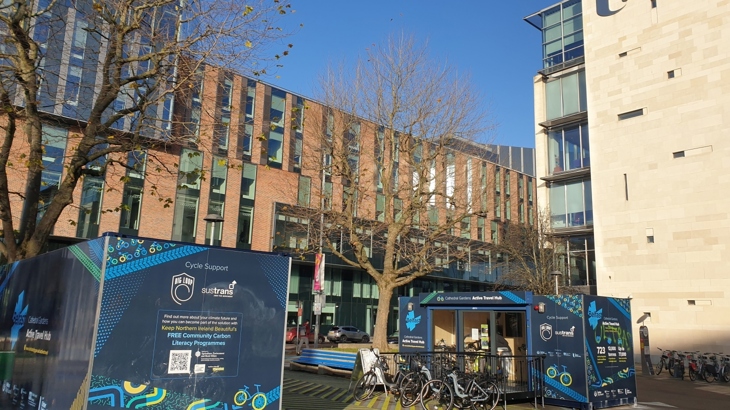 Cathedral Gardens hub is located next to Ulster University in Belfast city centre. Photo: Sustrans