The new hub opened by Lord Mayor and Public Health Agency Chief Executive will allow more people to take part in the Belfast Community Active Travel programme.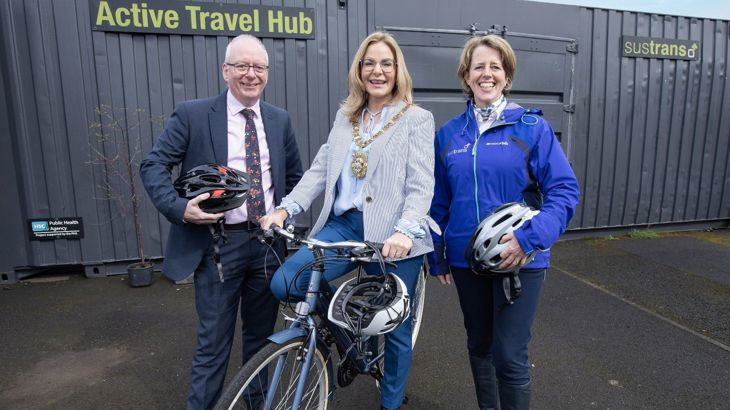 Belfast Lord Mayor, Councillor Christina Black (centre), and Public Health Agency Chief Executive, Aidan Dawson (left), pictured with Sustrans NI Director Caroline Bloomfield at the official opening of the Whiterock Active Travel Hub in West Belfast. ©Brian Morrison
Our new Active Travel Hub has been officially opened by Belfast Lord Mayor Councillor Christina Black and Public Health Agency (PHA) Chief Executive Aidan Dawson beside Whiterock Leisure Centre.
The Hub will give individuals and groups in the area more opportunities to take part in our Belfast Community Active Travel (#BCAT) programme.
The programme is funded by the PHA and delivered on their behalf by Sustrans.
It aims to make it easier for people to choose active travel for their short journeys by walking, wheeling or cycling instead of using the car.
Working in partnership with communities
Our Active Travel team works with people and groups across Belfast.
In partnership with communities, we co-design programmes and run activities for local people to learn new skills and get active.
These range from youth groups to women's and men's groups, the migrant community and groups supporting people with disabilities.
Active Travel Officers Tom O'Dowd and Natalie Smyth organise led walks and cycles and other activities, such as bicycle maintenance, e-bike trials and cycle training, to allow people of all ages to get out and about safely and with confidence in their local area.
Caroline Bloomfield, our Director in Northern Ireland, said:
"We are really pleased to be able to open this facility in west Belfast. Our aim is to make walking and cycling popular and easy so people are more active and able to improve their wellbeing."
We're committed to making a positive contribution to people's health and wellbeing and helping to protect our environment.
The Lord Mayor of Belfast, Councillor Christina Black, has given her backing to the new active travel hub at Whiterock, saying:
"It's fantastic to see this new Active Travel Hub open at Whiterock.
"As part of our 'Bolder Vision' for Belfast, we want to encourage people to travel actively and sustainably in the city, because we're committed to making a positive contribution to people's health and wellbeing and helping to protect our environment.
"This Whiterock Hub complements our Active Travel Hub at Cathedral Gardens and the existing Sustrans Hub in east Belfast.
"I'm looking forward to seeing lots of people benefitting from the hub – whether that's through meeting up for a led walk or cycle, getting tips on walking and cycling routes, getting their bike repaired, or training to help them cycle more confidently in the city."
Funded by the Public Health Agency
The Community Active Travel Programme is funded by the Public Health Agency.
Aidan Dawson, Chief Executive of the PHA, said:
"As part of the Public Health Agency's community active travel programme, we are pleased to work closely with Sustrans, Belfast City Council and the local community in bringing the Active Travel Hub to Whiterock, and we encourage the local and wider community to avail of this community asset and the opportunities it can bring.
"The PHA seeks to improve health and wellbeing through a range of methods, including creating an environment that promotes a physically active lifestyle and better-connected communities, with active travel providing an opportunity to incorporate more health-protecting physical activity like walking and cycling within our daily lives.
"Research shows that physical activity can improve sleep, help maintain a healthy weight and reduce stress. It also reduces the risk of developing chronic conditions including heart disease, stroke, type 2 diabetes, cancer, and respiratory conditions."