The Disabled Citizens' Inquiry has found that inadequate infrastructure is unfairly discriminating against disabled people when they move around their communities. This research, led by Sustrans in partnership with Transport for All, highlights the actions the government and local authorities must take now to give disabled people the freedom to walk or wheel independently around their neighbourhoods.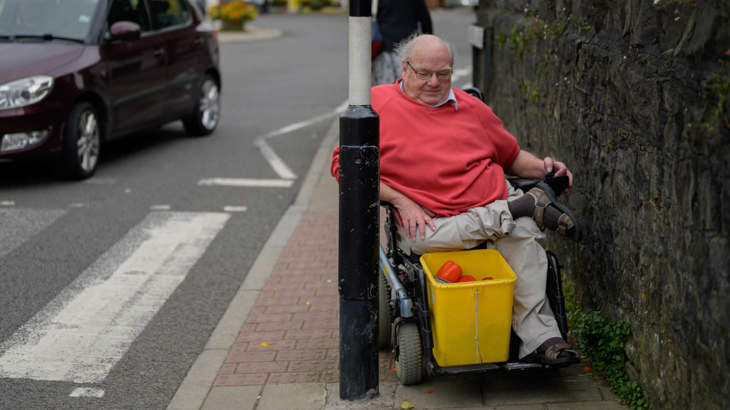 Action must be taken to create places planned around people, not cars
We are calling on local and national governments to give disabled people a voice when it comes to decisions that affect how they get around their local area.
Xavier Brice, our CEO, said:
"Our report clearly demonstrates that understanding the barriers disabled people experience getting around their neighbourhoods is imperative in creating an equitable society.
"Putting disabled people at the centre of discussions about how we plan and create spaces where we can all move around easily and safely is vital.
"The UK government must listen and take action to create places planned around people, not cars."
About the Disabled Citizens' Inquiry
The report is the culmination of a six-month-long Disabled Citizens' Inquiry, coordinated by Sustrans in partnership with Transport for All, a disabled persons organisation.
An accompanying Ipsos survey of over 1,100 disabled people across the UK paints a stark picture of how inaccessible and dangerous our neighbourhoods and communities have become.
Coordinating the findings, Sustrans has released recommendations to make communities and neighbourhoods safer, more accessible, and more inclusive for disabled people.
These include:
Prohibiting pavement parking to make communities more accessible
Creation of a long-term dedicated pavement fund to improve and maintain pavements
Ensuring disabled people can be within walking or wheeling distance of services and amenities by creating communities with accessible services close to where people live through better planning.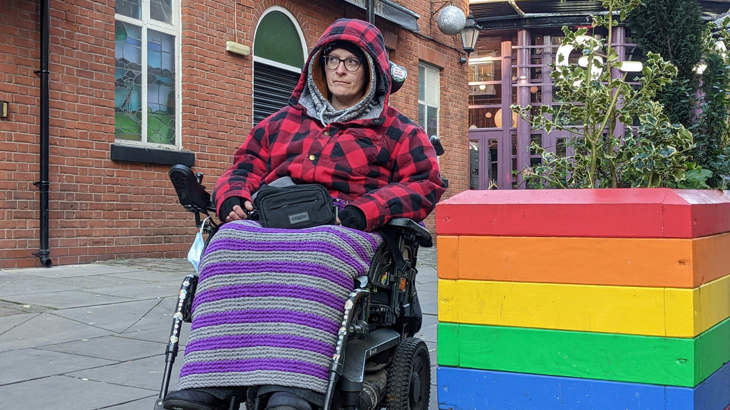 Dennis has said that pavement parking is one of the barriers she faces when travelling around her local area. Photo: Tom Hughes/Sustrans
We need to improve access to buildings and transport
Dennis, a workshop participant from Greater Manchester, said:
"Although getting on buses, trams and trains in Manchester has become easier, one significant problem is how you get to them from your house and pavement parking is a massive issue.
"In some cases, vehicles can take up the majority of the pavement.
"Some drivers don't understand they're not entitled to park there, others don't care.
"We need honesty and dialogue to understand that it's not just about the accessibility of buildings and buses, it's about how we get to them in the first place."
Everyone is equally entitled to safe and inclusive pavements
Xavier Brice added:
"In 2020, the Department for Transport consulted on pavement parking.
"Three years later, nothing has changed.
"Everyone is equally entitled to rely on safe and inclusive pavements and now is the time to act.
"The findings of our Inquiry are clear.
"More must be done to make our towns and cities more accessible, inclusive places that people want to live, work, and move around, for the benefit of everyone."
Disabled people's voices must be heard
Caroline Stickland, CEO of Transport for All, said:
"Transport for All's role was to ensure that disabled peoples' voices were at the heart of this ground-breaking inquiry.
"From codesigning the study, to facilitating pan-impairment workshops, to generating recommendations, disabled people were involved at every stage.
"Not only does this give the government a uniquely clear and actionable picture of what we as disabled people need to make walking and wheeling more accessible, but it also provides a blueprint for how our community must be engaged with every mode of transport going forward."
Rachael Badger, Director of Performance and Engagement at Motability said:
"This inquiry provides eye-opening insight into the experiences of disabled people and the challenges they face when moving around their communities.
"It is vital that the voices of disabled people are heard when decisions are taken about infrastructure in their local areas, and that accessibility is made a priority.
"We are pleased to have supported this important research."
Read more about how we're giving a voice to disabled people in walking and wheeling policy and practice and download the report.
Meet Dennis from Greater Manchester, who tells us how the environment prevents her from easily reaching Manchester's Gay Village to spend time with her community.