Work has begun to improve safety for cyclists and pedestrians on National Cycle Network route 544, in a southern Oxfordshire village.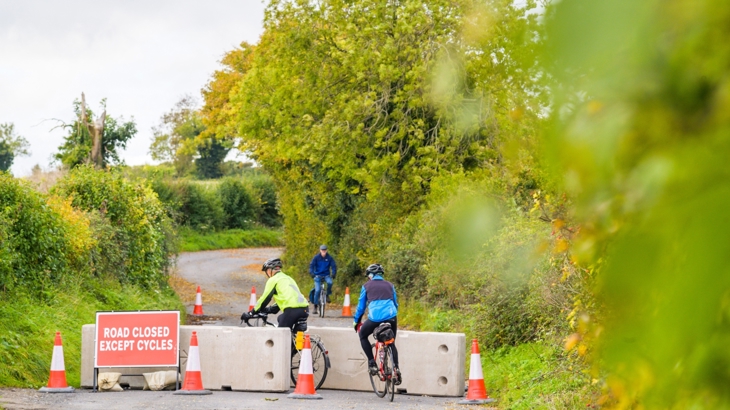 Temporary measures to close Chilton Road to motor traffic in Upton, Oxfordshire, are about to be made permanent. Photo: PhotoJB
From temporary to permanent
Oxfordshire County Council will be carrying out the work in Upton as part of the Chilton Road cycling scheme, a project making previously temporary measures permanent for National Cycle Network Route 544.
The work will include the formal completion of the closure of Chilton Road to motorised traffic.
The road has been closed to motorised vehicles since August 2020 on a temporary basis and the move has been predominantly well received.
The seven-week project began on Friday 30 September and aims to finish on Saturday 19 November.


Prioritising active travel
Councillor Andrew Gant, Oxfordshire County Council's Cabinet Member for Highways Management, said:
"This is the first scheme in southern Oxfordshire that puts walking and cycling above motorised users.
"By closing off a road to motorised vehicles, we are setting the tone for delivering similar schemes in the area in the future.
"We are delighted to be able to help bring this section of the National Cycle Network up to standard and also help to improve links with the Science Vale Cycle Network routes."
Funding for the project has come from the Department for Transport through our Paths for Everyone programme, an active travel grant from the government, and the council's accessibility and road safety fund.


Creating a safer and more enjoyable space
Sarah Leeming, Director for south of England at Sustrans, said:
"We're so pleased to see this project coming to fruition.
"Making this a permanent active travel route will mean that people in the area can continue to make use of a safer and more enjoyable space to travel under their own steam, by foot, wheel or pedal.
"This project, which is part of our Paths for Everyone programme, brings us one step closer to a National Cycle Network that is safer and more accessible for everyone."

Installing permanent measures
Work will involve improving the carriageway on London Road between the junctions of Station Road and Chilton Road, as well as the installation of a new crossing on the A417 London Road between the two junctions.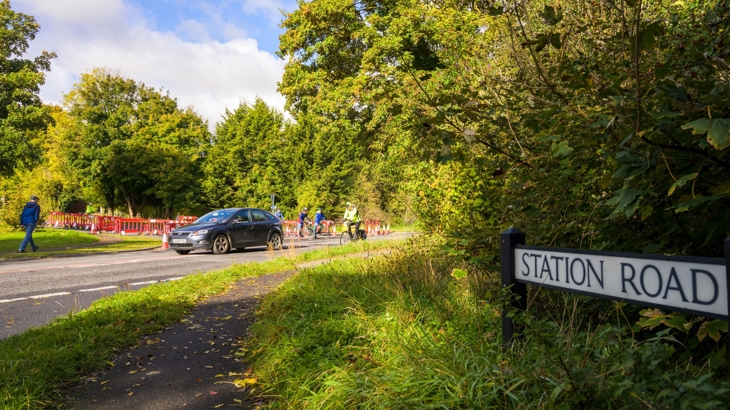 Being able to safely cross the road at the end of Chilton Road will also be a focus of the works. Photo: PhotoJB
The installation of permanent barriers at the Hagbourne Hill end of Chilton Road and a locked gate near the location of the current chicane are also planned to provide access for landowners.
Relevant safety signage, including signs to highlight the changes, will also be implemented.
During the works
Temporary traffic signals will be in operation throughout the seven weeks.
Station Road will be closed for the duration of the work. London Road will also be closed for resurfacing work on Friday 18 to Saturday 19 November.
Find out more about our commitment to creating a network of paths that are safer and more accessible for active travel.