We're proud to announce that our team in London has won a Chartered Institution of Highways and Transportation (CIHT) award. We came top in the 'Creating Better Places' category for our work transforming a park in Barking into the beautiful Ripple Greenway.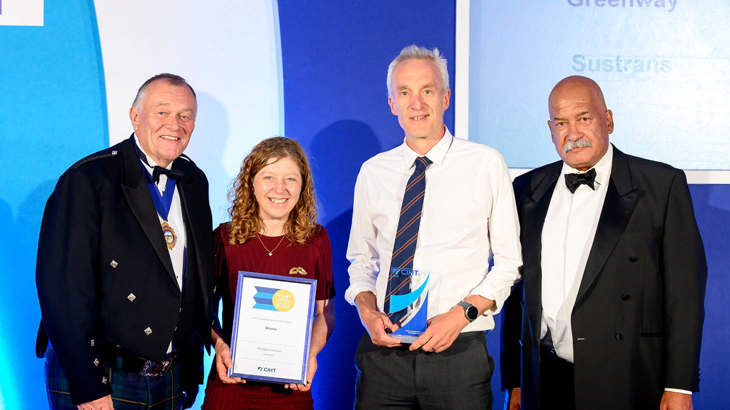 Left to right: CIHT's president Neil Johnstone, Alison Litherland, Matt Winfield and guest speaker journalist, John Pienaar.*
About the Ripple Greenway project
We transformed an underused and, to many, unsafe place, into a beautiful, welcoming linear park.
We worked with the London Borough of Barking and Dagenham and other organisations including the Greater London Authority, local schools, and Trees for Cities.
And we collaborated with residents and community groups to make the Ripple Greenway a great success.
What is the Ripple Greenway?
Ripple Greenway is a 1.3km green route to school and work for thousands of people in Barking.
It is a safer and healthier alternative route to the busy and polluted Thames Road nearby.
The Ripple Greenaway also provides a green link between the existing communities and the newer communities in the emerging Barking and Riverside housing development.
We worked with Trees for Cities and residents to plant hundreds of trees, and design a natural 'play on the way' trail.
We installed lighting to improve visibility and safety, and seating areas for people to enjoy rest.
And we commissioned six corten steel artworks with nature writer Robert Macfarlane and sculptor, Katy Hallett.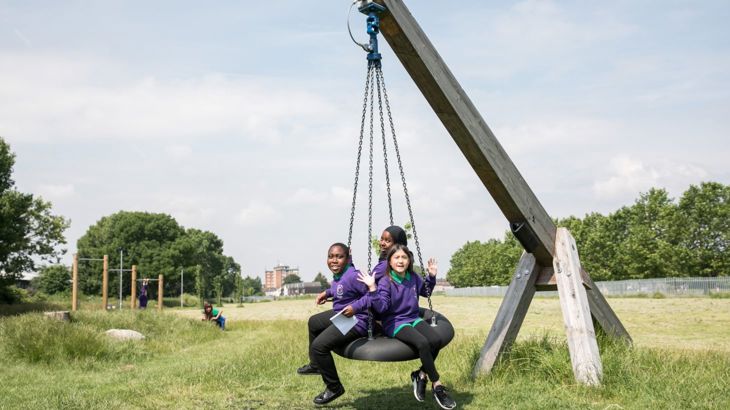 The greenway creates a safe link between the heart of the existing community and the new communities in the emerging Barking Riverside housing development.
Bringing the neighbourhood back to life
Local resident, Quincy, said:
"I've lived next to this place for 12 years and I never used to come down here – there was no path and it didn't feel safe.
"Kind of amazing how something so simple can make such a big difference.
"Everyone comes here now - families, runners, cyclists.
"I come here to work out. You've brought this place to life."
Working together to create safe green spaces
Sustrans London director James Cleeton said:
"We are so proud to have won this CIHT award, especially in light of the other high-quality projects that were shortlisted.
"We're the charity that makes it easier for people to walk, cycle and wheel.
"Central to this vision is creating beautiful and engaging public spaces for people to enjoy and feel comfortable in.
"Transforming Ripple Greenway so it's a stunning park to everyone's benefit, encourages people to get out and walk or cycle in their day.
"Huge thanks go to the many partners we have worked with on these projects.
"It's with them that the quality and aspiration of these projects becomes possible."
Find out more about the Ripple Greenway and our work to transform a forgotten green space into a thriving park.