Last year, Sustrans Scotland partnered with Girlguiding Scotland as part of their Wander the World celebrations. We caught up with the young people to hear how the National Cycle Network has raised their awareness of the global climate emergency and inspired them to take action.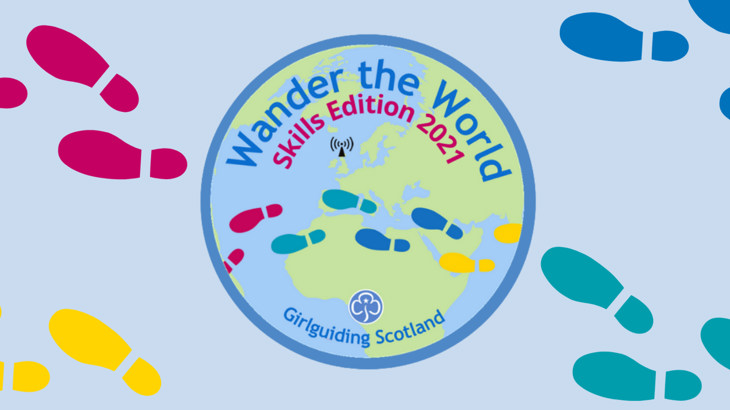 Wander the World is an annual celebration held by Girlguiding Scotland.
Due to restrictions at the time, 2021's edition was held virtually.
The celebrations helped the young people build their skills, with a selection of exciting live events, individual activities and fun videos available through their interactive map.
Sustrans Scotland teamed up with Girlguiding Scotland to create activities to get the young people talking about sustainability, climate change and active travel.
Talking about the global climate emergency
Bethany Warburton, Education and Young People Project Officer at Sustrans Scotland, presented several activities during the action-packed day.
During the live-streamed Climate Change Workshop, the young people learned about the environmental impacts of how we choose to travel.
The group discussed how walking, wheeling and cycling can be part of the solution to climate change.
They learned more about the 1,643 miles of National Cycle Network across Scotland.
They also discovered how their local routes can help everyone walk, wheel or cycling for more journeys.
She enjoyed the interactive Sustrans session and has been encouraging the family to ditch the car for those short journeys!
To inspire the young people to explore their local routes, Sustrans created a "Things to do on the National Cycle Network" activity list.
And, to help them keep their bikes in great condition, we shared simple cycle maintenance videos with the group.
She really enjoyed watching these videos and checked over her bike. She learnt lots watching the 'how to repair a puncture' video, but hopes not to have to use it! She is off for a cycle to see if she can pick up some litter on her route.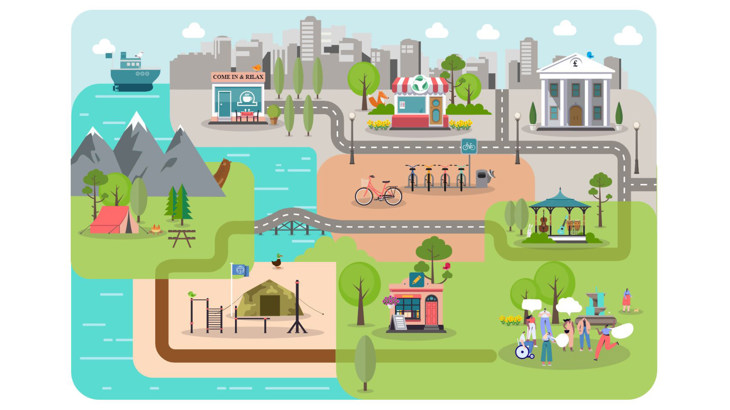 The Wander the World interactive map helped the young people learn more about the impact of climate change, and how they can take action.
Helping young people shape their local environment
To top off the activities, Sustrans gave the young people the chance to design a new look for five Millennium Mileposts across the National Cycle Network in Scotland.
There were 14 fabulous entries for the competition.
Five winning designs were selected to be painted on mileposts close to rail stations in:
You can find out more about these Millennium Mileposts using our interactive Mileposts map.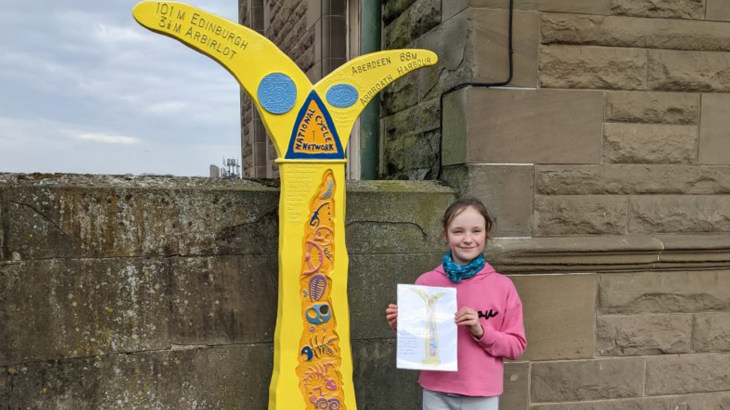 Aoife shows off her winning design for the Millennium Milepost at Arbroath Rail Station along National Cycle Network Route 1.
"It makes me feel proud"
Aoife, 1st Kemnay Brownies, met up with Laura White, Network Engagement Coordinator for Volunteering, to help paint her winning design.
Here's what Aoife had to say about her experience:
"It makes me feel proud because my design was chosen and everyone can see my name on it.
"My Brownie unit are going to go and visit soon.
"It was quite different to painting on paper but it was fun to choose the colours for the fossils.
"I loved getting to paint my name on the bottom too.
"I thought (all of the activities) were interesting and good to know more about the cycle paths, and for Guides to get the chance to have their designs used."