One of the biggest challenges to living rurally in Wales is the difficulties around transport. Many people default to using private cars because they believe there's no other alternative. In this blog, though, we hear about how one person was able to make the shift from driving to travelling actively and sustainably thanks to a pilot e-bike project run by the Welsh Government.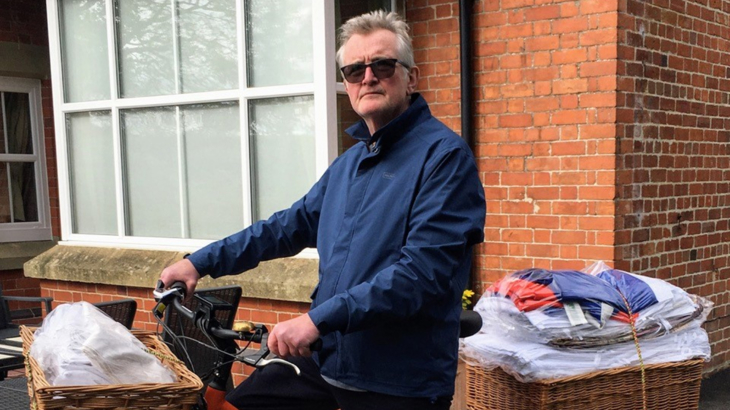 Dolfor resident Tim on his e-cargo bike after having made a trip into town. Credit: Tim Withers.
Transport can be problematic in the more rural parts of Wales, especially when you live in Powys, the country's biggest county.
Unreliable public transport and a lack of active travel infrastructure can reinforce driving as the main mode of travel for a lot of people.
Local business owners, Tim and Helen Withers, though, have taken steps to challenge that after they got involved with the E-Move project.
The project is a Welsh Government-funded initiative that enables businesses and organisations across Wales to borrow an e-cargo cycle for three months.
The couple run The Old Vicarage Bed and Breakfast in Dolfor, a small hamlet south of Newtown, Powys' biggest town.
Six times a week, Tim cycles the three and a half miles into town, carefully carrying laundry on his e-cargo cycle.
With the e-cargo cycle, he's been able to go about some essential activities – taking the laundry to Newtown, going shopping, dropping the recycling off – without the need of a car.
How the journey to new travel choices started
The change in Tim's travel behaviours started in October 2021, after Tim borrowed an e-cycle from Sustrans through the Welsh Government's E-Move project.
He enjoyed the experience so much that he decided, after a lot of research, to buy an e-cargo cycle in February 2022.
Since then, Tim's clocked 1,300 miles and has saved hundreds of pounds in fuel and car costs.
Charging the e-cargo cycle takes about three and a half hours, costs about 40p in total, and can be done using standard household plugs – just like you would for your kettle!
Showing that multimodal travel can be done in rural Wales
The Withers are lucky that they have a bus service that comes through the village every two hours.
Whilst that might not sound ideal, it's worth noting that 12% of people in Wales have no public transport links whatsoever.
The T4 bus gives Helen and Tim another good travel option.
It enables them to save money by only running one car and embracing multimodal travel – travelling by multiple different means – by using the bus and the e-cargo cycle.
Aside from the financial benefits, cycling helps keep Tim fit and strong, as he explains:
"Knowing that the battery power is there when I want it encourages me to use the bike, though a lot of the time I don't use the power."
Another positive for Tim is that cycling doesn't take him any longer than driving:
"I can take shorter routes and don't have to spend time – or money – parking.
"Being active while I travel means that I don't need to find time to exercise, because I've already done it!"
Reaping the rewards of travelling actively and sustainably
Choosing to cycle means that Tim's reducing congestion and vehicle emissions that are so damaging to our health and the climate.
Helen shared her positivity:
"I think it's great that Tim cares about his health and our planet, and that he's doing something about it.
"We've also just bought an electric scooter, like a moped, that we can travel on together – we're planning on going completely car-free!"
Making the decision to travel actively – by walking, wheeling, or cycling – has so many benefits.
It means you can help to reduce noise emissions and traffic congestion, you can connect socially on your travels, get some fresh air, enjoy greener scenery, and avoid the expense and hassle that can come with managing a car.
About the E-Move project
E-Move is a Welsh Government-funded pilot project that is delivered in partnership with Sustrans, that enables people to borrow electric cycles.
There are 20 e-cycles available through the scheme for people, businesses and organisations in Newtown and the surrounding area to make use of.
The E-Move project also runs in other cities and towns across Wales, including Aberystwyth, Barry, Rhyl, and Swansea.