The Active Journeys Programme, funded by the Welsh Government, has created a new resource in line with the new Welsh curriculum, all about walking, wheeling and cycling. Last academic year, our work with schools across Wales helped to increase levels of active travel by 24.6% and decrease car use by 29.9% on the school run, which we hope to continue with the help of our new resource.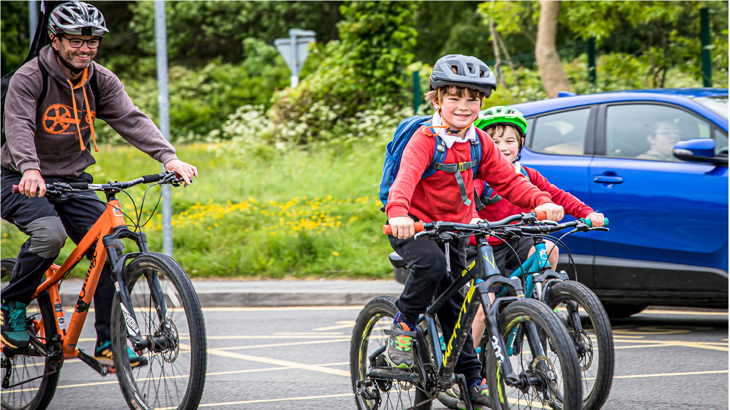 An active journey to school in Llangollen, North Wales
Bringing active travel into the Welsh curriculum
Our resource is a fun and engaging tool to help teach children the benefits and joy that walking, wheeling and cycling can bring them.
The resource is useful for children and has also been designed to assist in building teachers' capacity to plan and deliver cross-curricular skills within the context of active travel.
This resource will enhance a child's experience of walking, wheeling, scooting and cycling.
It will be a useful addition to any teacher's toolkit when designing lessons.
These lessons will help pupils consider the environmental and the physical and mental health benefits of walking, wheeling, scooting and cycling.
Completing the learning journeys within the resource will help shape "healthy, confident individuals who are ready to lead fulfilling lives as valued members of society" (Four Purposes, Curriculum for Wales 2022). 
Lesson topics include but aren't limited to:
air pollution
barriers and inclusivity
safer street design
safe routes
carbon footprints
transport costs
health and wellbeing.
With the addition of the digital competence framework, we can also share our new and innovative digital tools.
These include a community mapping tool through which pupils can engage with active travel routes in their own local area.
How the resource will change lessons for schools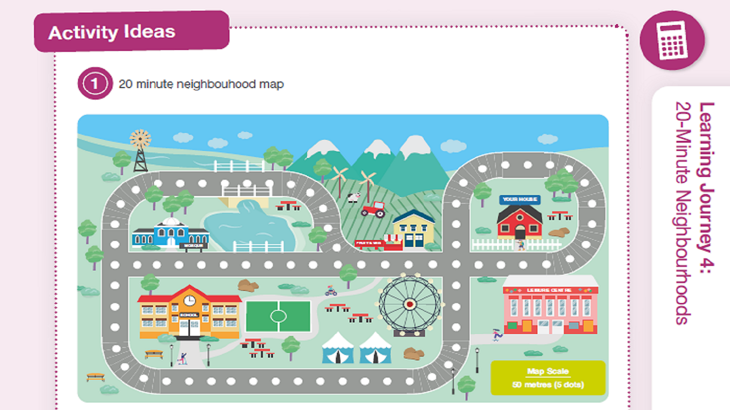 A numeracy activity idea around 20-minute neighbourhoods, taken from the new resource for children and teachers.
We are the experts in active travel, but the aim of the resource is for teachers to use their skills and experience to adapt this resource and make it most suitable for their own learners.
The learning journeys are aimed at primary school children, broadly Years 4-6.
The resource provides handy help and progression step extension activities which allow teachers to tailor content for all pupils in their own classes.
Included are eight literacy, eight numeracy and eight digital competence-based learning journeys (with teacher guide and activity ideas) based on the theme of active travel.
For each learning journey, the teacher guide will outline which of the following it covers:
Cross-curricular skill (literacy, numeracy or digital competence)
Framework progression objectives
Area of Learning and Experience (AOLE)
Creating a culture that makes it easier for children to walk, wheel, scoot or cycle
Our Active Journeys programme, funded by the Welsh Government, works with schools across Wales to create a culture that makes it easier for children to walk, scoot or cycle.
Active travel plays an important role in the fight against climate change and in reducing air pollution by removing cars from our school streets.
It's also great for pupils' and parents' physical health and wellbeing.
We developed this resource using feedback from our Active Journeys teachers and guidance from curriculum experts.
It's available in Welsh and English for teachers across all of Wales.