On Monday 31 October work starts to improve a 1.25km length of National Cycle Network Route 4 between Burghfield and Theale in West Berkshire.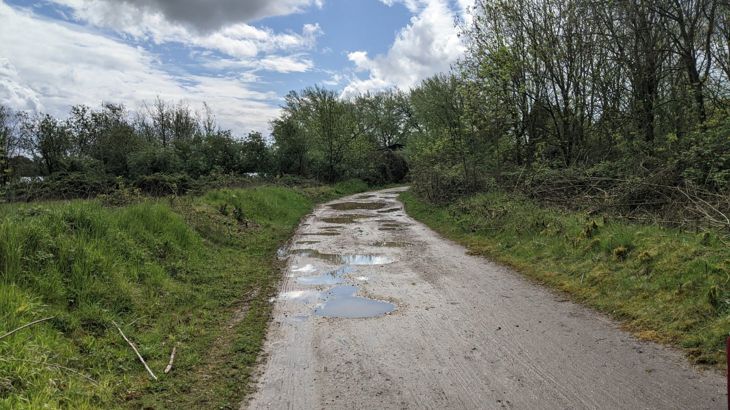 A stretch of National Cycle Network Route 4 is set to be improved, making it safer and more enjoyable to use all year round.
Improving the route for use year-round
The stretch of traffic-free path starting at the southern end of Mill Road, Burghfield is being upgraded.
This will include resurfacing to address the existing surface damage.

Standing water and winter flooding issues will also be addressed by raising the surface and installing drainage.

Delivered with ecological sensitivity
Ecology surveys have been undertaken to inform the works.

Species such as nightingales and orchids were identified.

Working with ecologists throughout, the works are being delivered sensitively to ensure as little impact as possible on the surrounding environment.
Learn more about how we're making space for nature on the National Cycle Network.
During the works
The improvements are expected to take up to four weeks to complete.
The route will be closed throughout.
A diversion is in place for people walking, but there is no suggested alternative route for cycling.

Making the route safer and more enjoyable
Once completed, the upgrades will make the active travel route safer and more enjoyable to use, whether on foot, wheel, cycle or scooter.
It will become a more viable route for a variety of active travel journeys, year-round.

Creating a viable and sustainable alternative to driving
Sarah Leeming, South of England Director at Sustrans said:

"It's brilliant to see these improvements getting underway.
"Upgrading this path will help to provide a viable and sustainable alternative to hopping in the car for local journeys.

"Making the route a safer and more enjoyable space means everyone passing through or visiting the area, can better appreciate the benefits of being active and having access to green space all year round."

Delivering with thanks
The project is funded by the Department for Transport and forms part of Sustrans' Paths for everyone programme which is improving the National Cycle Network.
It is being delivered with thanks to support from West Berkshire Council.

More improvements to come in West Berkshire
These improvements are the first in a series of National Cycle Network development projects due to take place across West Berkshire to make Route 4 safer and more accessible for everyone.

Additional improvements to the Network near Aldermaston and Theale are expected to begin in the new year.


Find out more about our work to create a safer and more accessible National Cycle Network.