More than 30 volunteers have trained as Sustrans Walk and Cycle Leaders for the Forth Meadow Community Greenway in Belfast.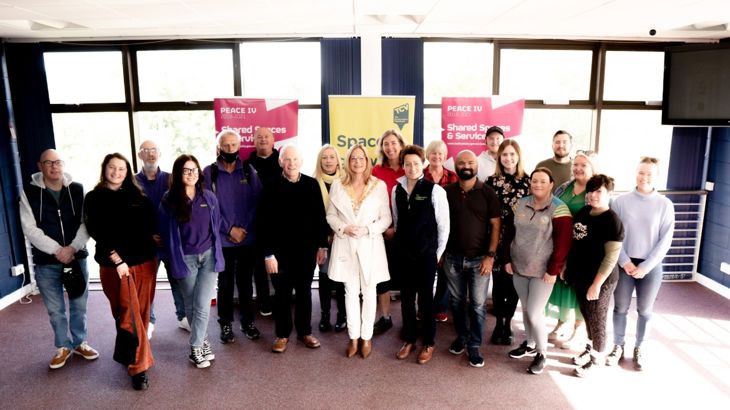 Sustrans staff and volunteers were commended by Belfast Lord Mayor, Councillor Tina Black, for their achievements at a recent celebration event.
The newly-trained volunteers are now using their skills and confidence to provide activities for everyone to enjoy the Forth Meadow Community Greenway.
These activities include led walks on Friday mornings from Falls Park, with plans to set up a trike club in the future.
The 12km greenway connects swathes of shared space in the north and west of Belfast to the new Transport Hub in the city centre.
The Forth Meadow Community Greenway project is part of Belfast's PEACE IV Action Plan, financed through the European Union and managed by the Special EU Programmes Body (SEUPB).
The Executive Office and the Department of Rural and Community Development provided match-funding.
Enthusiasm inspires people to explore
Rachael Ludlow-Williams, Sustrans Volunteer Development Coordinator, has been supporting the new volunteers:
"Their enthusiasm has been inspiring.
"We will continue to support them as the greenway grows and opportunities to get more people out exploring it increase."
Many opportunities through volunteering
There are many opportunities that come with volunteering, as local man Mark confirms.
He signed up to be a Volunteer Cycle Leader in the first round of recruitment in the spring of 2021, and explains:
"I first took part in this programme about a year and a half ago.
"I joined because I retired from work and wanted to stay active.
"I wanted to learn new skills and I wanted to meet some new friends if that was possible."
I wanted to stay active, learn skills and meet new friends
Encouraging communities to share space
Councillor John Kyle, Chair of Belfast City Council's Shared City Partnership, said:
"I very much welcome this new Sustrans volunteer programme encouraging people to engage with and enjoy the Forth Meadow Community Greenway – a new shared space in the north and west of the city.
"Our PEACE IV-funded shared spaces projects are all about encouraging residents to make more use of facilities in neighbouring areas and build positive relations between communities.
"This supports the city's community plan, the Belfast Agenda, which includes commitments to regenerate neighbourhoods, improve community relations and create a safe and welcoming city for everyone."