On 18 May Sustrans, in partnership with 18 urban areas across the UK and Ireland, will launch the Walking and Cycling Index. The Walking and Cycling Index is the new name for Bike Life, our assessment of cycling in urban areas that has been running for 8 years.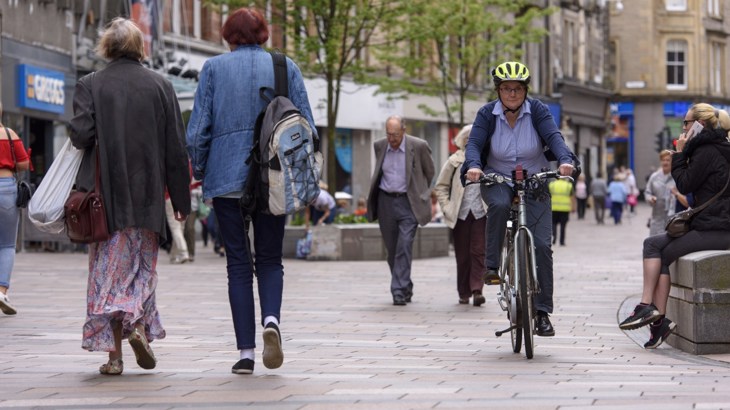 Introducing the Walking and Cycling Index
Since the last report for Bike Life was published in March 2020, we have been working hard behind the scenes with our partners and audiences to develop the programme.
Our partners requested the programme to include walking and wheeling[1] alongside cycling as planning, investment, and delivery closely relate for these modes of travel.
For example, Local Walking and Cycling Infrastructure Plans in England or Places for Everyone in Scotland.
To do this, we needed to find a way to incorporate walking and wheeling data into Bike Life alongside the data we already collect on cycling.
The new report will be similar to those from 2019, but with the addition of walking and wheeling data.
This includes behaviours, attitudes, data on infrastructure and walkability as well as the benefits of walking and wheeling for residents and their city or region.
Walking and wheeling will also be reflected in the photography, case studies and commentary used throughout the reports.
New cities and insight on travel behaviours across the pandemic
There are also more urban areas taking part this year than ever before, with 18 local reports from across the UK and Ireland being released on the same day.
Each of the seven Scottish cities is represented, including Aberdeen for the first time.

As well as every previous Bike Life 2019 participant from England, Wales, Northern Ireland and the Republic of Ireland.

We will also release a UK report aggregating data from across 17 areas in the UK representing almost 12 million people.
The Walking and Cycling Index will provide fresh insight into how people's travel behaviours changed since the pandemic started.
The data will include comparisons for most cities with data from 2019, prior to the Covid-19 pandemic.
The household survey in 2021 was conducted in the summer when most restrictions affecting travel in all UK nations were lifted.
However, it should be acknowledged many people were still working from home.
The importance of including walking and wheeling
Our recent report, Walking for Everyone, showed that being able to walk or wheel is important to almost everyone.
And yet, governments and policy-makers too often overlook walking and cycling as modes of transport.
Our walking environment is not inclusive, and many people find walking or wheeling challenging or impossible.
Road safety, personal safety, access, and the distance of services and amenities are some of the key factors to blame.
We believe everyone should feel safe, welcome, and comfortable walking, wheeling or spending time on our streets or in public spaces.
Lack of data is one of the key factors contributing to a lack of action or prioritisation of walking and wheeling.
This is where we hope the Walking and Cycling Index can play a role.
There are far too many trips in UK urban areas that are driven when they could easily be walked, wheeled, or cycled.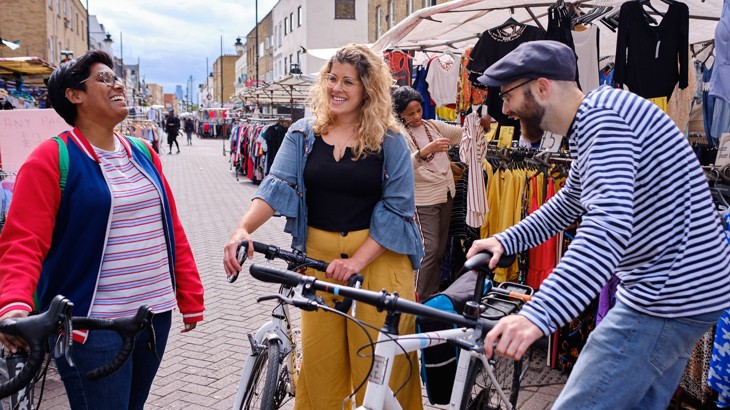 And there is an enormous potential to change this if we make walking, wheeling and cycling accessible and desirable.
It can also help reduce air pollution, address the cost of living crisis, and support our climate emergency whilst allowing people to access the things they need to live well.
We know that Bike Life has provided the public mandate and wider evidence base to allow local decision-makers to deliver better and more ambitious cycling schemes.
We hope there is even more potential for the Walking and Cycling Index to do so across walking, wheeling, and cycling.