Mangotsfield Station in South Gloucestershire will soon play host to a 12-month creative project, encouraging more people to walk, wheel or cycle on the popular stretch of National Cycle Network Route 4.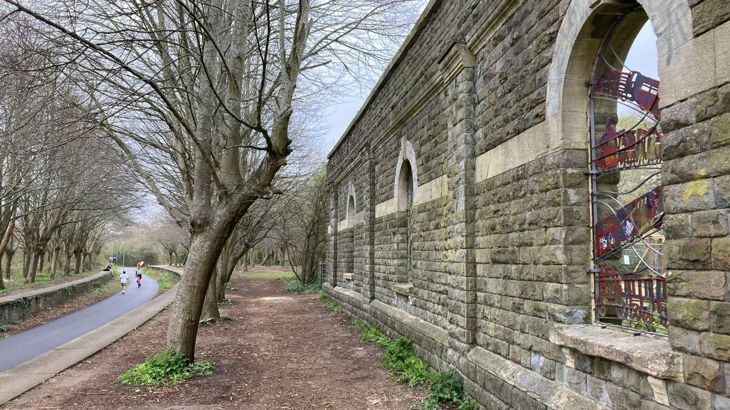 A folly is being installed by local architect, Artel 31, at Mangotsfield Station on the Bristol and Bath Railway Path to host a 12-month creative project
The station's history
Mangotsfield station was once a stop on the Midland Railway route between Bristol and Birmingham.
It closed in 1966 when services to Bath ended, and the railway line through it closed in 1969.
In the 1980s, it reopened for active travel as the flagship of the National Cycle Network.
The station became a popular place to stop and rest, and many of the station walls and platforms are still there.
Mangotsfield Folly
Mangotsfield Folly will be a 12-month series of creative commissions by established and emerging artists, programmed by curator Suzanne Heath.
It will be hosted on the disused station platform next to the Bristol and Bath Railway Path.
The programme will be developed around a new folly structure and outdoor table designed and built by Chippenham-based architects Artel 31.

We are working together with partners to encourage more people, whether they are walking, wheeling or cycling, to visit and enjoy National Cycle Network Route 4 between the cities of Bristol and Bath.

Creating an adaptable space
The project will create an adaptable space suitable for artist takeovers, classes, lectures, performances, cinema screenings and workshops, enabling artistic and intellectual exchange.
Five new artist commissions will include:
An artist residency by Feral Practice, exploring the area's biodiversity with local residents and culminating in a display of work towards the end of the year
A site specific public commission by writer Holly Corfield Carr
A new mural on the Folly structure by Bristol-based street artist and illustrator Alex Lucas
Participatory printmaking by Bristol-based artist Nick Hand who will be bringing his Printing Bike to Mangotsfield
Bespoke signwriting by Eric Porter of the Straight and Narrow Sign Company
There will also be an open call for a series of bursaries for emerging local artists, aimed at diversifying opportunities in the public realm.


Delivering with thanks 
The project has been funded by Arts Council England and Emersons Green Town Council.
Materials for the project have been kindly donated by RockPanel, BBS Cladding and Hither Garden Design.


Follow the project's progress on Instagram @mangotsfield_folly or visit the Mangotsfield Folly project website.