This new report, written by Sustrans together with ARUP and Living Streets, calls for Government action to stop cars, cycles and e-scooters encroaching on pavement space.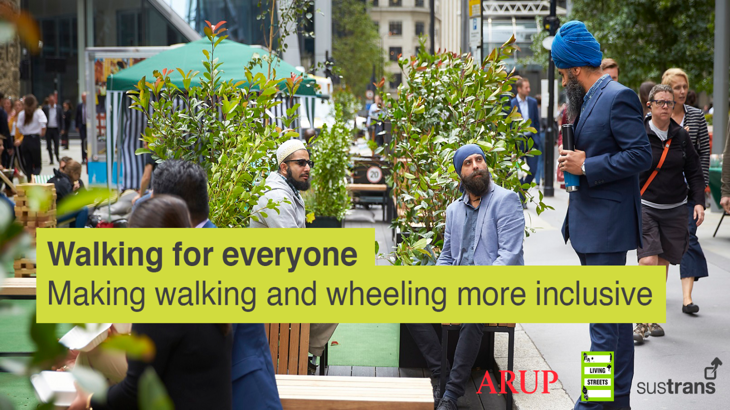 A new report launched today (22 March) calls for Government action to stop cars, cycles and e-scooters encroaching on pavement space.
  
A guide to make walking inclusive
The 'Walking For everyone' report, produced by Arup, Living Streets and Sustrans makes a series of recommendations that would ensure pavement space is reserved and maintained for people walking and wheeling.
The report is published as the transport industry awaits a Government response to the consultation on pavement parking in England.
And as we await guidance around electric vehicle charging points and for cycle and e-scooter parking, which has resulted in them taking up pavement space.
The report recommends national governments should prohibit pavement parking across the UK.
It also recommends that standards are developed where all cycle and e-scooter parking, and electric vehicle charging points are accessible but located on the carriageway.
There is guidance for local authorities to help make the walking and wheeling environment more accessible and attractive for everyone.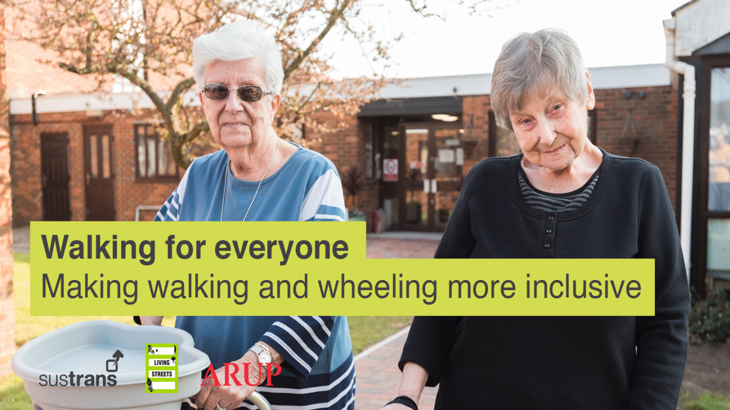 Research from Living Streets has found that 87% of parents with children aged 4 to 11 have had to step into the carriageway because of vehicles parked on the pavement.
Forthcoming research from Sustrans found 72% of disabled people would find fewer cars parked on the pavement useful to walk or wheel more.
Pavements are for people
Stephen Edwards, Interim CEO, Living Streets said:
"Pavement parking is an urgent problem and discriminates against people walking or wheeling, especially those with young children, older people and people with visual or mobility access requirements.
"As well as endangering lives, it's enough to cause many to not leave the house altogether.
"Outdoor eating areas, advertising boards, parked cycles and scooters can also be problematic and need to be better managed.
"Pavements are for people, and we need action and guidance to ensure they are accessible for all."
Tackling congestion and air pollution
Susan Claris, Active Travel leader at Arup said:
"Taking the report recommendations on board will help the UK meet its transport decarbonisation and levelling up goals.
"Swapping driving for more sustainable ways to travel is the best way to tackle congestion and air pollution, but we can only expect people to walk and wheel more if our streets enable it.
"We need to prioritise improvement schemes for areas where the provision of local services and public transport are poorer, especially where this coincides with multiple deprivations."
Pavements are for people, and we need action and guidance to ensure they are accessible for all.
We need accessible environments for walking
Sally Copley, Executive Director for External Affairs at Sustrans, said:
"While many policy documents often place walking and wheeling at the top of the transport hierarchy, this is not reflected in funding allocations and scheme delivery.
"As this report demonstrates, a step change is necessary to ensure the environments in which people walk and wheel are as desirable and accessible as possible."
The National Walking Summit
The report launches today (22 March) at Living Streets' National Walking Summit.
There, speakers including Trudy Harrison MP, Chris Boardman and Dame Sarah Storey will discuss how we can create truly inclusive streets for all and ensure marginalised voices are brought into transport planning and design.
The report is supported by Transport For All.
Transforming the pedestrian environment
Katie Pennick, Campaigns Lead at Transport for All:
"Many disabled people can and want to make more journeys by walking or wheeling, but face barriers in doing so.
"Pavements are often cluttered with bollards, bins, A-boards and lampposts.
"Sometimes e-scooters and dockless bikes are strewn on the ground, or a car is parked over the pavement.
"Tactile pacing - a vital safety feature for blind and visually impaired pedestrians - is often missing, poorly maintained or inconsistent.
"Other times the paving tiles are uneven or bumpy and present a trip hazard, or the pavement is simply too narrow for those with mobility aids or assistance dogs.
"The sensory environment can pose barriers too, with bright colours, loud noises or overcrowding creating discomfort or disorientation.
"Transforming the pedestrian environment to be accessible to disabled people would have a dramatic impact, enabling so many to enjoy positive impacts to mental and physical health, feeling a part of one's community, and perhaps stumbling across a new favourite spot.
"That's what Transport for All campaigns hard to achieve."
Find out more about our recommendations and download the report.
Why we use the words walking and wheeling
We use the term walking in an inclusive way including the use of mobility aids.
Nonetheless we recognise that some people who use wheeled mobility aids, for example a wheelchair or mobility scooter user, may not identify with the term walking and may prefer to use the term wheeling.
We have therefore used the terms walking and wheeling together to ensure we are as inclusive as possible.
Wheeling is defined to only cover modes that use pavement space at a similar speed to walking. It does not include the use of e-scooters or cycles.
About our partners
Living Streets is the UK charity for everyday walking. They want a nation where walking is the natural choice for everyday local journeys. Their mission is to achieve a better walking environment and inspire people to walk more. 
Arup is the creative force at the heart of many of the world's most prominent projects in the built environment and across industry. Working in more than 140 countries, the firm's designers, engineers, architects, planners, consultants and technical specialists work with their clients on innovative projects of the highest quality and impact.