Use Your Loaf, a community training bakery in Rhyl, North Wales is the latest organisation to have benefitted from Sustrans Cymru's E-Move project, which aims to make e-bikes accessible to local communities. The project launched across Wales in 2021 and has been made possible thanks to funding from the Welsh Government.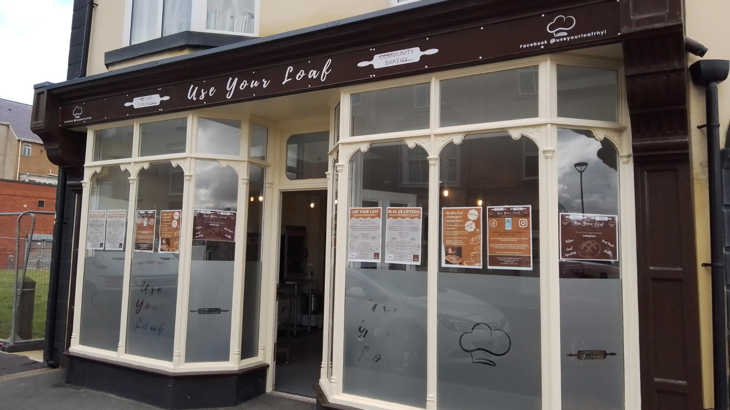 Use Your Loaf, a community training bakery in Rhyl has been embracing the use of e-bikes. Photo: Alex Bowen
Founded by Alex Bowen and colleagues from the Foryd Centre during the pandemic, Use Your Loaf is a community training bakery.
It provides courses and events which teach the local community the skills needed to hand-make artisan breads and sweet dough products.
Accessing an e-bike through the E-Move project has enabled Alex to make quicker deliveries and raise the profile of Use Your Loaf.
Speaking about his experience, Alex said:
"I'm happy to say that using the e-bike has been easy and convenient.
"They're fast, simple to ride, it's really helped me to get around town in no time, and I've felt safe and secure using it."
Increasing brand visibility with an e-bike
Adding Use Your Loaf branding to the e-bike has helped to grow the organisation's profile locally, leading to conversations in the street and at the Abbey Street bakery.
Alex commented:
"Being able to put the baskets and signs on has helped with visibility.
"I've had people looking and commenting as I've been cycling, which is great from a marketing perspective.
"A lot of people have also talked to me about it when the bike's been sat in the training room.
"So I've been able to tell them about the E-Move project as well."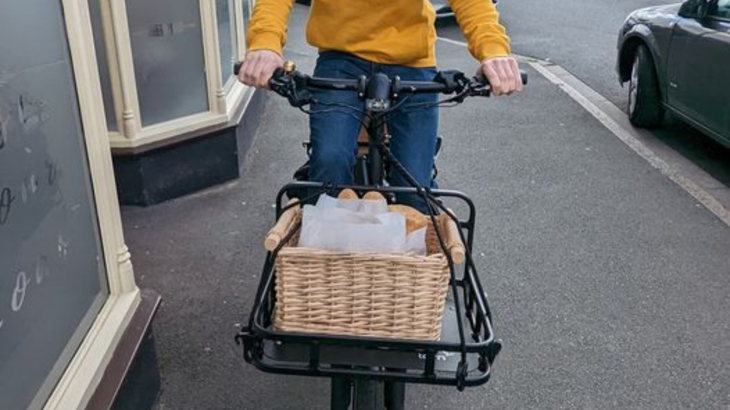 Using an e-bike has helped to promote the community bakery. Photo: Alex Bowen
Developing new skills and employment opportunities
Alex found that enabling people to learn new skills and develop pathways into further education, employment and volunteering were aims which Use Your Loaf shares with the E-Move project.
"We're open to anyone who wants to learn some new skills, gain qualifications, meet people, gain confidence, or socialise."
The bakery is also helping Rhyl's community to access good quality food at affordable prices.
Supporting a range of beneficiaries
Jonny Eldridge, Liveable Cities and Towns Officer told us how E-Move has helped the residents of Rhyl:
"Since the project began in Rhyl in July 2021, over 70 residents have benefited from a completely free, four-week loan of an e-bike.
"Some have been teachers and health care professionals who ditched the car for a month in favour of an active commute by e-bike.
"Others were parents with young children who used one of our passenger carrying e-bikes to help with the school or nursery run.
"And people who were experiencing transport poverty used an e-bike to access a greater range of opportunities."  
There are 20 e-bikes available through the scheme for people, businesses and organisations in Rhyl and the surrounding area to make use of.
The E-Move project also runs in other cities and towns across Wales, including Aberystwyth, Barry, Newtown and Swansea.
If you live in or near Rhyl and are interested in learning more, or if you'd like to find out more about the E-Move project across Wales, contact jonny.eldridge@sustrans.org.uk