Construction has started in Bristol on the highly anticipated upgrades to a busy stretch of the Bristol and Bath Railway Path. Improvements will make this traffic-free stretch of the National Cycle Network safer and more accessible for everyone.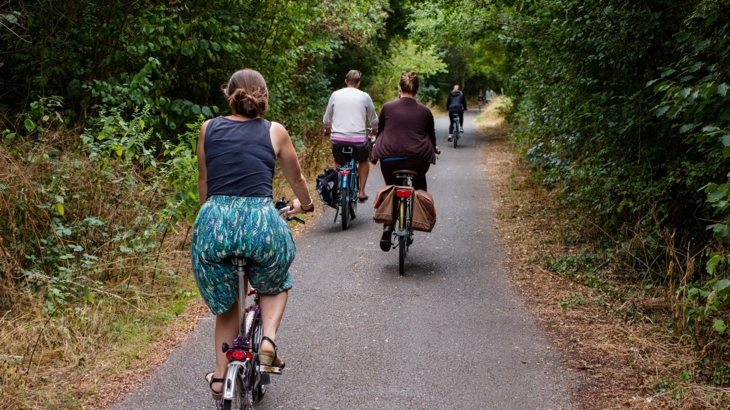 The popular path will be upgraded to create a safer and more inclusive space for everyone who wants to use it. Credit: PhotoJB
Sections of the popular traffic-free path between Clay Bottom and Trinity Street in Bristol will be upgraded over the coming months. 
These much-needed works include;
stretches of path widening
resurfacing
installation of new places to stop and rest 
improvements to junctions
improvements to access points.
Completion is expected in the summer of 2022.
Intermittent closures over the coming months
There will be intermittent closures to allow for the series of works and installations to take place.
Where sections of the path are closed, diversions via adjacent streets will be signposted.
These will guide people from one end of a closure to the other.
Closed sections will be reopened when it is safe to do so but in some cases sections may close again at a later date to allow for the completion of works.

Please allow extra time for your journeys throughout this period.
Working together to create a welcoming space
The changes to this multi-use space have been designed following extensive engagement with local communities, groups and organisations.
Our shared aim is to create a welcoming space that is safer for everyone.
Delivered in partnership
This collaborative project has been many years in the making.
We're delivering it with Bristol City Council with funding from the Department for Transport, through our Paths for everyone programme.
We have also been grateful for the input of the communities who use the path and live locally to it.
Improving a valued community asset
Sarah Leeming, Sustrans' Interim Director for the South of England says:
"It's wonderful to see the time and effort that everyone has given to this project coming to fruition and that the collaborative designs will soon be coming to life on the path.
"This iconic space plays a part in so many people's lives in all manner of ways.
"Making improvements to this brilliant community asset will be such an important step in helping to create a safer, more accessible and welcoming place for everyone to enjoy.
"I look forward to seeing the works progressing over the next few months."


Making the path more inclusive for all 
Councillor Don Alexander, Cabinet Member for Transport, added:
"These works will greatly improve the popular route and make the path more inclusive for all users, while creating more space for residents to enjoy.
"Although there may be some disruption over the coming months, the improvements are set to benefit everyone who uses the path.
"Thank you to everyone who has provided feedback and supported us in designing this new space."


Minimising impact throughout the works
Contractor Greenford is carrying out the works and they will minimise the impact on neighbours and people using the path as much as possible throughout.
The first section of works will be in the Lawrence Hill area.