Businesses and individuals across Scotland are being challenged to go car-free during March
The award-winning challenge is returning after a year away.
The Scottish Workplace Journey Challenge is free to join and allows participants to challenge themselves personally or compete within a workplace.
All journeys can be logged between March 1-31, whether it's the regular commute, trip to the shops or leisure activity, the school run or a business trip.
With the dramatic change to working life over the past two years, the challenge has been adapted to allow those working from home to record their local journeys for the first time.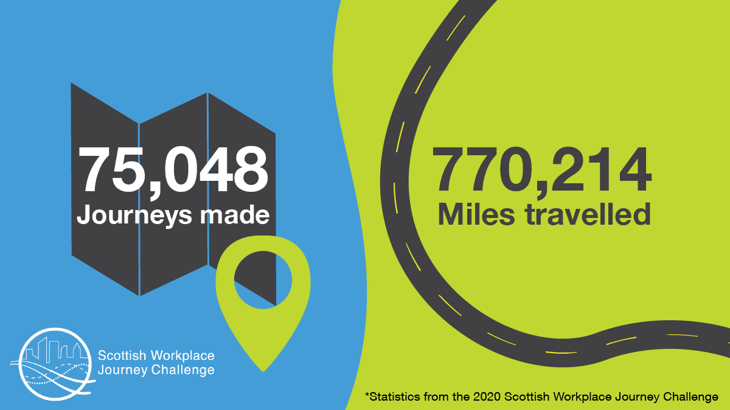 2020 was the biggest year to date, with over 5000 sign-ups to the challenge.
Benefits for participants
The Journey Challenge is a fun and supportive way for people to see how easy making a change to active journeys can be.
Changing even a few car journeys a week can be hugely beneficial for the planet and your mental and physical health - all while saving you money too.
Participants can track their progress through the dedicated online platform and get motivated to walk, scoot, cycle or take public transport with rewards and digital badges.
Don't forget the prizes
If you fancy competition, there are leader boards and prizes to push them further, including over £4000 worth of Scotland Loves Local gift cards.
Managed by Scotland's Towns Partnership, this scheme will allow prize-winners to spend local and support the community they will explore while out and about during the challenge.
Phil Prentice, Chief Officer at Scotland's Towns Partnership said: "Education, work and life have all changed dramatically over the last two years. We should embrace this campaign to encourage sustainable travel and reduced carbon footprints as well as the health and wellbeing benefits from being more active.
"There are opportunities aplenty in our post covid world, we should learn from our past mistakes and move away from the over-reliance car travel."
Sharon from NHS Ayrshire and Arran tells of her experience of taking part in the Journey Challenge and the lasting impact it's had on her travel behaviours.
Get involved all month long
VisitScotland, who are taking part in the Scottish Workplace Journey Challenge 2022 having won their category in 2020, said: "VisitScotland has participated in The Scottish Workplace Journey Challenge for a number of years now and are happy to support it again in 2022.
"We are always looking for innovative ways to keep staff engaged and healthy and The Scottish Workplace Journey Challenge does just that. Let's see how much CO2 Team VS can save in this year's challenge!"
Join them and sign up for the Workplace Journey Challenge for free now here