The new and improved surface has been revealed by our Midlands and East team on a popular walking and cycling route on the National Cycle Network.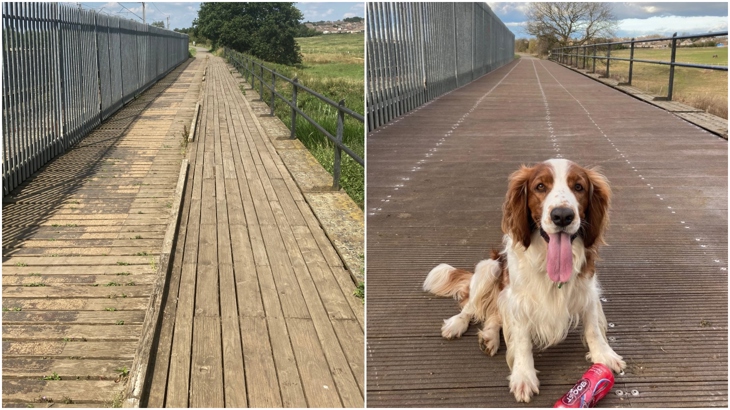 Bertie the dog with a plastic bottle on the newly-resurfaced Brampton Valley Way.
Just over 25,000 plastic bottles have been used to relay this part of the Brampton Valley Way on National Route 6.
The route, near Kingsthorpe, runs alongside the mainline railway and crosses Dallington Brook.
The innovative scheme was carried out to replace a decaying wooden surface on a bridge which crosses the brook.
The entire decking section has now been replaced with 'gripfast' planks, made from the recycled material, after falling into disrepair.
Using sustainable materials
The plastic surface was provided by a company called Polydeck.
Each square metre of plank uses 140 recycled 500ml plastic bottles in the structural foam core.
183 square metres were needed to resurface the bridge, equating to about 25,620 recycled plastic bottles in this scheme alone.
This work is the first of a series of improvements we are making to wooden bridges on the National Cycle Network.
Following the success of this scheme, our teams will look to use the same materials where possible in future projects.
Improving access to the National Cycle Network
There were growing fears about the safety of the old surface which was beginning to deteriorate in several places.
This work means that walkers, cyclists and wheelchair users can enjoy a smoother, and safer surface for many years to come.
Commenting on the scheme, Martyn Brunt, Sustrans Land Manager for the Midlands and East, said:
"This innovative scheme has saved thousands of plastic bottles from going to landfill or being incinerated.
"That in itself is great news, but it's even better that we've been able to repurpose them into something really useful.
"We now have something which will serve walkers and cyclists for many years to come.
"The National Cycle Network belongs to all of us.
"It can help us to lead happier, and healthier lives and I'm thrilled to see this scheme reach completion."
Creating paths for everyone
The project was made possible thanks to funding from the Department for Transport through our Paths for Everyone programme, with support from Network Rail.
So far, the Department for Transport has made around £50m available to improve the Network in response to the 'Paths for Everyone' report.
The report identified a number of routes and paths where improvements needed to be made.
Read more about our UK-wide project to help everyone access safe routes for walking, wheeling and cycling.