An 800 metre stretch of National Route 5 of the National Cycle Network in Long Wittenham, Oxfordshire has been revamped.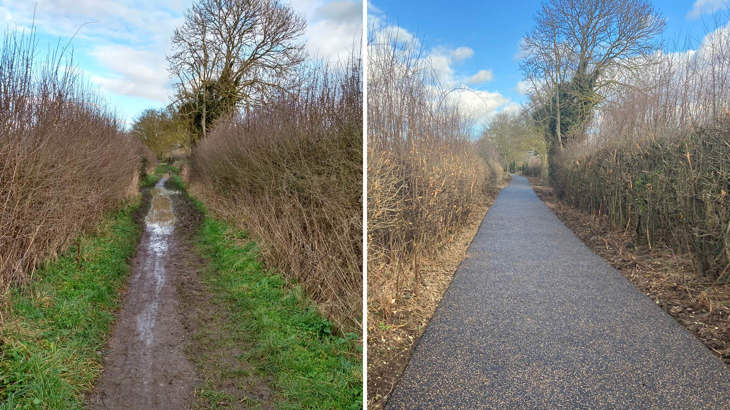 800 metres of path have been upgraded as part of our Paths for everyone programme.
A safer, more accessible route for everyone
The newly improved path heads west from High Street in Long Wittenham, providing a vital link with nearby Didcot.
The new surface is smoother, safer and more accessible for people walking, wheeling, cycling and horse riding.

The drainage issues have been addressed and the usable width increased, making more space available to all users.


Accommodating a variety of different journeys
The improved route offers opportunities for people to walk, wheel and cycle for both leisure and everyday journeys.
Including those to Didcot for public transport connections.
The path also offers space for horse riding on the public bridleway.


Working together to make a path for everyone
These upgrades were funded by the Department for Transport and form part of our Paths for everyone programme, which aims to make the National Cycle Network safer and more accessible.
These improvements were delivered with thanks to input from Long Wittenham Parish Council, The British Horse Society and Oxfordshire County Council.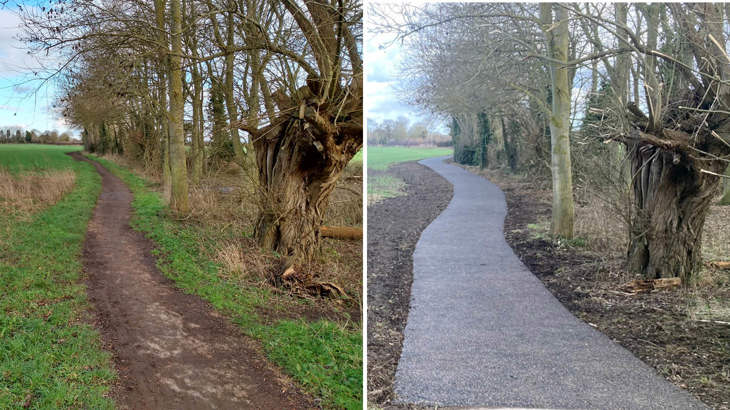 The improved path now enables walking, wheeling, cycling and horse riding journeys.
A route for everyone to enjoy
Sarah Leeming, Sustrans' Interim Director for the South of England said:

"It's brilliant to see this upgraded route open and ready for everyone to enjoy.
"It can host a variety of active travel.
"Welcoming foot, hoof and wheel for everyday journeys, leisure trips and sustainable commutes.
"This brings us one step closer to our vision of a National Cycle Network that is safer and more accessible for everyone who wants to use it."


Encouraging more people to get active
Gordon Rogers, Chairman of Long Wittenham Parish Council said:

"We welcome the long-overdue improvement for what is a very popular bridleway.

"We hope that it will encourage more people to use the route to Didcot, as there is more encouragement to walk, cycle and horse ride."



Read about our Paths for everyone programme three years on.

Find a National Cycle Network route near you.