At Sustrans, we're committed to making it easier to walk, wheel, and cycle, and to make our communities in cities and towns friendlier, safer, and more accessible spaces for everyone. When we're planning and designing infrastructure that encourages people to walk or cycle more, it's important that we have a good understanding of the complex behaviours of road users. In this blog, Senior Urban Designer, Thaisa Wells, talks about the use of smart technology and its integral role in the design process.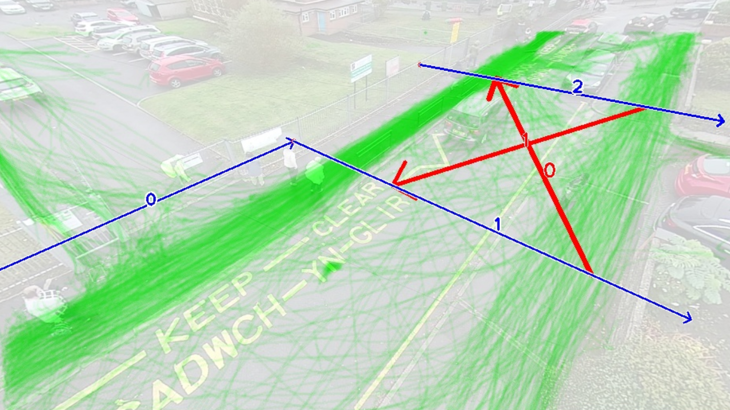 Smart cameras showing the pedestrian journeys made outside one of our project areas. Credit: Street Systems
Sustrans has been using cutting-edge technology that provides stunning new insights into the movement and flow of people who walk, people who cycle and people who use a car in built environments.
This smart technology has the potential to play a big part in supporting our partners when they're planning improvements in active travel infrastructure and initiatives.
As a result of artificial intelligence cameras, we can now provide baseline data and measure impact in a much richer way than traditional methodologies.
Artificial intelligence (AI) cameras can reveal the dynamics of road spaces beyond the counts and speed of vehicles, providing us with a useful picture of road users' interactions.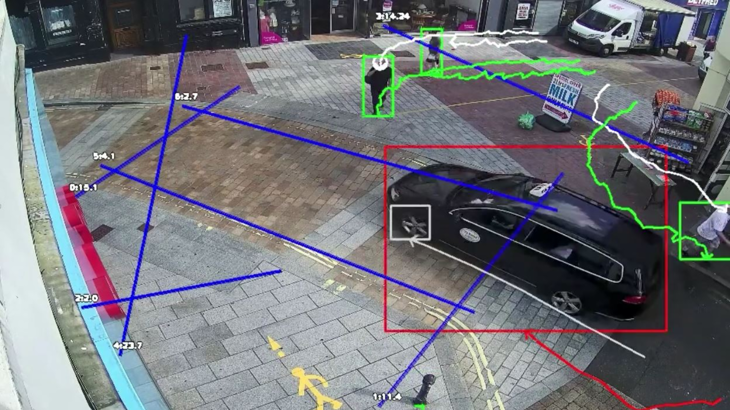 Smart cameras tracking the movement patterns of vehicles and pedestrians in Merthyr Tydfil town centre. Credit: Street Systems
Case study: Merthyr Tydfil
An example of how we've been using this technology is the study delivered by Sustrans to Merthyr Tydfil County Borough Council.
The focus of this study was the vehicle and movements of people who walk and behaviours in and around Merthyr Tydfil town centre.
Our purpose was to assess the feasibility of proposed improvements to the walking network at two important and busy junctions, as well as the town centre.
The study made use of 29 smart cameras over a three-day period, supported by on-the-spot surveys, to understand why and how people walked in and around the town centre.
AI cameras identified, for example, the most dangerous entries and exits of roundabouts.
The cameras can record unsafe situations like near misses and instances when people who walk were on the road with moving vehicles.
Vehicle movements captured by the AI cameras highlighted some common paths – otherwise known as "desire lines" – taken by drivers.
These captured paths showed a considerable amount of carriageway space that would appear to be underused.
As a result, we have a case for making changes – there's the potential to reduce carriageway widths, make changes to junction geometry, and reallocate space in favour of people who walk.
Movements of people who walk tracked by the smart cameras indicated their equivalent desire lines, which validated the choice of a crossing location in the proposal under review as well as underlining the need for others.
The data for people who walk also supports the proposal to restrict vehicles on a section of the town centre, providing an opportunity to consider additional active and accessible shopping provisions.
AI camera technology helped inform the viability, utility, and impact of the proposals by quantifying pedestrian and vehicle behaviours at all study locations.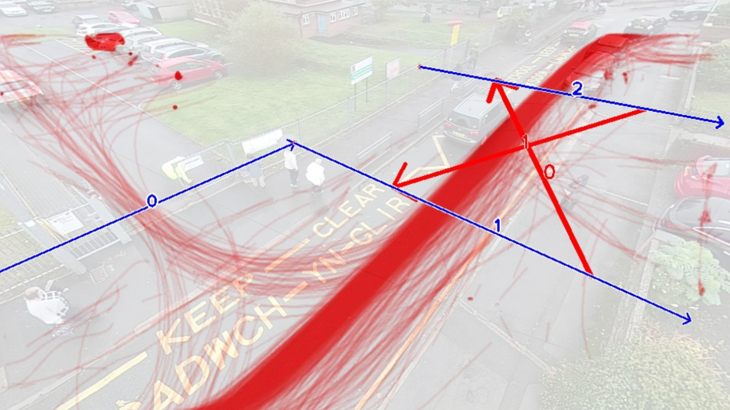 Vehicle movement patterns outside of Fairfield Primary School in Penarth. Credit: Street Systems
Case study: Fairfield Primary School, Penarth
Sustrans is currently delivering a community street design project in partnership with the Vale of Glamorgan Council, involving Fairfield Primary School and the surrounding community.
The aim is to create a people-centred approach to designing a safe and attractive environment for walking, wheeling, and cycling for everyone.
Four AI cameras were set up around the school to capture vehicles and movements of people who walk over two days.
The cameras clearly revealed an unsafe environment for children to travel actively to school, on account of the number and positioning of vehicles.
The movements of people who walk highlighted that they used the carriageway extensively and that desired lines identified where crossings should ideally be placed and where pavements should be widened.
The cameras showed that there is an informal one-way system along the street outside the school, but they also showed the chaos caused when one or two vehicles don't follow this system.
The datasets are analysed and used throughout the co-design process to support the decision-making process and communicate specifically identified issues to stakeholders, the school community, parents, and local residents.
The future of active travel planning
For too long, cities and towns have been designed around cars, leaving less space for walking, wheeling, cycling, and social opportunities.
Here at Sustrans, we create places that prioritise the people who live and spend time there.
A better understanding of the complexity of spaces and the dynamics of all users is essential to improving active travel routes and encouraging more active travel.
Data insights from AI cameras have their part to play in equipping Local Authorities to make better-informed decisions and ultimately enact a lasting and positive change that supports a healthier way of travelling for us all.
Read more about our work in Wales.
Learn more about the different projects that Sustrans supports.