Barry resident Gemma Loveless had wanted to try out e-bikes after hearing about the Welsh Government-funded E-Move project at an event for the local council. A last-minute meeting with one of Sustrans Cymru's project officers led to Gemma and her family experiencing an e-bike for the first time. Here, she tells us how it's been going.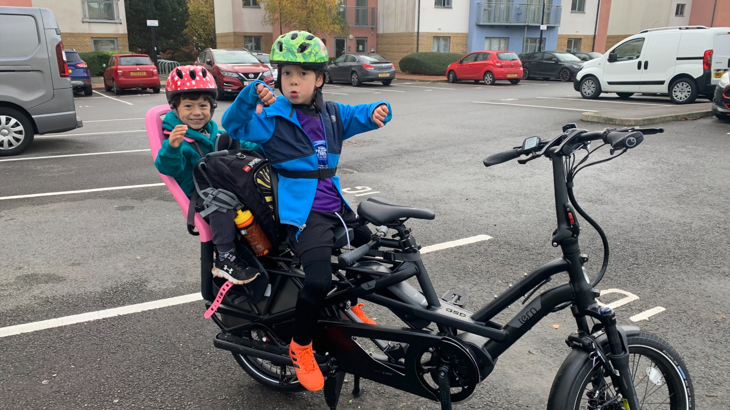 Gemma's whole family's experience was transformed thanks to the e-cycle. Credit: Gemma Loveless.
We live in a lovely coastal town in South Wales, one that has lots of hills.
Luckily for us, we live at the bottom, but there are always places to go which mean going uphill.
We have a young family and don't necessarily feel very fit, so we've tended to use the car for our journeys, whether it's taking the kids to school, football training, visiting friends, or simple things like picking up parcels.
All these journeys in the car were to local places so I started to ask myself, "Could there be a better way?"
An exciting opportunity for the whole family
I met Emily from Sustrans at the end of an event for employees of the local council.
I'd heard there would be electric bikes to try out and thought that I'd give them a quick spin to see how fun they were.
When Emily told me that there was an opportunity to borrow an electric bike for a month for free, I thought "Brilliant!"
We've cycled before, and we've used a trailer and a bike seat for our youngest, but always limited it to flat parts of town – the beach, a local park, just not uphill.
Our eldest couldn't manage the hills without gears and I felt like there was no way I'd be able to pull a child up by myself; an electric bike would mean we could go further.
Getting started and questioning assumptions
We got set up on a Tern GSD, and it was easy for the kids to tag along.
That's right, this bike can carry two children just like a car, along with all the bits and pieces that goes along with them.
This isn't lycra-clad, aerodynamics, mind!
It was so much easier than I expected to get around with the assistance, but I really enjoyed that you still have to pedal and definitely get some exercise while using the bike.
After a couple of trips to local facilities, I decided it was time to give the Tern its first proper challenge.
We went to visit a friend who had recently moved to live on one of Barry's most notorious hills, Trinity Street.
With a gradient of one in five, navigating parts of the hill and its side streets would be a real test of how good an e-bike could be living in a town which has some really challenging hills.
There were some short, steep sections, but with the turbo settings, criss-crossing the streets on the hill, and plenty of encouragement from my two passengers, we made it!
It got my heart rate up, without a doubt, and best of all, we did it without using the car.
Normally I would've done this trip in the car, knowing it would be a struggle to walk home late with two children, and I never would have made it up there with a normal push bike.
Even getting soaked in the rain on the way home didn't dampen our spirits; instead we were all smiling from whizzing down the hills!
A real gamechanger for the family
Unfortunately, three bouts of COVID in the house meant the Tern stayed parked up for a while, but we had definitely caught the e-bike bug.
We were asked when we handed the bike back in January, "How has using an e-bike affected how you might travel in the future?"
Well, as I write this now, we've purchased our own e-bike – the same model as the one we borrowed from Sustrans Cymru.
We're getting exercise, we're saving money, and we're not having to worry about the pollution that came from using the car.
We're able to carry all the stuff the children need for an outing, and there's no doubt in my mind that e-bikes can replace the car.
About the E-Move project
E-Move is a Welsh Government-funded pilot project that is delivered in partnership with Sustrans, that enables people to borrow electric cycles.
There are 20 e-cycles available through the scheme for people, businesses and organisations in Barry and the surrounding area to make use of.
The E-Move project also runs in other cities and towns across Wales, including Aberystwyth, Newtown, Rhyl, and Swansea.


To speak to our team about the E-Move project in Barry or across Wales, contact emily.sinclair@sustrans.org.uk. 


Learn more about the E-Move project.