It might be an event with a focus on water, but the Sustrans Northern Ireland team ensured walking and cycling activities were included in this year's Foyle Maritime Festival.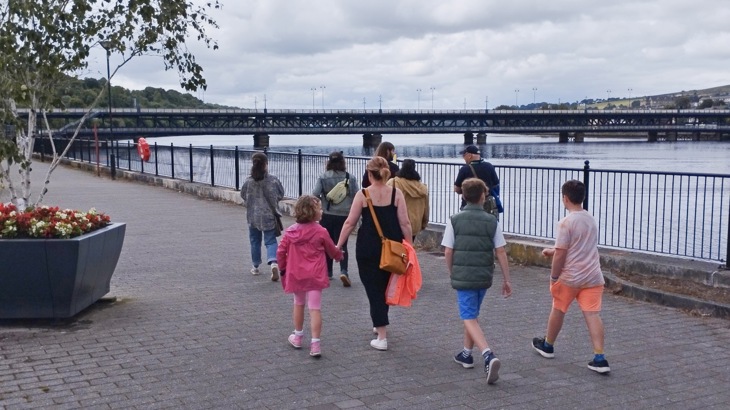 Sustrans made sure there were still land-based activities going on during Foyle Maritime Festival.
Thousands of visitors came to the award-winning festival in Derry~Londonderry in July.
Over five days, the Maritime Festival's star attractions were the Tall Ships and international Clipper race.
But there were also many land-based activities, including two historical walking tours organised by Sustrans, in partnership with Derrie Danders.
The led walks focused on the city's impressive maritime and industrial heritage.
Derry~Londonderry expanded on the banks of the River Foyle, which flows into the Atlantic Ocean.
The port city attracted ships for trade and was a centre for emigration to America, particularly in the nineteenth century.
The historical walks began from our new Active Travel Centre at the North West Transport Hub in the city.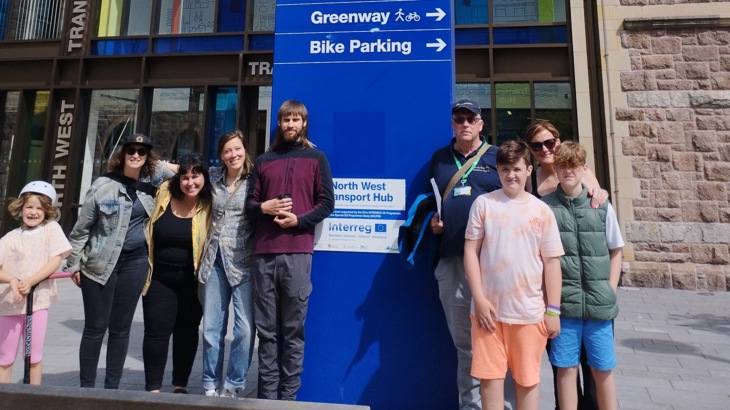 Walkers outside our new Active Travel Centre in Derry~Londonderry's North West Transport Hub.
The tour followed the river and through part of the south side of the city.
It returned to the Foyle Embankment on National Cycle Network Route 92 and 93 alongside the iconic Peace Bridge.
The walk leader described the railway history of the city, the building of some of the city's bridges, and the important shirt factories which fuelled the economy.
The walks also included references to some of the city's musical giants, such as the pianist Phil Coulter and the hymn writer Cecil Francis Alexander.
The latter's work included the Christmas carol 'Once in Royal David's City' and 'All Things Bright and Beautiful'.
While the weather during the festival wasn't always 'bright and beautiful', everyone still enjoyed the walks.
In addition, our Active Travel Officers also organised three Dr Bike events in partnership with Lifecycles, Bike General and Urban Cyclist, in what was a packed festival for everyone.
Kieran Coyle, Sustrans Workplace Active Travel Officer said:
"It was great to be part of the Maritime Festival, and to be running events out of our new base at the Active Travel Centre.
"All events were well attended and showcased the demand for more.
"The highlights for me were the walking tour my family and I took part in; we enjoyed learning about the rich history of our city.
"I also ran a few 'Try an E-Bike' sessions using the cycle routes we have here.
"All participants walked away with a smile on their faces and said they were now going to purchase e-bikes and cycle more."
Find out more about the North West Greenway Network.


Explore the banks of the Foyle on the National Cycle Network Route 92 and Route 93.