Sustrans has welcomed the opening of the new Lagan Gateway Bridge in south Belfast. The bridge is part of a £5.2 million project to improve the area, which includes the regeneration of the nearby weir and navigation lock.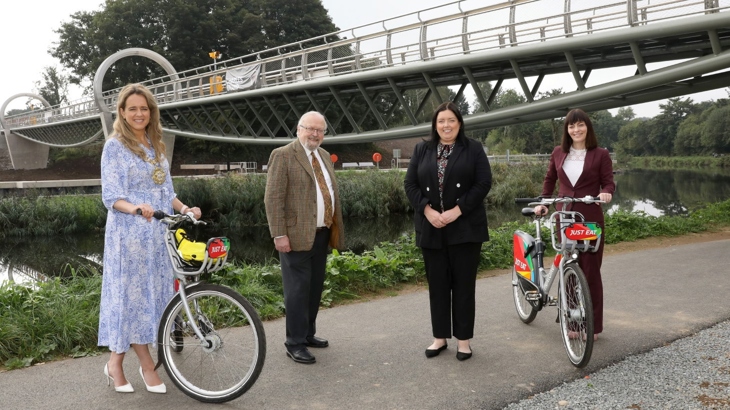 The new Lagan Gateway Bridge on National Route 9 in Belfast is opened by (left to right): Belfast Lord Mayor Kate Nicholl, Dr Tony Hopkins from Ulster Garden Villages, Communities Minister Deirdre Hargey and Infrastructure Minister Nichola Mallon.
The new bridge connects the popular Lagan Towpath, which is part of National Cycle Route 9.
This path now extends over 20 kilometres (12.7 miles) from Belfast to the Maze in County Down.
Addressing the demand for more walking and cycling options
Lord Mayor of Belfast, Councillor Kate Nicholl, who chose Sustrans as one of her charities of the year, said:
"Walking and cycling are more popular than ever, so the opening of this bridge is very timely.
"This beautiful part of Belfast is already extremely popular, so it is hoped that the new bridge will help to significantly reduce congestion on the Lagan Towpath by opening up the other side of the river.
"As well as improving connections between communities in south Belfast, we believe that the bridge and wider improvements to the area will help attract people from further afield and boost the local economy in the longer term.
"In the near future we also hope to develop pathways to Belvoir Forest Park, making it much more accessible for people on foot or bike who may not otherwise consider visiting it."
Improving access in and out of Belfast
Sustrans Northern Ireland Director Caroline Bloomfield cycles in Belfast every day, and said she is looking forward to using the new bridge.
"This is the first major piece of walking and cycling infrastructure we've seen in Northern Ireland for a number of years.
"The £5.2 million project will improve connectivity across the very popular River Lagan at the towpath which is part of National Cycle Route 9.
"It gives commuters another traffic-free option for walking or cycling to south Belfast and into the city.
"I, personally, am really looking forward to taking a spin across the bridge."
The Belfast Cycling Network plan
Infrastructure Minister Nichola Mallon also welcomed the opening of the bridge.
She stated that it forms a "key element" of the Belfast Cycling Network 10-year plan which she published in June this year.
The plan aims to bring good quality cycling infrastructure within 400 metres of around three quarters of all Belfast City Council residents.