Safer, well-designed cycling and walking infrastructure is crucial for changing how we travel for the better. But routes alone aren't enough. We're supporting communities in the West Midlands to walk or cycle more of their everyday journeys, with an exciting six-month project running from September 2021.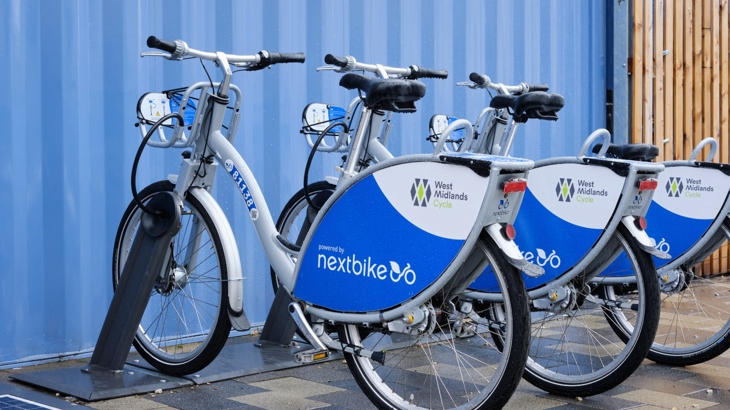 Walking and cycling-friendly infrastructure has the power to transform how we navigate our towns and cities for the better.
Making them safer, cleaner, happier and healthier places to be.
But routes alone are not enough to get people walking and cycling.
Confidence, knowledge and skills are also key ingredients to the adoption of more active lifestyles.
Which is why we work with local residents and community groups, empowering them to get active on the routes, paths and infrastructure near them.
Supporting communities to embrace local routes
In the West Midlands we're focusing our work on cycle routes which were introduced by the Active Travel Fund.
These routes include Wednesfield Road in Wolverhampton, the A45 Digbeth to Yardley in Birmingham and Foleshill Road in Coventry.
By working within these neighbourhoods, we're seeking to understand what the barriers to walking and cycling are.
And with this insight, we're offering tailored advice and opportunities so that people can overcome obstacles and begin to make positive changes.
Our priority is to reach groups of people who may traditionally be less likely to use walking and cycling routes.
We're reaching local people with:
social media posts
Facebook Live events
leaflet drops
posters
pop-up training events.
We're also hosting wayfinding workshops where individuals can come along and gain support to map out where they'd like to travel locally.
Looking beyond the first six months
It's really important to ensure that people are able to sustain their new walking and cycling lifestyle beyond the lifetime of the project.
And so we're connecting them with existing local walking and cycling clubs and groups and even helping them to set up their own.
Working in partnership
Sustrans is delivering this 6-month project thanks to Transport for West Midlands and their Active Travel Fund.
Read more about Transport for West Midlands' Roll and stroll campaign.
Mayor of the West Midlands, Andy Street, who chairs the West Midlands Combined Authority said:
"We want to encourage more people to cycle and walk, especially for those shorter journeys, because it's better for our environment, good for our health, and great fun too.
"It can make a real difference to people's lives.
"Last year we were delighted to receive more than £17 million through the Active Travel Fund to invest in getting more people cycling and walking throughout the region.
"And with our partner councils, we have been busy delivering safe cycle routes and other projects around the West Midlands to do just that.
"Now I am delighted we are working with Sustrans and drawing on their experience to help us encourage even more people to take advantage of these new routes and opportunities.
"Getting more people cycling and walking is also crucial to tackling the climate emergency and reaching our #WM2041 goal."
We want to encourage more people to cycle and walk, especially for those shorter journeys, because it's better for our environment, good for our health, and great fun too.
Commenting on the project, Laura Smith, Sustrans Delivery Coordinator (Midlands and East) said:
"As the world emerges from lockdown, walking and cycling is more important than ever to our future.
"For many people, active travel provides a safe, healthy and low-cost way to get around.
"We know from research like Bike Life that many more people in the West Midlands want to cycle than actually do.
"This project is all about identifying, helping and supporting those people so they can achieve their ambitions to walk and cycle more."
Love to Ride West Midlands
Residents are also being encouraged to get cycling with Love to Ride West Midlands' Cycle September.
Love to Ride run regional competitions for individuals and organisations, encouraging participants to log cycle rides for the chance to win prizes.
After having over 50,000 participants in 2020, Cycle September is back for a second year.
It's a great way for everyone to join an online community and get active.
West Midlands Cycling and Sustrans have been contracted to deliver this project through the West Midlands Active Travel Fund.