On Saturday 4 September, Sustrans opened up Ridingleaze in Lawrence Weston to pedestrians and hosted a street party.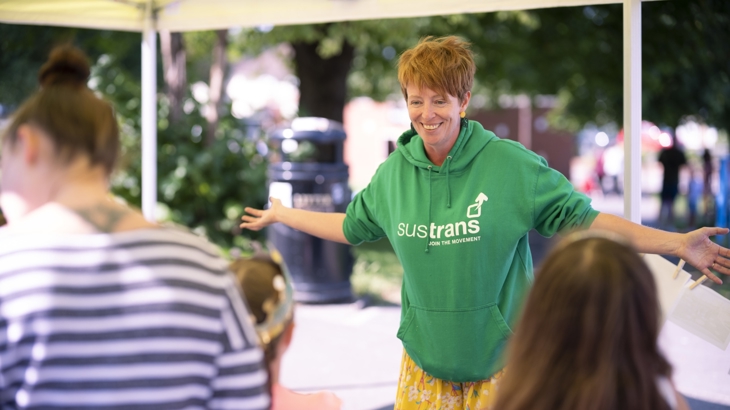 A vibrant traffic-free space for eveyone to enjoy
The street was transformed into a vibrant traffic-free space to socialise, play and enjoy the many activities and stalls on offer from businesses and organisations in the area.


Working together to make space for people
Sustrans hosted the event to showcase what could be achieved if Ridingleaze was to be opened up to pedestrians.
This followed reports of congestion, rat running, safety concerns, and antisocial behaviour.

The issues were identified by Ambition Lawrence Weston through consultation with local residents during the development of the Lawrence Weston Community Plan, which subsequently fed into the local Neighbourhood Development Plan.
A successful street party
The street party was enjoyed by the many residents, organisations and businesses that attended.
Jon Usher, Head of Partnerships for Sustrans in the south of England said:
"It was great to see Ridingleaze transformed for the day into a space where people could sit and enjoy a cuppa from the café and watch their children play in the street."
"We asked children what they would do if they were King or Queen of Lawrence Weston for the day, and it was great to see such appetite for less traffic, more play facilities and ways to improve the local environment.
Jon Usher continues:
"Opening the road really did make more space for people and it was great to see Ridingleaze looking so vibrant, with more footfall for the local businesses.
"We'd love to see more changes across the city – streets for people shouldn't just be for Clifton and Redland.
"There's a need, and a desire for this kind of thing in places like Lawrence Weston too."
Engaging with future possibilities for the area
Don Alexander, Cabinet Member for Transport at Bristol City Council said:
"I am cabinet member for transport in Bristol, but I'm also more importantly for this event, one of the ward councillors for Avonmouth and Lawrence Weston.
"The lovely weather brought everyone to Ridingleaze to enjoy the family activities that Sustrans and their partners brought to our neighbourhood.
"It's been great to see residents generally engaging with walking, cycling and the future possibilities for this area of Lawrence Weston."

A great step forwards
Donna Sealey from Ambition Lawrence Weston said:

"Ambition Lawrence Weston saw this as a first great step to see how a pedestrianised high street can work for both the retailers and for our residents.
"This objective has been in our community plan for the last five years and it is something that our residents feel strongly about."